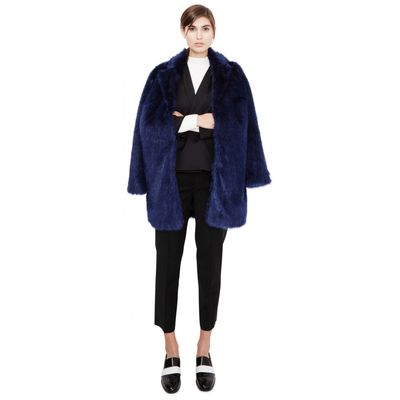 Every Monday at the Cut, we're highlighting one great purchase that won't take up your whole paycheck. If you're looking for a splurge instead, check back every Friday for one great purchase that's worth eating ramen noodles for the rest of eternity.
If you've made it through this weekend's snowstorm alive, you're probably itching for another piece to add to your blizzard-defense arsenal. Lucky for you, Won Hundred's Marian faux-fur coat is a snow defense even Cookie Lyon or North West would be proud of. The deep shade of blue is vibrant enough to attract attention, but practical enough to sport on your days off. Now half its original price, it can be yours for under $200. Drape it over a silk blouse and structured trousers for a lush look, or dress it down with destroyed denim and sneakers.
Won Hundred Marian Coat in Medieval Blue, $193 at Won Hundred.