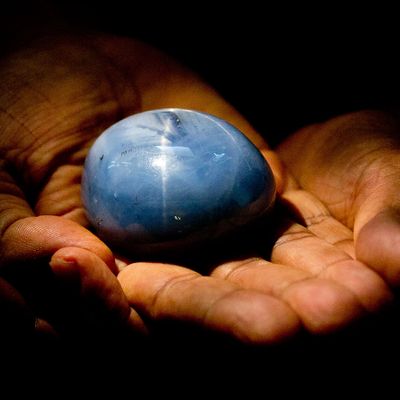 This gem could be yours.
Photo: Eranga Jayawardena/Corbis
Look into your hand / What do you see? / The world's biggest star blue sapphire? / Or is it emp-ty?
The AP reports the world's largest star blue sapphire is yours for the taking. Incredible! The gem was mined from a gem pit near Ratnapura, the "gem city" of Sri Lanka, and it currently belongs to a Sri Lankan gem merchant who is selling it for — and this might seem outrageous at first but do remember what you are getting — the world's largest star blue sapphire (allegedly) ("according to available data") — $300 million dollars.
He said he is willing to sell it, for the right price. The owner previously tagged a price of $100 million. But he said its fame has raised its value and he hopes it would be sold for around $300 million. He's already had offers but hasn't accepted any.
It's a famous gem now (example: you are reading about it), so please be reasonable with regard to its price point. And you are going to love it so much!
We should disclose the owner of the gem has already named it "Star of Adam" because, reportedly, local legend says blue sapphires "were formed by the tears of Adam after God expelled him from Paradise." However, once you purchase the gem you should feel free to name it as you wish. A good name for a gem is "Kelly."
Enjoy your gem!