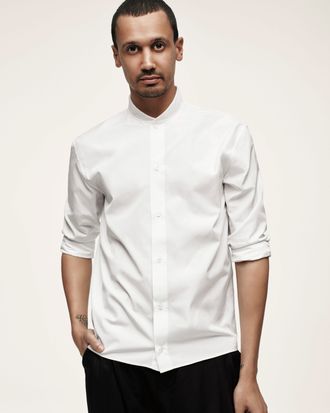 Yacine Aouadi.
Photo: Gregory Harris
The haute couture shows, which began this weekend in Paris, aren't typically brimming with new talent. The world of couture moves even slower than the time it takes to affix pearls to a haute gown, and it can take a designer four to six seasons of unofficial shows to make it onto the official calendar. But the Chambre Syndicale, France's governing body of haute couture, recently elected three relatively young talents to its roster as Guest Members: Chinese couturier Guo Pei (who is best known Stateside for concocting Rihanna's meme-friendly Met Ball gown), Dutch avant-gardist Iris van Herpen, and a hometown hero, Yacine Aouadi, born in Marseilles to Algerian parents. Pei and Aouadi in particular represent a new face of couture, as the only nonwhite designers on the calendar — a sign that the hermetic world of couture is inching toward diversity.
Aouadi showed his debut collection last season and officially showed on the calendar today, sandwiched between two Chanel shows — not bad for a 35-year-old with one season under his belt. He spoke to the Cut about the intense process behind getting a couture slot, why he thinks couture is more forward-thinking than ready-to-wear in some ways, and how he made tattoos couture-worthy.
Congratulations on your calendar slot! That's a big deal. How would you explain the significance of it?
It is quite difficult to get on the calendar of the haute couture collections compared to ready-to-wear, because you have to get the sponsorship of one of the four voting members [of the Chambre Syndicale]: the CEOs of Chanel, Dior, Jean Paul Gaultier, and Givenchy. We have been sponsored by the CEO of Givenchy, Mr. [Philippe] Fortunato. When you get the sponsorship, you can send the [application] file to be examined by the others. [Voting takes place] twice a year. This year it was in November. And it is tough to get the sponsorship, but after, you have to get the vote of all the members. Not easy!
What do you hope it will do for your visibility?
For the press, it makes you more visible, and for the clients it makes you respectable. I think for the clients, before being in the calendar, you are not really considered a haute couture designer. It's symbolic, but it's important.
At 35, you're relatively young compared to a lot of the other people on the calendar. What made you decide to go into couture? 
When I was working at Balmain, I was working on the [pieces that] were not officially couture, but that were handmade, all-over embroidered, and there was a lot of craftsmanship going into those pieces.
And actually, [couture is] really reflective of what's happening in the fashion business right now. When you are doing ready-to wear, if you want to do it properly, you need a lot of energy and a lot of money. And when you are doing haute couture you need time. The time you need, you cannot have it when you are doing ready-to-wear. Because if you are doing ready-to-wear now, you are doing four collections a year at least. And you will have to deal, especially when you are a young designer, with problems of production matters, marketing, merchandising, communication. And to me, that's not the way I want to do my job, which is also my passion. We need time to create. Haute couture is, in a way, the last place where you can have time to think about the pieces you are creating and also the only place where marketing and merchandising and everything are less important than the clothes.
We in New York have been talking about changing New York Fashion Week into a consumer-facing model. And to me, that's what couture is already like. That's what people have been doing for years in that world.
And in a way, which is very ironic today, the ready-to-wear, compared to the social media, doesn't seem so relevant anymore, as everybody from Proenza Schouler to the other brands have reshaped the way they are showing their collections, and when they are showing their collections compared to the time the pieces are hitting the stores. In a way, today, haute couture is replying better to the immediacy of the world we are living in than ready-to-wear is.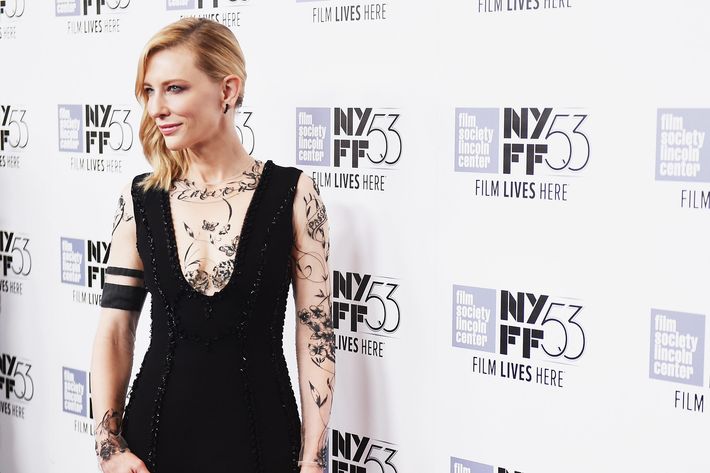 Chanel has its clients, Dior has its clients, but as a new name on the schedule, how do you get people to find out about you?
For the first season, it was quite difficult. We have been helped by a freelance sales director who was the former sales director for Givenchy and who is now working freelance. Haute couture is old school. Because people need to find you — you will probably not find them — and people who are in charge of the sales at [couture houses], they have an address book. And that's the trick.
You're now one of the few nonwhite designers on the calendar. Has race ever been an obstacle for you, in terms of working in fashion?
I'm just a young French guy living in Paris. That's it. My biological history is not in my mind every day when I am waking up. I never have the feeling when I am talking to other people that I am Arabic and they are French. I never had to deal with racism in my personal life or in fashion. And if I have been confronted with it, I didn't feel it or receive it as racism.
You have a tattoo motif running through the first collection. It's kind of rebellious for couture. We've seen flip-flops and shorts on the couture runway, at this point; there are a lot of things that have trickled up from ready-to-wear, but this feels really fresh. What was behind the decision to do that? Were you at all apprehensive about whether this would fit in with the couture world?
Behind the tattoo, there was the idea of being individual. Being singular. In a way, now, boys and girls, whether it is from fast fashion or from high luxury brands, we are almost all buying the same handbag, the same shoes, the same dress, the same brands. And I don't know if it's the same in the United States. But in Europe people are getting more and more tattoos. And I wanted to do a haute couture way to do tattoos.
Cate Blanchett wore the dress on the red carpet.
We customized the tattoo for her. We embroidered it with the first letter of her children's names.
I didn't know that!
Nobody knows it, because we haven't said it to anybody. On the right, there is a heart with a C in the middle, and the letters of her children around the heart.
Are there other people you want to dress or reach out to? How do you make those relationships?
Regarding Cate, I know [her stylist] Elizabeth Stewart personally. She came to the presentation in July and she said, "Okay, Look One." We went into the process with her to make the different sketches, make the dress, fitting the dress, and until the last minute, you never know if it will happen or not.
That's the thing about the red carpet. They could always change their mind at the last minute!
Especially Cate Blanchett. She has lots of custom dresses in front of her for each event she attends. That day, until the minute she got into the car, we didn't know if she would wear the dress or not. But we were quite happy. She was the first one to wear a design from my brand, and probably we will never again do a tattoo dress because it was so strong on Cate. She is the kind of woman you want to dress in haute couture.
This interview has been edited and condensed.