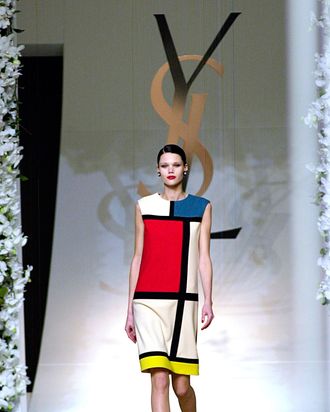 Saint Laurent's Mondrian dress.
Photo: REMY DE LA MAUVINIERE/Corbis
Next year is shaping up to be an exciting one for Yves Saint Laurent aficionados. That's when the Fondation Pierre Bergé will open not one, but two museums dedicated to the designer's work. The Telegraph reports that the outposts will be located in Paris and Marrakech, since the designer split his time between the two cities.
The Paris space, in his original studio on Avenue Marceau, will completely re-create Saint Laurent's atelier, and will feature rotating exhibits from the Fondation's huge YSL archive (which includes 5,000 pieces of haute couture). The Marrakech branch will be near the Jardin Majorelle, where the designer's ashes are scattered, and will include a library and restaurant. "It feels perfectly natural, fifty years later, to build a museum dedicated to his oeuvre, which was so inspired by this country," Pierre Bergé told the paper of the decision to build a Moroccan outpost.
Saint Laurent's work has inspired hit exhibits, among them the 1983 Costume Institute retrospective curated by Diana Vreeland and last year's "YSL: Style Is Eternal" show at the U.K.'s Bowes Museum. Still, there are innumerable treasures that have yet to be unveiled. If you live near or are visiting either city, this might be your chance to see a Mondrian dress, an original le smoking, or a piece from the notorious Scandal collection in person.