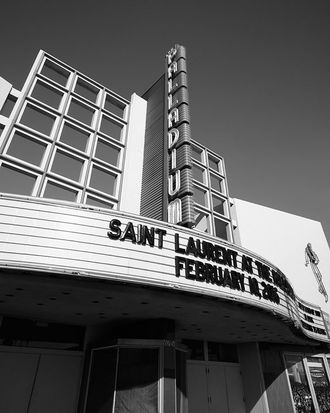 Photo: Yves Saint Laurent
Mark your pre–New York Fashion Week calendar for February 10, the day that Saint Laurent* will debut its men's fall line and the first part of its women's collection at the Hollywood Paladium in Los Angeles, as reported by Fashionista.com.
The label, which was behind Jane Fonda's ruffle-tastic Golden Globes dress, will debut part of its fall collection just one day before the start of New York Fashion Week. After stamping out rumors of creative director Hedi Slimane's departure last week, the French house announced the Palladium show today with a slew of all-caps tweets.
This year marks the tenth anniversary of the Hedi Slimane Diary, which is, Saint Laurent tweeted, "an interpretation of the written daily diary through photography." The diary's dedication to music has inspired the theme of the show at the Palladium, which will be a tribute to L.A.'s music scene.
But the preview next month will leave more to be desired. The second part of the women's line will debut during Paris Fashion Week on March 7.
*This post has been corrected to show that the current name of the fashion house is Saint Laurent, not Yves Saint Laurent.