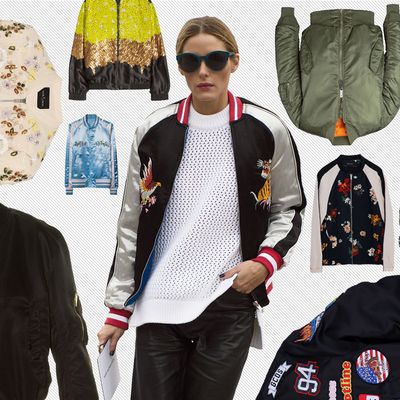 New York and London may be an ocean apart, but Peacocks on both sides of the Atlantic love a good bomber jacket. At both New York and London Fashion Weeks, bombers offered a welcome break from the costumey flash of oversize cocoon coats and copious amounts of fur among the street-style regulars.

It's not hard to make a case for the bomber: It looks equally cool on any body type and requires little styling. Paparazzi bait like Gigi Hadid and Kendall Jenner have practically adopted bombers as a second skin, and with their relaxed fit and straightforward cool, they're an easy style that will go a long way come spring. While the bomber has always been a staple within streetwear brands, this season you can even find versions from names like Gucci and Saint Laurent. Scroll down for the best styles at every price range and style.
Classic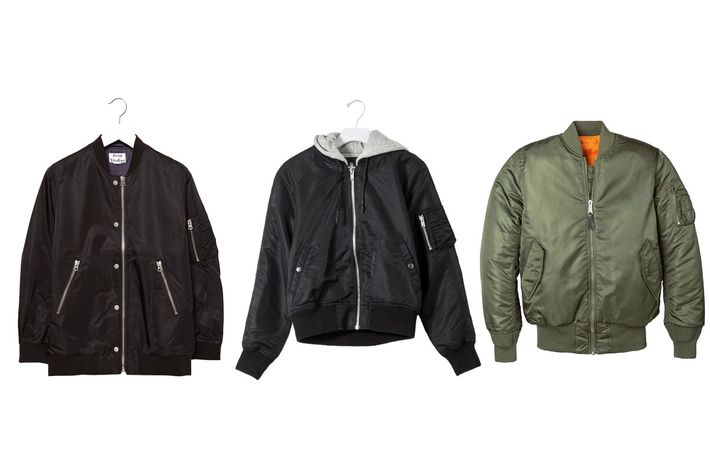 Simple, solid styles like these can coordinate with just about everything. Alpha Industries's MA-1 is a celebrity favorite.
Acne Studios Varden Tech Bomber Jacket, $720; R13 Cropped Flight Jacket With Hood, $795; Alpha Industries MA-1 W Flight Jacket, $135.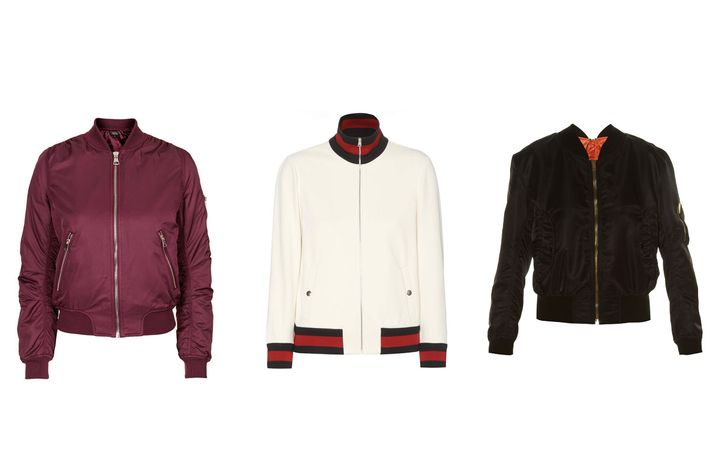 For an off-the-runway look, try Vetements' almost-always-sold-out nylon bomber, or Acne's lightweight tech jacket for a slouchy, oversize fit. Both brands are experts at marrying high-end craftsmanship with the culture of streetwear, so you can be sure their bombers will drape perfectly. And if you want to go all-out luxe, go for the Gucci with its trademark green-red-green stripe.
Topshop MA1 Bomber Jacket, $100; Gucci Twill Bomber Jacket, $990; Vetements Black Nylon Bomber Jacket, $1,620.
Embellished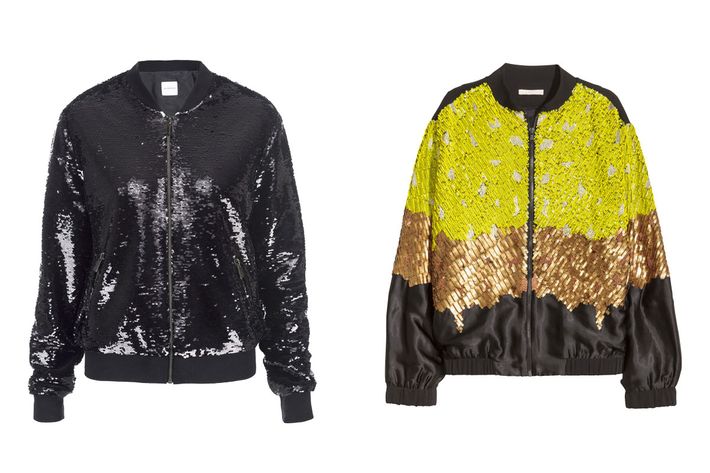 If you want to take it up a notch, consider buying an embellished bomber. Glittering sequins and ornate embroidery let you wear a bomber even when the dress code calls for sophistication. H&M's pilot jacket has vibrant beading in a bold color-block pattern, while Anine Bing's version infuses basic black with the shine of added sequins.
Anine Bing Sequin Bomber Jacket, $399; H&M Beaded Pilot Jacket, $129.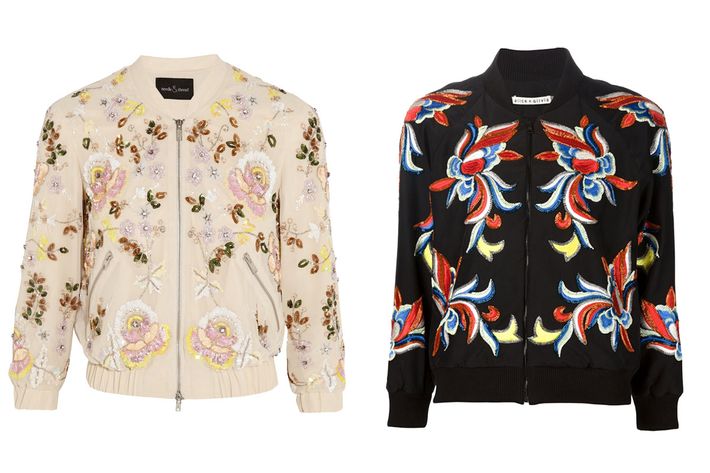 Or switch out your customary blazer with an unexpected outer layer like Needle and Thread's embellished bomber. Pair it with a simple white slipdress, or dress up Alice & Olivia's floral embellished jacket with a long pleated skirt and metallic pumps.
Needle & Thread Embellished Georgette Bomber Jacket, $450; Alice & Olivia Felisa Embellished Bomber Jacket, $698.
Floral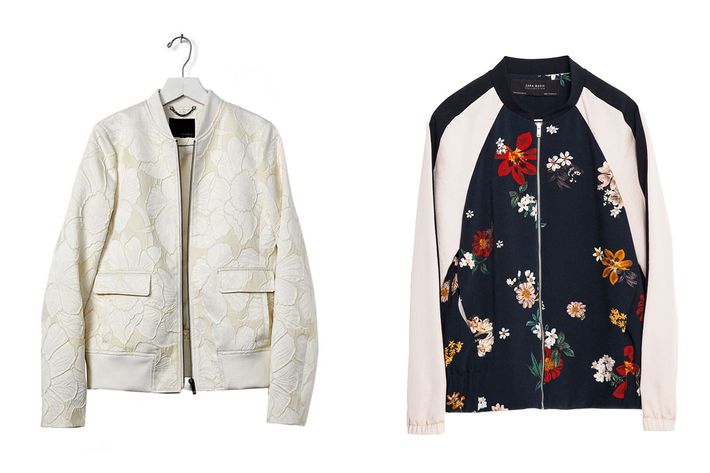 Florals for spring? Not exactly groundbreaking. But floral bombers for spring feel fresh and offer a practical option for the in-between weather days ahead. Even if prints aren't entirely your thing, Zara's bomber is a muted take on floral with a slim, sporty cut, and Banana Republic's jacquard jacket gives a subtle taste of spring in a cool tonal palette.
Banana Republic Floral Jacquard Jacket, $178; Zara Printed Bomber Jacket, $69.90.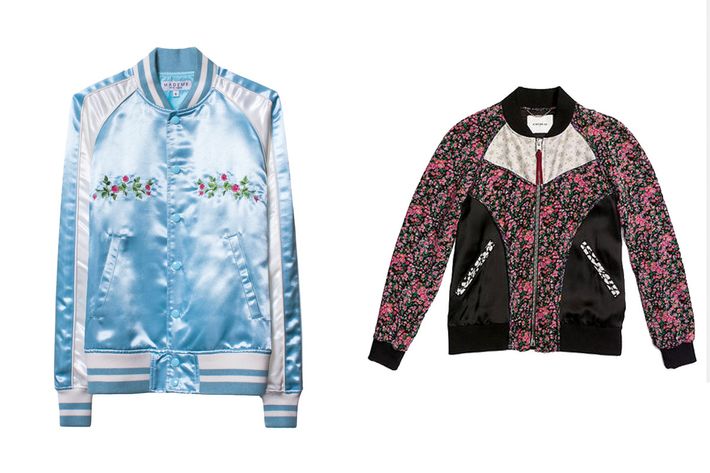 MadeMe's powder-blue satin bomber is the type of jacket you'd anticipate taking over your Instagram feed. With "pretty on the outside" embroidered on the back, you can at least be sure your jacket finally matches your petty heart. For the print-obsessed, Coach's raglan jacket is a cheerful ode to the blossoms of the season. Try emphasizing the print with an all-black ensemble and red heels.
MadeMe 'Pretty on the Inside' Satin Jacket, $280; Coach Raglan Jacket, $695.
Patchwork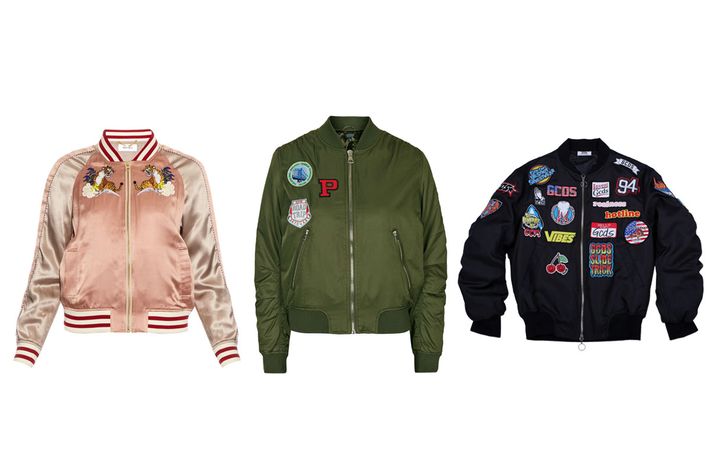 When it comes to patchwork, more is always better — hence GCDS's vivid patchwork embroidered bomber. It's made out of lightweight technical fabric and features a vintage cut that mimics the relaxed fit of a vintage flight jacket. For a customized look on a budget, try Topshop's Badged MA1 version or Muveil's floral- and lion-embroidered patched option.
Muveil Embroidered Silk Bomber Jacket, $572; Topshop Badged MA1 Bomber Jacket, $110; GCDS Patched Bomber Jacket, $546.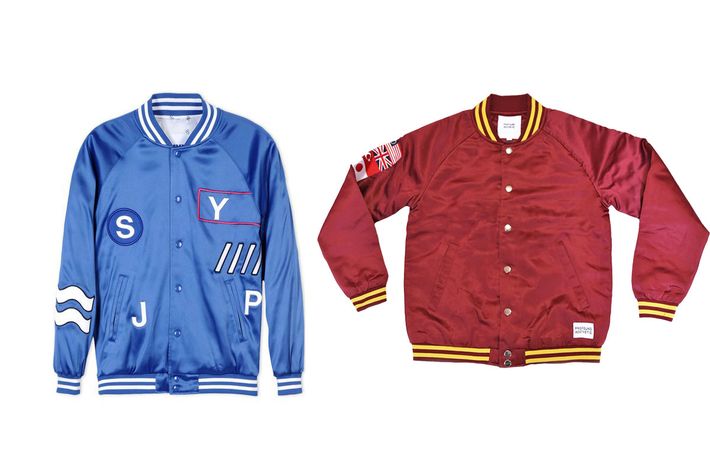 Or if you're looking for more '80s-inspired silky-satin bombers, consider this one from emerging lifestyle brand Profound Aesthetic (it's under $200!), or SYJP's vintage sports bomber that looks like it came straight out of an old-school skateboarder magazine.
SYJP Jacket, $745; Profound Aesthetic Satin Global Varsity Jacket, $174.