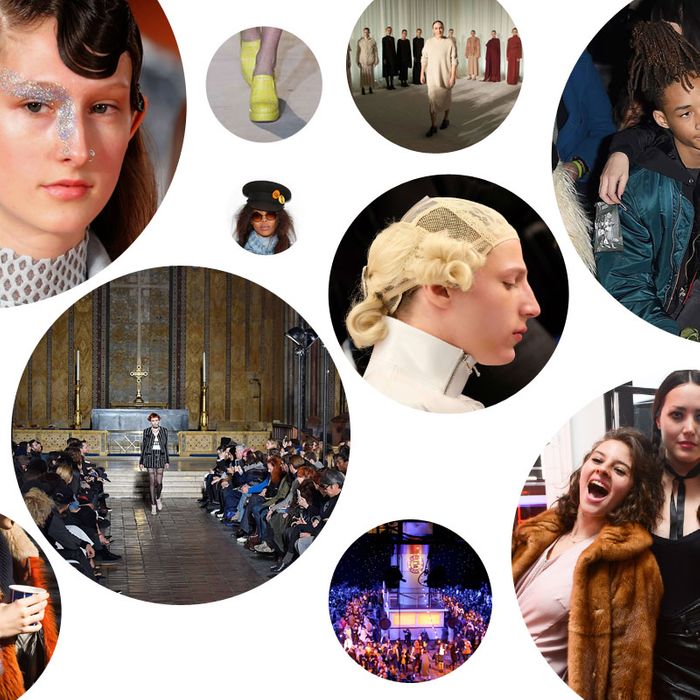 Sunday was New York City's coldest Valentine's Day in 100 years, so maybe it's no surprise that the most talked-about item of Fashion Week so far was a fuzzy, pink faux-fur coat. Still, NYFW offered plenty of post-Kanye spectacle for anyone who was willing to brave the frigid air. Snapchat and livestreaming make staying in bed awfully tempting, but designers pulled out all the stops with sci-fi sets (Opening Ceremony), live butterflies (Brother Vellies), celebrity stylists (Pyer Moss), and, in the case of Tommy Hilfiger, a set shaped like a giant boat. Below, our favorite moments from the week so far.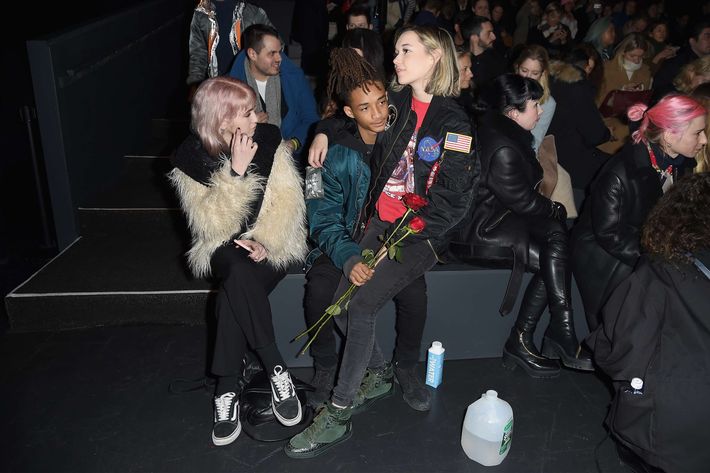 1. The world learned what it looks like to go on a date with Jaden Smith. He sat front row at Hood by Air with his girlfriend, Sarah "I Went to Jail Over an Hermès Bag" Snyder, on his lap, clutching long-stem roses and with a jug of water by his side. And he made a point of schmoozing with Anna Wintour and Carine Roitfeld, because Jaden Smith knows how to do Valentine's Day right. Later, he and Snyder canoodled at Opening Ceremony. Sorry, Pete Wentz, we have a new favorite Fashion Week celebrity.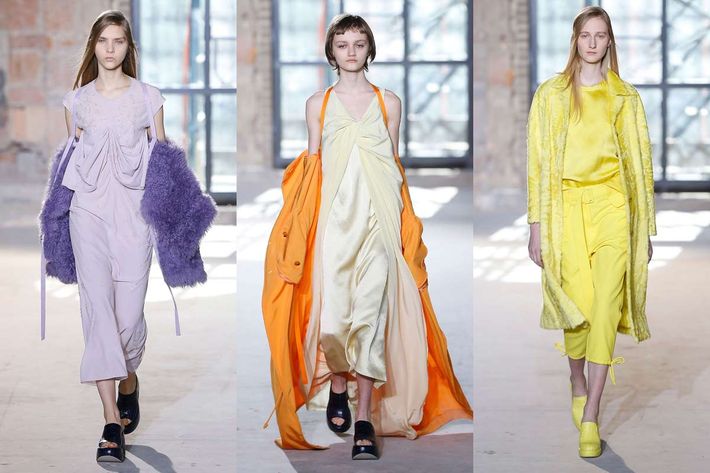 2. Sies Marjan won for debut of the week. Held in a sunny, raw penthouse space up high in the Financial District, the show was filled with color: yellows, lilacs, pinks, and peaches, all in the form of slinky dresses, fuzzy jackets, and ruffled shirting. Dries Van Noten vet Sander Lak knows what women want to buy — now the only mystery is, which store will carry the line (and how much will it cost)?
3. Bowie set the mood all over town. BCBG, Brother Vellies, and Moncler all used his music this season, and at Ryan Roche a band of teenagers (include two of Roche's own kids) played Bowie covers.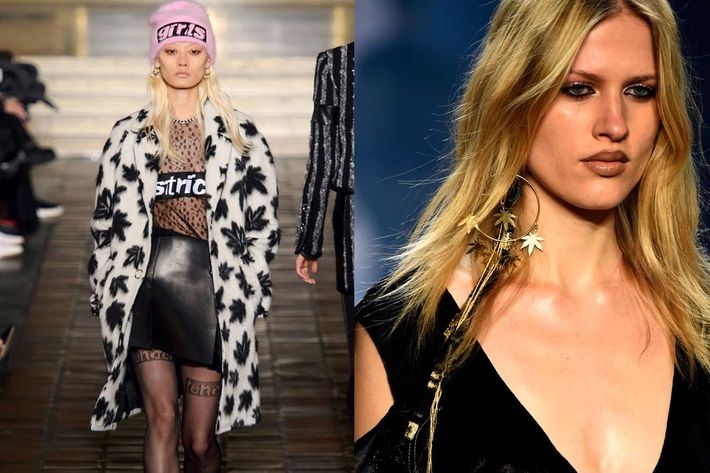 4. Pot is a budding (sorry) trend. Saturday's shows included not one, but two dedications to weed. Alexander Wang showed lace in a pot-leaf pattern and leaves embroidered onto slouchy pants. And at Baja East, a few models carried vape pens, while others sported a single oversize earring adorned with a pot leaf. We also got a contact high from the crowd at the MSG Yeezy extravaganza (though, weirdly, we didn't get one at Rihanna).
5. Designers offered Instagram-friendly sparkle. The sequined gowns at Altuzarra seemed made for slow-mo videos, while the face glitter at Opening Ceremony was our favorite beauty look of the weekend. Designed by Yadim for Maybelline, it was meant to simulate movement to go with the show's travel theme. Stardust never looked so good.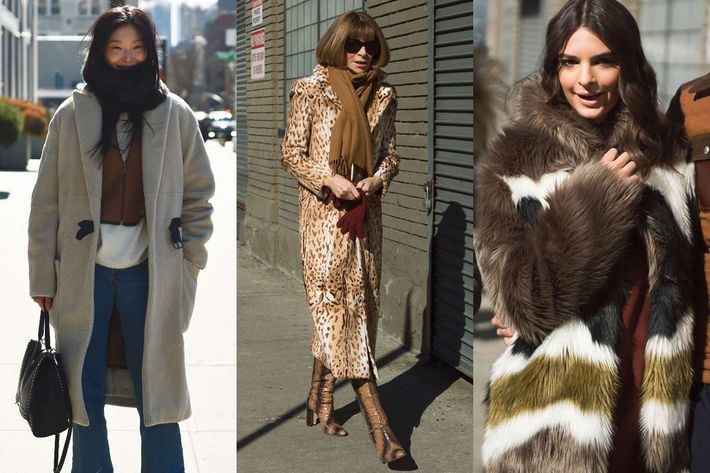 6. Street style stepped it up. So many amazing coats came out for the blistering cold — tufted shearlings, vintage furs, colorful sweepers — all offering actual styling inspiration for the frigid masses. Are the days of the seasonally inappropriate bare-legged style star finally over?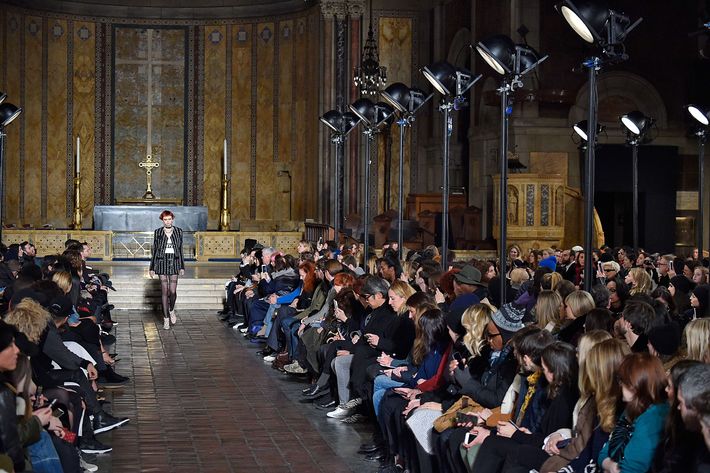 7. We went to church, school, and a Freemasons' lodge. Fashion tempted us outside with new and unusual show locations. Many of the attendees at Alexander Wang had never before set foot inside the 181-year-old Byzantine church and NYC landmark St. Bartholomew's. The Masonic lodge that hosted the Creatures of the Wind show hadn't seen a fashion crowd since the '90s. Meanwhile, Ryan Roche held her presentation in the gymnasium at a Chelsea school, where enlarged words of motivation were emblazoned on the walls where students practice their free throws. Lincoln Center: We do not miss you.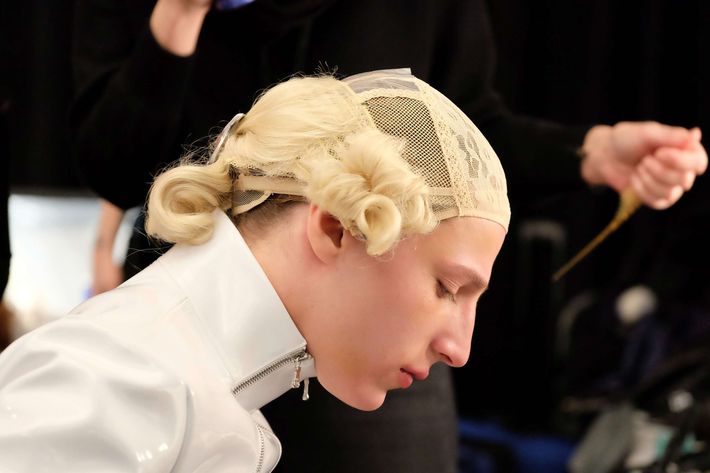 8. And we got there on the Mayflower. Hood by Air's theme was "pilgrimage," as expressed via Founding Fathers hair, plastic wrap, and one model who literally made a journey up and down the runway for the latter half of the show. Travel is arduous, and so were the heels: Models of both sexes hot-stepped it in treacherous plastic waders.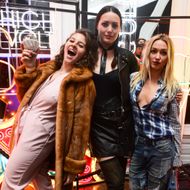 9. Parties reminded us that having a social life is more than just social media. From Brooklyn, where Dazed and Calvin Klein threw a blowout to celebrate the launch of the Dazed 100, to the Upper East Side, where Diesel fêted their new Madison Avenue flagship with living mannequins at the Academy Mansion, after-parties gave us all a reason to put down our phones — after summoning Uber to get there, of course.