Glory be! Rihanna finally released the video for "Work," her duet with Drake. And to the delight of DRihanna stans everywhere, this is in fact not one but two videos, which both share the same concept: Rihanna and Drake flirt with one another, and Drake tries to look unfazed while Rihanna slowly twerks on and around him (he fails).
"Work" Nos. 1 and 2 are the third and fourth videos that Drake and Rihanna have starred in together. They mark a long history of Drake looking slightly befuddled by the goddess Rihanna.
The two first came together in 2010 for "What's My Name?" The video features pre-swole, pre-bear Drake looking dopey. He tries to run game on bright-red-haired Rihanna in a convenience store while she's buying milk; she kindly tolerates his attention and later even allows him to come to her New York apartment and share a glass of white wine. Drake's caresses seem timid. Later scenes of her dancing Drakelessly at a bonfire underscore the suggestion that he failed "to go long time with a girl" like her.
You'd think that by 2012, when they reunited for Drake's "Take Care," he might have learned a thing or two about life. And generous Rihanna (seen here in her blonde-mullet phase) isn't even done up to her full intimidating glory — she's kept things simple with a big sweater and no twerking. She sort of just stands there waiting to be reassured by Drake. All he has to do is rub her back and promise to "take care" of her; nonetheless, it appears he is still unclear as to how he should stroke the back or hair of Rihanna. Again, a fail.

Four years later, Drake has grown swole and possesses a manly beard, but he's still no match. In the first version of "Work," Rihanna, looking incredible in a mesh dress, finds Drake leaning against a wall, looking … pretty Drake-y in a red OVO sweatsuit and gives him a slow whine that's just too much to handle. In the second video, he sits in a chair dopily admiring Rihanna, who dances in a sheer, sparkly halter top with throwback long black hair. He's unable to stand or engage for the majority of the video — he's obviously learned nothing from his cameo in Nicki Minaj's "Anaconda."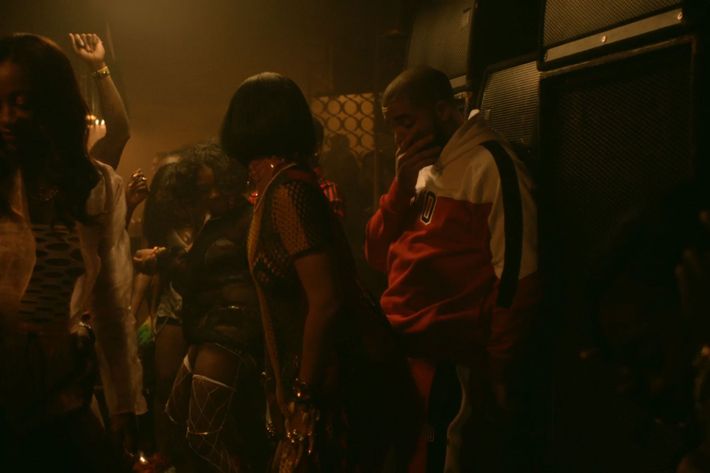 But wait! A moment of demonstrable growth. Remember, this is "Hotline Bling" Drake, not "Marvin's Room" Drake. He's newly confident in his sweaters and his dance moves, so he bravely attempts what he never did before: dancing with Ri by administering a little pelvic double-bump to her grind. It's not much, but it's something. Still, the first video ends with a shot of Rihanna winding up with the only suitable dance partner out there — herself, in a mirror.