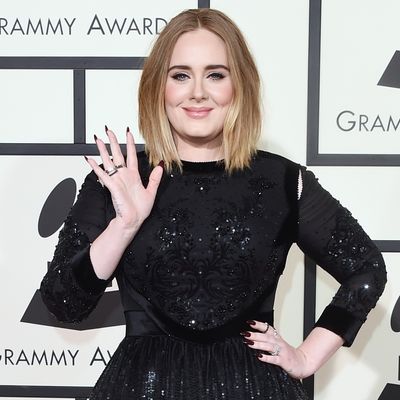 Hello from the progressive parenting side. Jason Merritt/Getty Images
Adele is a mom who gets it (and is apparently up on her Judith Butler). After her Grammys weekend and her 100 percent relatable In-N-Out break, she and partner Simon Konecki took their son Angelo to Disneyland. And the tot dressed as Anna from Frozen.
Passersby posted a picture to Twitter of the happy parents strolling their happy Frozen fan through Disneyland.
This is not the first time the Frozen franchise has entangled with Adele's music. Last fall, Obsev paired "Hello" with the video of Elsa climbing to her icy tower. But this particular Adele-Frozen moment is anything but angst-filled.
She's just letting her son wear what he wants, where he wants. Because gender is performative, and Adele is the coolest mom.