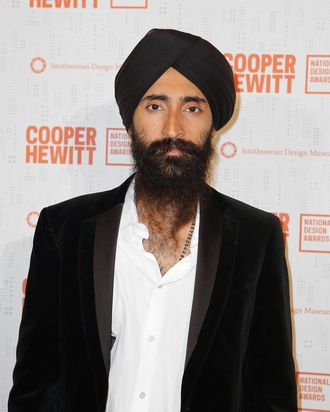 House of Waris designer Waris Ahluwalia.
Photo: Ryan Liu/Getty Images
After being barred from boarding an Aeroméxico flight from Mexico City on Monday after refusing to remove his turban, designer and actor Waris Ahluwalia has received an apology from the airline over discrimination that kept him in Mexico for more than a day. Ahluwalia had decided to stand down in protest to Aeroméxico's discriminatory treatment of him, and has since been granted one of his requests: a public apology from the airline. The company released a statement to its Twitter this morning, printed here from Google Translate:
Aeroméxico is a global airline that has operations in countries around the world, which recognizes and is proud of the diversity of its passengers. Every day we work to ensure strict compliance with the highest safety standards , while we respect and value the culture and beliefs of our customers. We apologize to Mr. Waris Ahluwalia for the bad experience he had with one of our security elements in addressing your flight to New York in the Mexico City International Airport . This case motivates us to ensure that security personnel strengthen its care protocols , always respecting the cultural and religious values ​​of customers.
There has been no news on whether Ahluwalia has boarded a flight back to the States yet, but we've reached out to Ahluwalia for comment. This post will be updated when it comes in.