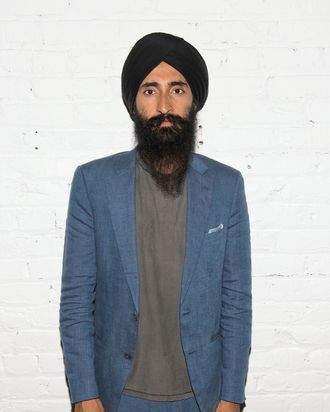 Designer of House of Waris, Waris Ahluwalia.
Photo: Mike Pont/Getty Images
Waris Ahluwalia, designer behind House of Waris and actor-slash-man-about-town, took to Instagram this morning to reveal that he'd been barred from boarding a flight because of his turban. Ahluwalia, who had been on a trip to Mexico, took a photo of himself and his boarding pass for an Aeroméxico flight back to NYC, explaining in a caption that he'd been prohibited from boarding.
Ahluwalia, notably the first Sikh man to star in a Gap ad campaign (in 2013), spoke to the New York Daily News about the incident. When airline personnel asked Ahluwalia to remove his turban, he said, "That is not something that I would do in public. That's akin to asking someone to take off their clothes."
The jewelry designer told security that he would not remove his turban without going into a private screening room, to which he was told, "You will not be flying Aero Mexico. You will need to book another flight." As Ahluwalia waited for another flight back to New York, he told the Daily News that this opportunity is a "chance for growth." He continued, "The only thing that I have right now is maybe the ability to reach some people and make a change."