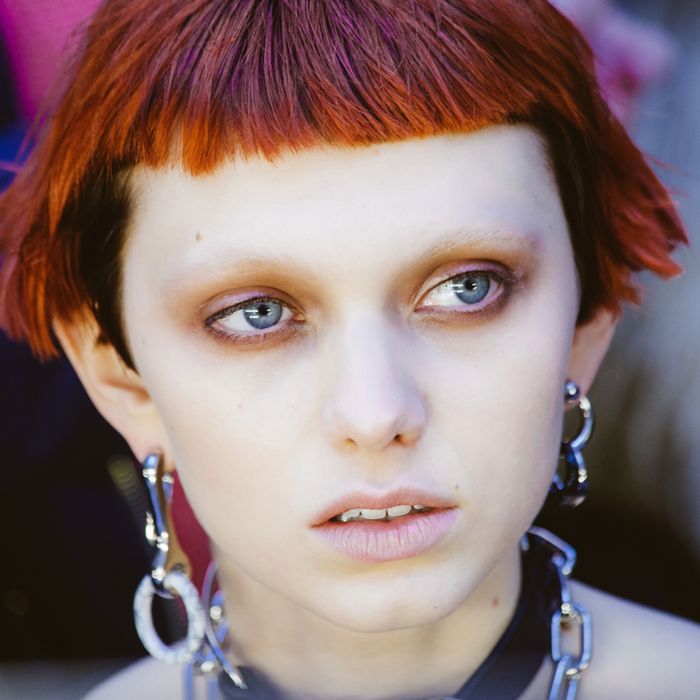 Model Katie Moore at Alexander Wang.
Photo: Christine Hahn
Alexander Wang and Guido Palau, Redken's creative director, want you to have a no-fear approach to haircuts. Yes, if you get a bad haircut, it sucks and you might wind up spending several hundreds of dollars on Viviscal to grow it out. But if it's great, you could end up like models Peyton Knight and Isabella Emmack from last season's Wang shows,.
Since Palau gave them both statement-making cuts last season — a choppy bowl bob for Knight and a punky pixie cut for Emmack — their careers have taken off. More incredibly, following the theme of individuality last season, their hair remained largely untouched for the remainder of the season. Both ended up walking the typically extension-heavy glamazon Versace runway with their Wang cuts.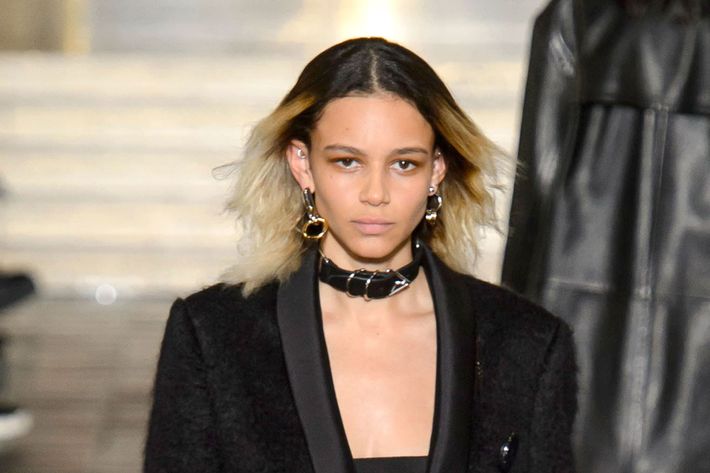 This season, Wang and Palau used haircuts again, but added color to define the Wang girl. Model Katie Moore opened the show with a feathery yet choppy copper-orange blunt bob — a major change from the waist-length virgin blonde hair she had just days earlier ("I feel more like myself than ever," she told Palau.) Binx Walton's hair was bleached from mid-shaft to ends. Male model Dillon Westbrock pulled a Lucky Blue Smith and bleached his brows and hair. Palau said that the haircuts were character-building — a way for Wang to cast each girl in a specific role, giving her some personality so that she wasn't eclipsed by Wang's literally statement-heavy youth clothes. It was also a way to avoid the generic long hair, even lobs, normally seen on the runway.
Still, not every Wang girl wants a dramatic cut. Wang is not a monster, so Anna Ewers and Vanessa Moody both kept their enviably pretty long hair, to which Palau and his team added soft, lank beachy texture by using Redken's new Beach Envy shampoo.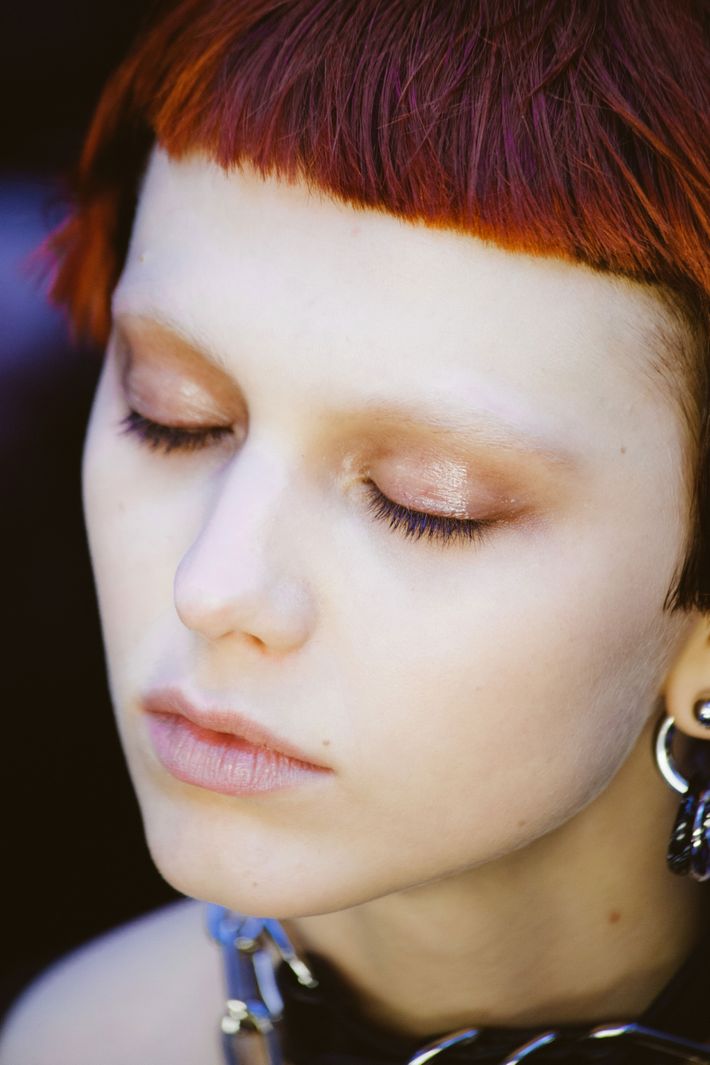 And Diane Kendal for NARS Cosmetics and her team also passed along the best news this Fashion Week: Your dark eye circles add some downtown gravitas, even if they're mostly earned through genetics and too much late-night Instagram scrolling.

For a late-night-partier look, Kendal rimmed the eyes with faint dark-eye circles and added a touch of gloss. If you're one of those unfortunate people who always looks fresh-faced and wide awake (poor you), you can replicate the look at home by blending out NARS Dark Angel Velvet Shadow Stick, and then adding a touch of gloss with NARS Lip Gloss in Triple X.
Whether you hate or love them, Wang's beauty looks present a point of view. Even if you think Walton's new crazy bleached hair color looks wrong (I heard someone describe it backstage as "a hot mess"), it says something about the person wearing it (and for the record, Walton doesn't care and told Palau she "loves it"). It evokes a reaction, in the way that the bland sea of celebrity beach waves cannot. As Palau said, "Would it be good taste to have bleached ends and dark roots? But now our view is changed. If we never push the idea of what's wrong, then we never push forward."