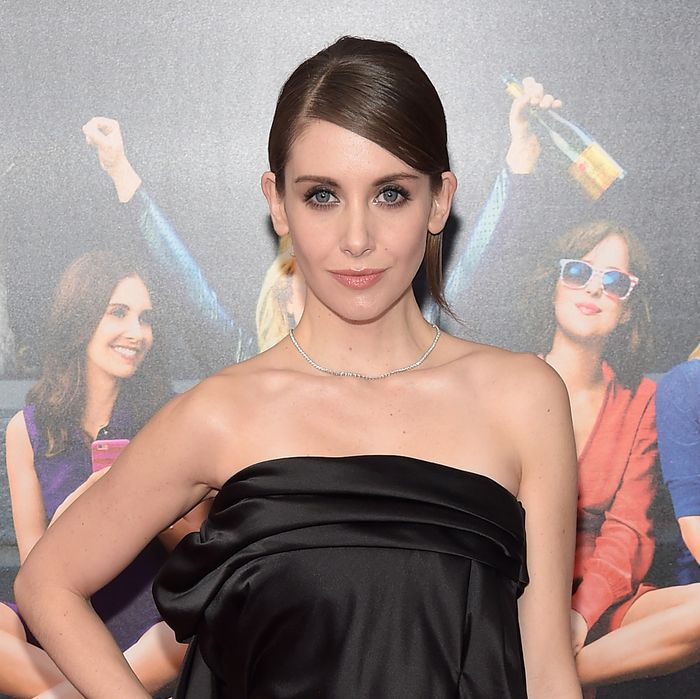 Alison Brie at the premiere of How to Be Single.
Photo: Theo Wargo/Getty Images
In the immortal words of Pat Benatar, "Love is a battlefield." That's never clearer than in the annual Valentine's Day ensemble film full of beautiful young people falling in and out of love. At the premiere of the newest of these, How to Be Single, we ran into Alison Brie, who plays a young woman obsessed with gaming online dating to get a boyfriend. Though Brie is out of the dating scene now, we wondered if she'd ever tried hunting for true love on the internet. "No, I've never done online dating. Anders [Holm] and I were talking about it, feeling like we sort of missed out on something a little bit," Brie said. "I find it somewhat terrifying but also kind of exciting when I watch my friends doing Tinder. It seems like kind of a fun icebreaker." Truly, these are the words of someone who has never experienced Swipe Fatigue (a very legit syndrome we expect the DSM to include in the next edition).
But, we wondered, has she ever engaged in that beloved pastime of the coupled-up: screwing around on your buddy's Tinder? "Yes! Before I understood how Tinder worked, and I just swiped right on every guy," Brie recalled. "I just thought that was how you scrolled to the pictures. I didn't realize the implications. And I gave [my friend] back her phone and she was like, 'Why am I matching with a hundred guys?' She had a crazy night that night." A word to the wise: Do not let Alison Brie near your dating apps.