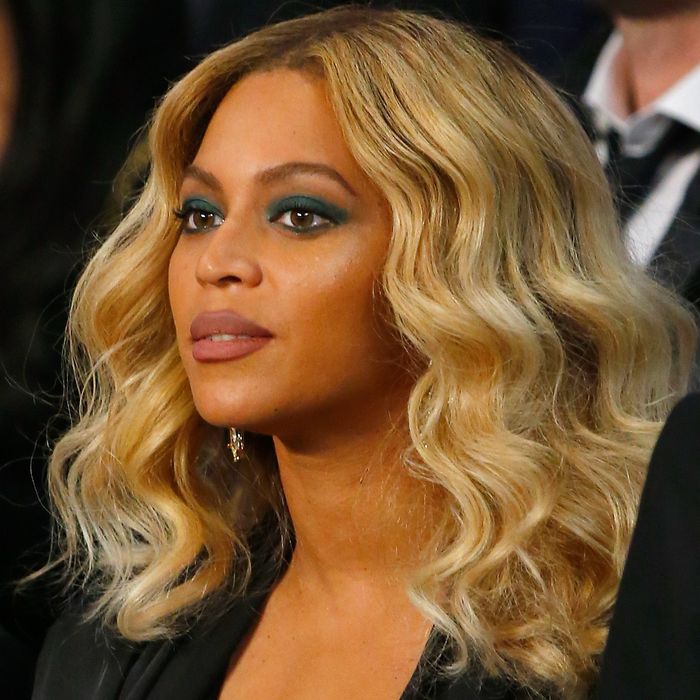 Photo: Al Bello/Getty Images
Wet, in a mom-bob, or completely blown out, Beyoncé's hair is always magnificent, but it just reached uncharted lengths in her newest video, "Formation." Let's consider all of the looks.
2. The Cafeteria Lady Hair-Net Upgrade. Next up Beyoncé does a bun in the most Beyoncé way imaginable — completely over the top. There are three small buns molded to make one large bun and then secured with a hair net. For extra measure she covers her mega-bun with a sunbrella, for you know, protection.
3. The Queen B. Lest one forget that Beyoncé is a queen, she twirls into the next scene wearing a crown braid. We are not worthy.
4. The Baby Blue. Blue Ivy, flanked by two sidekicks, makes an appearance. She sways from side to side while her mom sings the praises of her "baby hair and Afro." Blue Ivy is causal about the whole bit, this isn't her first music video, after all.
5. The Ridin' Round and Gettin' It. Going back to her micro-braids roots, Beyoncé comes back into view as she swirls around a parking lot in braids that equal the length of a tiny human. She's in slow-mo. It's a Beyoncé world and we're just living in it.
6. The Hater Twirl. Head to the following scene and you'll find her in braids again, this time in pigtails, as she sings in funeral attire while presumably mourning the unceremonious demise of all her haters.
7. The "Pat Your Weave." In a wig shop three women explore the possibility of magenta, blue, or orange hair. "What would Beyoncé do?" they wonder.
8. The Shea Butter Shout-Out. Wearing micro-braids again, Beyoncé is surrounded by a beautiful curly-haired troupe. You can practically smell the sweet fragrance of shea butter wafting from the screen.
9. The Pinkies-Up Blow-Out. Briefly Beyoncé becomes a hat person. Her hair is blown out and brushed backed. It is possibly the best ponytail you have ever seen. Joining her is her dainty lady crew, featuring pin curls, pigtail braids, and an Afro sitting under a bonnet.
10. The Throwback. Lastly, you can find her in formation with crimped hair. Though she looks amazing, it's one style that's probably best left for Beyoncé, and Beyoncé alone.