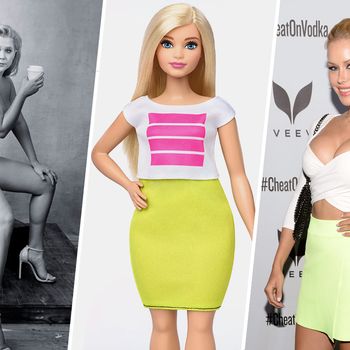 Photo: Courtesy of Pirelli/Mattel/Getty Images
When I left Allure in November, I took myself off the beauty/fashion grid, other than reading blogs and poking around Sephora. I didn't contour my cheekbones, my chin, my mouth, or my neck. I am unfamiliar with Kylie Jenner's grandmother, although I hear she has stunning matte red lips.
To quote Thomas Jefferson in Hamilton: What'd I miss?
A lot, apparently. Some of it was PR noise, and some of it seemed like PR noise until it built to a phenomenon. That's what happened when a bunch of brands strayed from their well-worn notions of female beauty, one right after the other. The news was so well-choreographed, you'd think Christopher Wheeldon was behind it, or at least Christopher Scott.
Here's what happened: In November, Pirelli released its first calendar populated with real women, a.k.a. not models, not all young, not all possessing 14 percent body fat. Plus: Most of them were fully clothed. Interesting in a third-hour-of-the-Today-show way, but not earth-shattering.
Then the new Curvy Barbie arrived in January, curvy Sports Illustrated swimsuit models followed in February, and the first non-nude Playboy Playmate is coming to newsstands (remember those?) in March. Bing, bang, boom.
Let's just refer to them all, for simplicity's sake, as Barbies.
They may be plastic or flesh and intended for different audiences, but taken together, these Barbies say something important about beauty. A cynic would call this political correctness wrapped in expensive marketing. But I think the near simultaneous way these old, kind-of-creepy institutions changed their portrayal of women is a big deal. They make traditional beauty standards seem even more artificial and cobwebby than they were three months ago.
"Beautiful, gross, strong, thin, fat, pretty, ugly, sexy, disgusting, flawless, woman." That was Amy Schumer's caption for her mostly naked Pirelli portrait that she posted on Instagram. Schumer, as usual, nailed it: Beauty is a whole mess of contradictions.
And so are these other new entrants in the beauty contest, with Barbie as queen of ambivalent objects. One of the most alarming facts I learned years ago is that she's routinely abused by girls, so much so that a 2005 study at the University of Bath called her a "hate figure." That struck me as disturbing until I remembered how I treated my Barbie when I was 7. Girls described torturing the doll "quite gleefully," said the study's author, Agnes Nairn, removing Barbie's hair, popping off her head, microwaving and burning her. "The girls we spoke to," Nairn said, "see Barbie torture as legitimate play activity."
Maybe girls love-hate Barbie ("gleefully") because her body is so completely love-hate ridiculous. And maybe Curvy Barbie will be spared the microwave. Eliana Dockterman reported in Time that mothers were responsible for urging Mattel to make the new "more realistic" doll. The company announced that its sales of Barbie spiked after they broadened her hips. When I asked a clerk in my neighborhood toy store about Curvy Barbie, she drew a blank, and then said, "Is that the one that looks like Kim Kardashian?"
It's safe to assume that many women are conflicted about the Sports Illustrated swimsuit issue, too, with all those steaming-hot bodies enmeshed in crochet yarn and dusted in sand. Last year, the SI cover of Hannah Davis's carved abs and Brazilian bikini wax made you (me) feel both awed and uncomfortable, like you (I) wanted to hand her a wrap while jotting down the name of her trainer. I can't remember the last time I thought about a Playboy Playmate, so I'm not throwing a party to celebrate her new status. But it's nice that she doesn't have to pose naked if she doesn't want to; photo studios are cold.
It was long past time for a change in all these goddesses, these Barbies and Playmates, upper- and lowercase. And it's unquestionably better for everyone to see a variety of body types, ages, and ethnicities, rather than a single idealized version of a woman. But I still feel slightly queasy about them. Like those beauty ads that lecture women about loving themselves and their flaws, I want to get onboard, because who could argue with that message? I just wish it didn't have the gloss of self-congratulation.