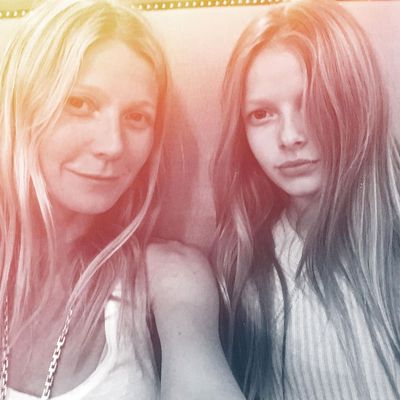 Gwyneth Paltrow and Apple Martin
Photo: gwynethpaltrow/Instagram
When did you start caring for your skin? When you were 15? 22? Any dermatologist will tell you it's never too early to begin. According to a celebrity facial guru, Gwyneth Paltrow has taken that message to heart — and straight to her 11-year-old daughter Apple.
Sonya Dakar, a Hollywood skin-care wizard, whose clients are "rumored" to include noted vaper Leonardo DiCaprio and Ellie Goulding, says that her newest client is the 11 year-old daughter of Super Bowl backup singer Chris Martin and Ms. Paltrow, proprietress of Goop and documented vaginal steamer. Dakar, whose facials are meant to replicate the results of Botox sans needles, performs these expensive services on both mother and daughter, saying, "She [Gwyneth] looks better than ever and thinks it is never too early to start taking care of yourself. There is nothing invasive about the facials and Apple really enjoys them. It is simply a fun mother-daughter bonding day out and something they love doing together." Agreed: There is nothing cuter than a mother-daughter spa day.
Update: A rep for Sonya Dakar has contacted us to say that Apple Martin is not and has never been a client of hers.