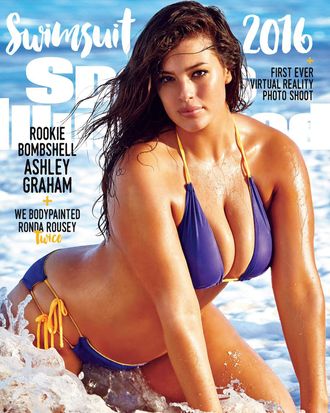 Ashley Graham, cover model.
Photo: Sports Illustrated
Ashley Graham's week just keeps getting better. On Tuesday it was announced that Graham would be a model in the Sports Illustrated Swimsuit Issue — not just in ads within it, as she was last year. Saturday night, she was revealed as one of the cover models for the issue itself (Ronda Rousey and Hailey Clauson will also appear on covers).
Graham looks fantastic in her cover shot, representing for a range of body types not commonly seen in many magazines, let alone the Swimsuit Issue. She is SI's first plus-size cover model, and only the second plus-size model in the issue. (While model Robyn Lawley was featured in the magazine last year, at size 12 and six feet tall she's not the standard "plus"-size model.)
Graham shared her joy with her followers on Instagram with a photo of the cover, writing, "Truly speechless!!! This cover is for every woman who felt like she wasn't beautiful enough because of her size. You can do and achieve anything you put your mind to. Thank you so much to the entire @si_swimsuit team! I'm so excited to be a part of your family. I love you all!!! #siswim#beautybeyondsize"