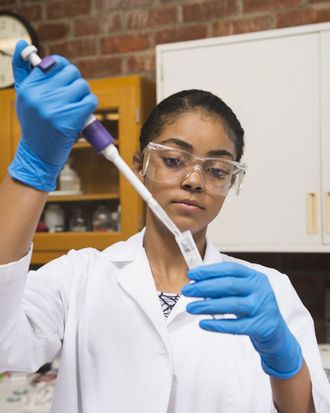 This girl looks pretty curious!!
Photo: Erik Isakson/Getty Images
The EDF Energy company in the U.K. launched a campaign called #PrettyCurious to encourage young women, ages 11 to 16, to go into the field of science. You read that correctly, the masterful PR people at EDF chose to call the campaign Pretty Curious. Because girls are pretty! And apparently they can be curious, too?
According to the BBC, the contest asked children "to think of ideas for a connected home bedroom product." Citing "fairness" as a reason, the energy company later opened up the competition to all kids of all genders, but maintained that the competition was still targeted at girls.
But a boy won.
Because the boys always win. That's the patriarchy for you!
After judges chose five finalists, the public voted on the winner. And for some reason, the public chose Joshua's video-game controller over Maegan's smart fridge system, "which helps you minimise your food waste," and Anna's sleep-monitoring device.
Ada Lovelace Day founder Suw Charman-Anderson told the BBC that she was suspicious of the competition from the beginning because "EDF Energy chose to link appearance and interest in STEM through the title of their campaign, despite many people pointing out that it was demeaning to girls."
Computer scientist Dr. Sue Black told the BBC, "It is taking me a bit of time to work out how this result will change girls' perceptions of STEM." I don't anticipate Dr. Black will be able to end up working that out, because the competition merely reinforces commonly held stereotypes about girls in math and science.
A report by the American Association of University Women asserts,
"[N]egative stereotypes about girls' abilities in math can indeed measurably lower girls' test performance. Researchers have also documented how stereotypes can lower girls' aspirations for science and engineering careers over time."
And EDF did just that.
Here's the company's flimsy response to a critical tweet: