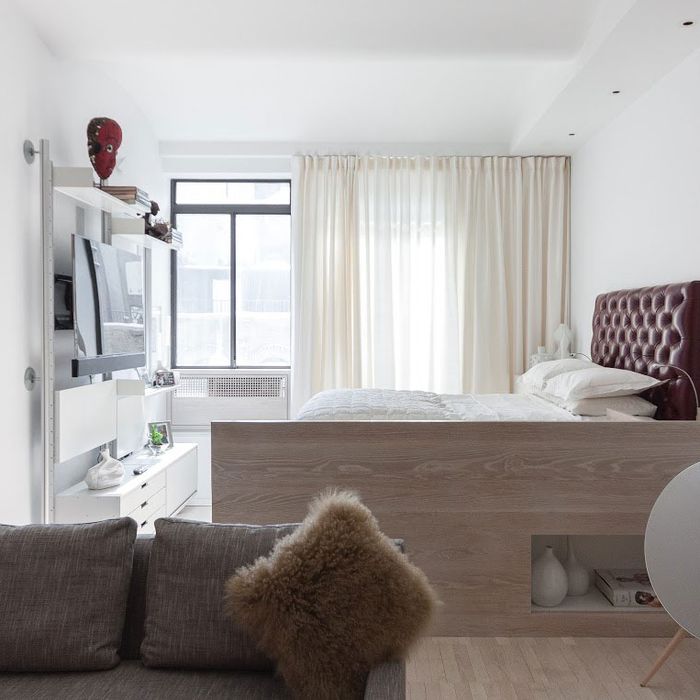 "It sort of mushroomed," David DePoalo says, describing the renovation of his 650-square-foot loft.
Photo: Courtesy of STUDIO SNNG
Architect Aaron Korntreger was hired to renovate a small bathroom in a Greenwich Village studio but ended up redoing the entire space for his client, who had already renovated his space back in 2001.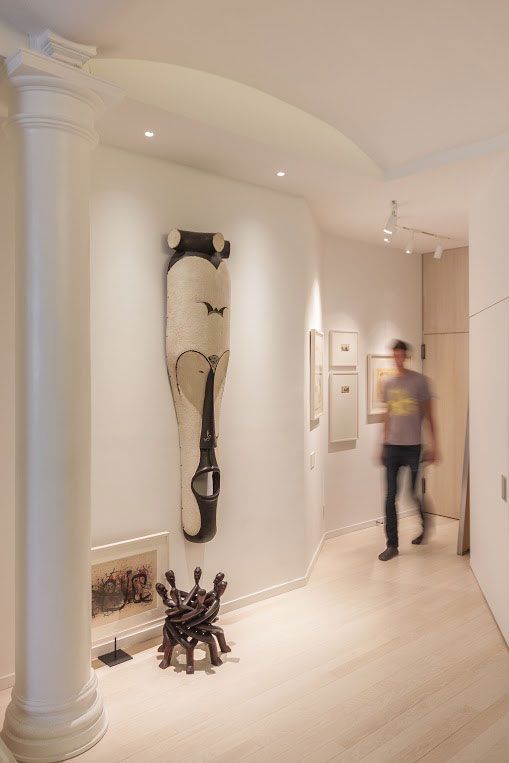 "It sort of mushroomed," David DePoalo says, describing the renovation of his 650-square-foot loft — what started off as a bathroom redo led to an overhaul of the entire apartment. He hired architect Aaron Korntreger, who started his own practice in 2012 after working for Tod Williams Billie Tsien Architects. Korntreger left the entryway sequencing alone but reclad the front door with wood and added a transom panel above. All the lighting is new.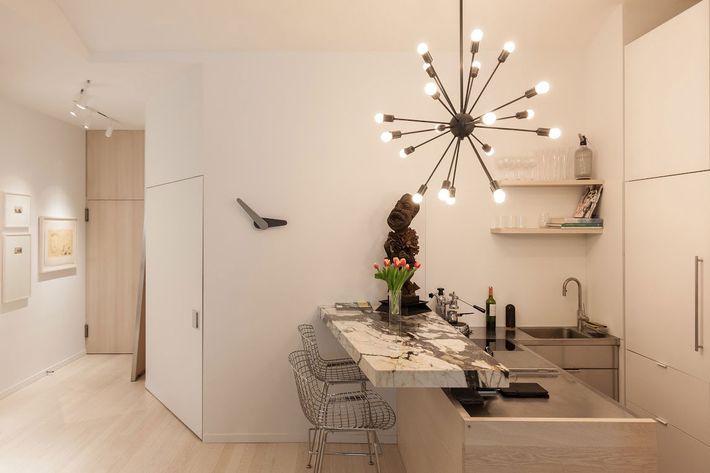 The open kitchen now sports a new marble countertop from ABC Stone that appears to float above the work top below. The light fixture is from Restoration Hardware and the wall clock is by LEFF amsterdam. The wall behind the kitchen counter holds the fridge and storage drawers.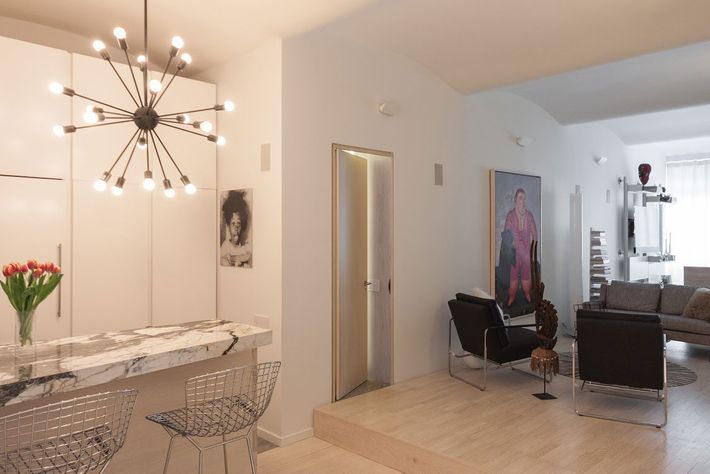 The sequence of rooms was completely redone — the bed was originally where the living area is now. "It was my idea to raise the floor," DePoalo says. The wood used on the platform is a different pattern from the wood floor in the entrance and kitchen area. "To highlight the platform we changed the scale," Korntreger says. "The pattern of the white oak in the living room is more static, more ruglike, compared to the directional pattern in the adjacent areas." The sliding bathroom door was replaced with a more traditional door.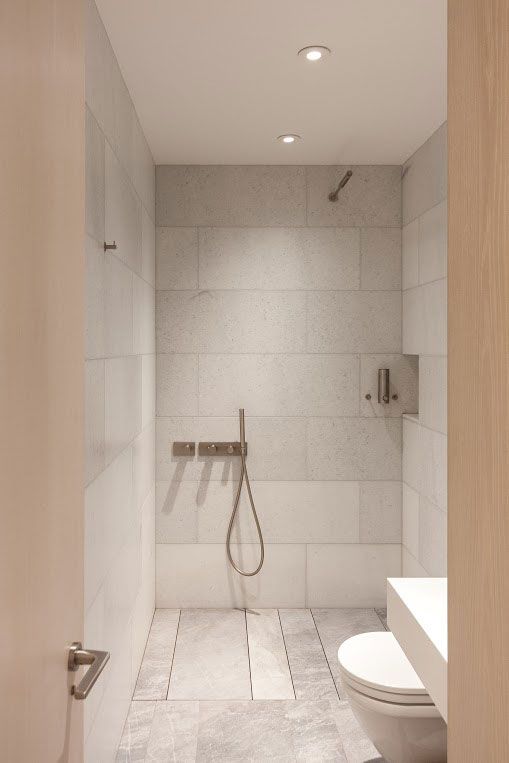 Night and day! The small bathroom, which originally had dark tiles, has been converted into a bright, open wet room. "David knew he wanted a Japanese bidet toilet and the Scandinavian 'open' wet-bath," Korntreger says. The slab-marble walls and floor are from ABC Stone.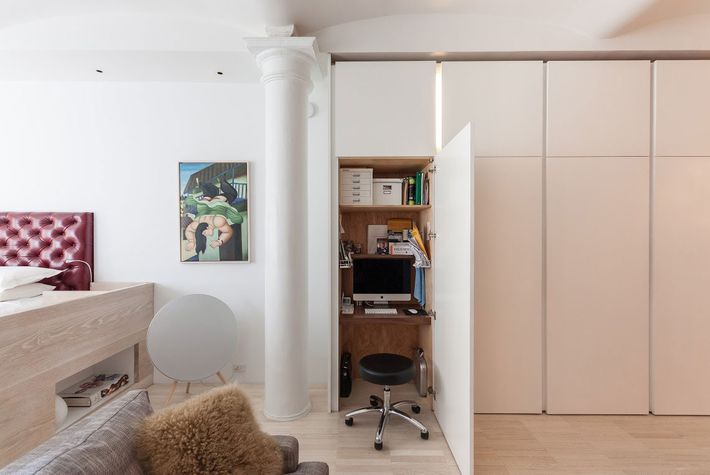 Korntreger added this storage space plus one very economical office that can be closed up once work is done.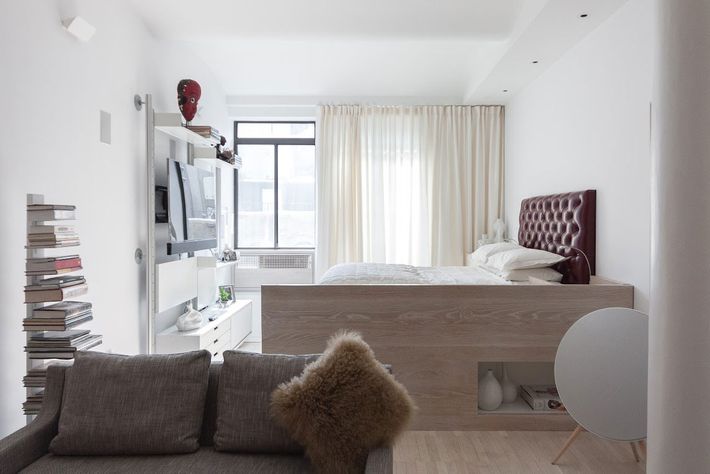 Moving the bed to the end of the loft by the window and raising it 28 inches so storage carts could be stashed underneath didn't obstruct the natural light, and the wood platform suggests privacy.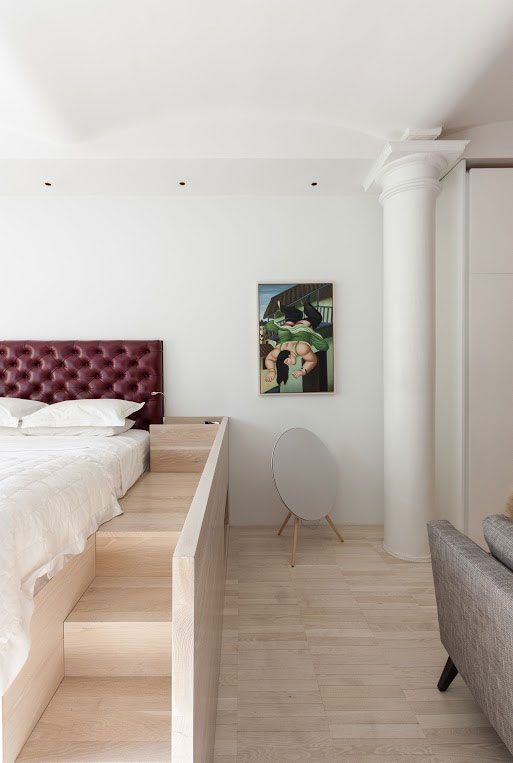 The low wood wall divider that is part of the platform also acts as a banister for the few steps used to ascend to the bed. All the millwork in the apartment was fabricated by Aaron Scott Design.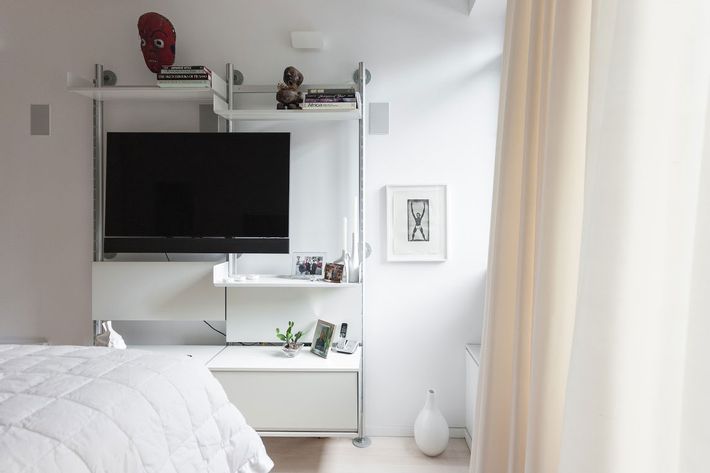 The TV unit opposite the bed is the 606 Universal Shelving System by Dieter Rams for Vitsoe.