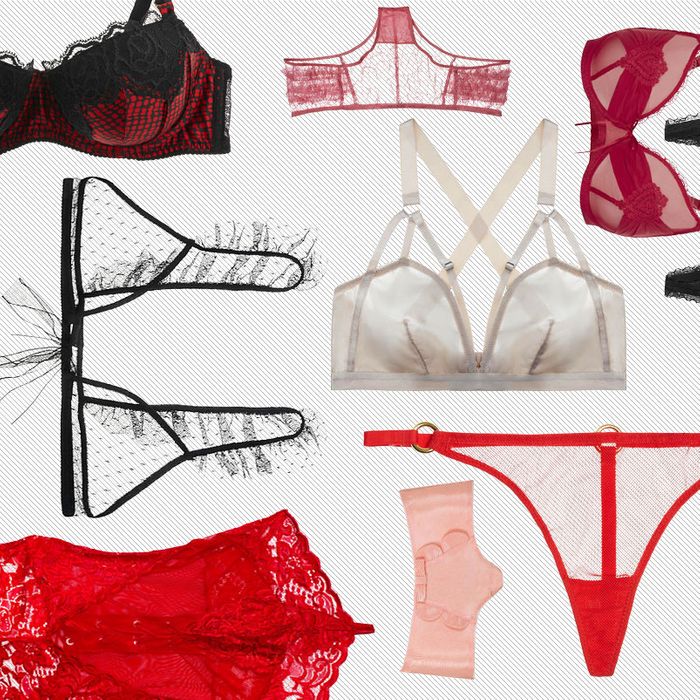 It's Valentine's Day in less than two weeks. Yes, already. And though we've covered date-night outfit options, you'll also need something sexy to wear underneath. Whether it's a romantic lace bra and thong, a sultry bodysuit, or bondage-inspired suspender set, we've got you covered with 24 pieces of lingerie that will please you as much as your partner. Scroll down to see our favorites below.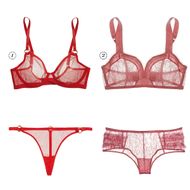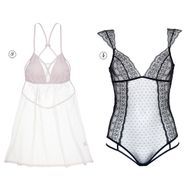 Barely There
Not very practical for everyday use, but very sexy for Valentine's Day. If you're completely going for it, try L'Agent by Agent Provocateur's mesh set, a collaboration with Penélope Cruz. If you're not comfortable showing that much skin, try a full lace bodysuit that will make for a memorable night in.
L'Agent by Agent Provocateur Bra, $33 at the Outnet; L'Agent by Agent Provocateur Thong, $18 at the Outnet; Monette Bra, $103 at the Outnet; Monette Briefs, $85 at the Outnet;Only Hearts Chemise, $128 at Journelle; Nina and the Wolf Bodysuit, $183 at Ouihours.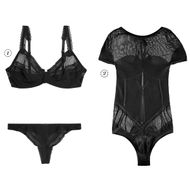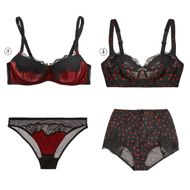 Sultry
If you want lingerie to wear for your date, but want to get a little life out of it afterward, look for pieces that are slightly flirtatious in detail but practical in style. Erica M's black bodysuit lends support and adds a chic touch when layered under your date-night look, and Dolce & Gabbana's polka-dot brief set has an extra touch of glamour without being too over-the-top.
La Perla Bra, $135 at Stylebop; La Perla Thong, $75 at Stylebop; Erica M Bodysuit, $120 at Ouihours; Stella McCartney Bra, $55 at the Outnet; Stella McCartney briefs, $28 at the Outnet;Dolce & Gabbana Bra, $194 at the Outnet; Dolce & Gabbana Briefs, $170 at the Outnet.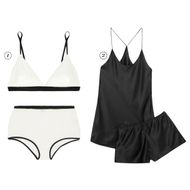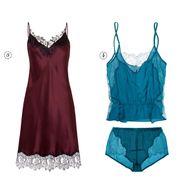 Comfortable
Not everyone likes lingerie because it can pinch and tug, but that doesn't mean you have to resort to the ratty pajamas you wear every other night. Olivia von Halle's silk short set is sexy and doesn't cling too tightly, so you can lounge as you please. If silk isn't your thing, take a look at Fleur du Mal's two-piece cotton set, which has lace trimming for a little something extra.
Baserange Bra, $70 at Net-a-Porter; Baserange Briefs, $65 at Net-a-Porter; Olivia von Halle Short Set, $280 at Net-a-Porter; Alice Temperley slip, $85 at John Lewis; Fleur du Mal Camisole, $248 at Net-a-Porter; Fleur du Mal Shorts, $128 at Net-a-Porter.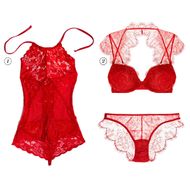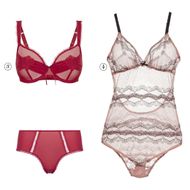 Romantic
Here's how to look festive without being cheesy. Yandy's sheer, curve-skimming teddy is a daring choice for the night, or for something that screams
"I love you," wear this two-piece heart set from Lejaby.
Yandy Sheer Teddy, $24 at Yandy; I.D. Sarrieri Bra, $310 at Net-a-Porter; I.D. Sarrieri Briefs, $195 at Net-a-Porter; Lejaby Bra, $85 at Harrods; Lejabay Panties, $45 at Harrods; Eberjey bodysuit, $138 at Eberjey.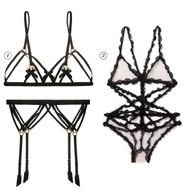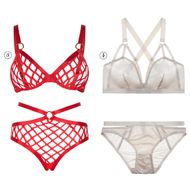 Bondage
Hoping to get tied up? Not to worry, there's lingerie for that, too. Bordelle's suspender set leaves little to the imagination, while this playful red strappy set from Agent Provocateur is sure to make an impression.
Bordelle Bra, $125 at Journelle; Bordelle Suspenders, $125 at Journelle; Fleur du Mal Bodysuit, $225 at Shopbop; Agent Provocateur Bra, $105 at Harrods; Agent Provocateur briefs, $105 at Harrods; Lonely Bra, $41 at Revolve Clothing; Lonely Brief, $28 at Revolve Clothing.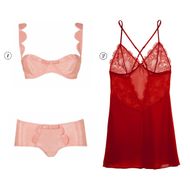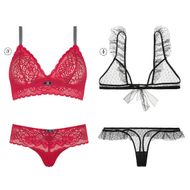 Sweetheart
If subtle and sweet is more your style, there are plenty of lovely slips and bralettes to fit your style. Heidi Klum Intimates' silk-and-lace chemise provides more coverage than most but has a surprisingly low-cut back, while this Only Hearts for Journelle set is very wearable despite the ruffled detailing.
Popmap Bra $188 at Popmap; Popmap Briefs, $111 at Popmap; Heidi Klum Intimates Slip, $70 at the Outnet; Triumph Bralette, $42 at Triumph, Triumph Thong, $32 at Triumph; Only Hearts for Journelle Bra, $40 at Journelle; Only Hearts for Journelle Thong, $28 at Journelle.