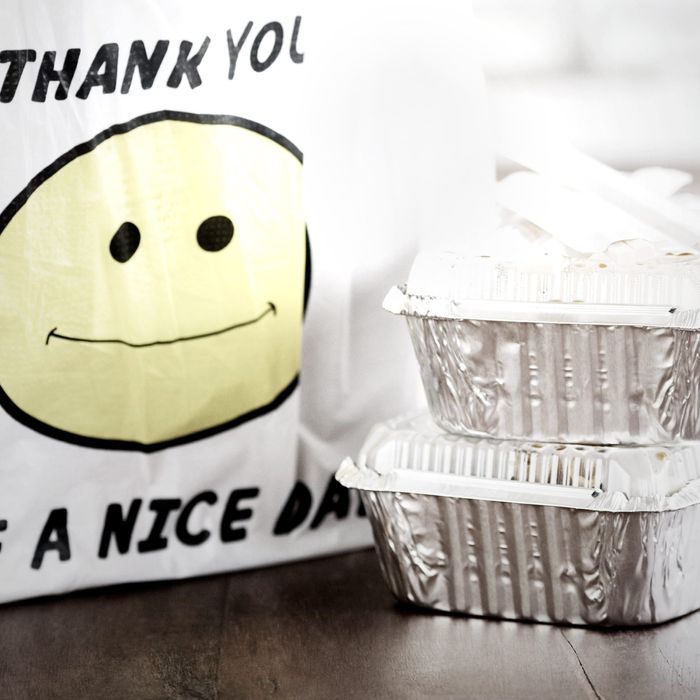 Photo: Jamie Grill/Getty Images
New York's Sex Diaries series asks anonymous city dwellers to record a week in their sex lives — with comic, tragic, often sexy, and always revealing results. This week, a single bisexual recovering from a breakup: female, 23, babysitter, bisexual, Harlem.
DAY ONE

7 a.m. Wake up feeling nauseous. Had way too much to drink last night, which of course ended with an emotional cab ride home talking about my ex to Bobby. Bobby and I met on Tinder — a second after my last relationship (of two years) ended, I swiftly made an account in an effort to trick my mind and my heart into thinking everything would be just fine.
10 a.m. I promised Bobby we would have sex this morning. Last night we were both far too tired and far too drunk. And I wanted to have sex a few times this morning, because it's snowing and we don't need to rush out of bed.
10:35 a.m. He always starts by going down on me — we are still trying to find out what the other person likes. He uses his tongue until I'm quivering. He loves making me orgasm. My whole body tenses up and shakes rapidly. Immediately after I finish, he is inside of me; he starts off slow, because he knows I like that. We go through several positions until we end up in doggy style. He finishes all over my back and some goes in my hair. I'm not too fond of it, but if I wanted a classy money-shot then I guess I should've joined Match.
1 p.m. He's gone. I roll myself a joint, start cooking some food, and browse Netflix. Training Day is up. I've never seen it, but I am partial to all things Denzel.
5 p.m. I'm stoned, horny, and hungry. I go in the kitchen to get some food. That's when I see the recipe book my ex gave me for our anniversary, a year ago. It's a Twilight Zone journal from the classic episode "To Serve Man." He was the only person I ever dated who loved that show as much as me. I end up crying, aggressively. I need something to take my mind off it, so I take an edible. I know it takes a while to kick in, but in an hour or two, I'll be exactly where I need to be.
10 p.m. I'm horny and high as a kite. I get a text from another person from Tinder. Not Bobby — I'm unsure of who this is. Oh wait, it hits me: It's some guy named Jason. The conversation starts off mild and turns sexual: He starts telling me about a time he had an orgy with all of his friends. His story makes me wet; the details about him screwing a girl from behind while she ate out another girl gets me there. I orgasm, tell him thanks, and pass out.
DAY TWO
10 a.m. Got to sleep in. Turn over in bed, and suddenly a whoosh of anxiety comes over me. My stomach starts to feel queasy. This is not uncommon for me in the morning. Post-breakup, this apartment and waking up alone always remind me of the relationship.
12:35 p.m. I text Bobby to see what he's up to. I enjoy talking to him, and really enjoy fucking him, but he's boring. I have no real attachment or connection to him. And the sad thing is, I think he knows that he will never be more than a label-less rebound. I feel bad about this — or maybe I feel bad because I don't feel bad. This breakup has done more to me than I thought. It's hard for me to know which way is up and which way is down. I choose not to think about this right now, and pop in an edible.
5 p.m. I get a text from my best friend saying she's having dinner with some friends and I should come meet them afterward at their apartment. Her friends are two people in a relationship, much like the one I was in. They also live together. It's hard for me to think about them without coming to the conclusion that they are making a mistake. But that's the thing; for them, it works, and it just didn't for me.
8 p.m. Wobble down to Kips Bay to their nice apartment. Both of them work in a fancy restaurant, so our night consists of fancy cheese, cured duck sausage, dessert wines from Mexico, and weed (lots and lots of it).
DAY THREE

10 a.m. Get a Facebook message from my ex that reads, "Are you ok?" This happens frequently. He is about seven years older than me and wants to help me through this breakup as a friend, because he understands what I am going through. Sound confusing? It is.
6 p.m. Bobby texts and says he wants to meet up this week. I suggest tomorrow. I cab over to his place, we can eat takeout, and then he can eat me out.
7:20 p.m. Get home very tired. I work as a babysitter for a super-hip family. Both of the parents are artists, and the two little boys are pretty spectacular. They don't know it, but every day I spend with them truly does make everything a little better.
8 p.m. New notification from Her, a dating app I use to find ladies. A girl wants to chat but she's not my type. I'm pretty attracted to most women, but the sexy, androgynous Ruby Rose type really gets me horny. At the moment, I'm sleeping with men but still have the desire to be emotionally intimate with a woman. I browse Her for a while until I get bored and start to masturbate, thinking of this girl I hooked up with last summer. I make myself come four times, each time stronger than the last.
 DAY FOUR

6:45 p.m. I'm done with work and head over to Bobby's place. He's ordering us some Thai food from Spice.
7:15 p.m. I arrive at Bobby's place starving. We share food in his room. We even feed each other a couple times (cute). We start having a conversation about politics, which usually for me turns into a conversation about class and race. I am black but have really only dated white men, except for one time when I dated an African. This conversation is fine — not a ton of debate but not a ton of agreement. It just is what it is, kind of like my feelings for Bobby.
9 p.m. We start watching a show on his laptop even though his hands are already down my pants. He really knows how to make me purr. Eventually I can't take it and push his head down to meet my clit. He eats me out until I'm trying my best to silence my growing orgasm. He continues in missionary for a while. He thrusts deep while one of his arms holds the swell of my back, and his other hand fingers me in the ass. He gets close and pulls out. He comes all over my tits. Meh.
11 p.m. I'm debating whether or not I should sleep over. We talk it out and decide it's not too big of a commitment if I do. We have sex two more times and then we pass out spooning.
DAY FIVE
9 a.m. At work. Looking forward to a chill day. I got my college degree in drama, so I use some free time as a chance to start a new play I've been conceptualizing.
11 a.m. Hop on Tinder for a while. Three different guys I've been talking to want to meet up tonight. Who they are and what they do is irrelevant. I agree to all of them and sit back to see how the day unfolds.
6 p.m. One of the guys from Tinder says he has to reschedule because of work. Yawn.
6:45 p.m. A second guy from Tinder asks me to come over to his place after work. I'm really tired of Tinder guys making me feel like a prostitute, so I say forget it.
7:15 p.m. I message the third guy from Tinder and tell him that I am not feeling well and want to go straight home after work. I feel fine, but if I'm not going to attempt the Tinder Trifecta then I'm not in the mood to see anyone, really. I head home. Alone. I feel alone, very alone.
DAY SIX

1 a.m. Still not asleep. It's hard for me to sleep when I'm feeling alone. I start to think about my ex, which makes me think about all of the other changes happening in my life. I start to think about money, or the lack thereof. I think about what I am doing with my life and whether it has any meaning at all. Dark stuff, I know, but I'm in a pretty dark place. Eventually the weight of the world presses hard enough on my eyelids, and I'm out.
10:45 a.m. Finish up my weekly session with my therapist. He thinks I smoke too much weed (whatever). Sometimes I fantasize about him sexually. I am not actually attracted to him, but I am attracted to how much he seems to care about me. I'm sure this is all clinical.
11 a.m. Much to my surprise, I receive a text from this female artist I met a while ago. She is too cool for me and takes weeks to respond to my advances. I don't know why she responds at all, but the games make me want her more. We agree that we should hang out again soon. I know deep down this will never happen, but damn, would I love to make her moan.
6:15 p.m. My ex and I start talking again via Messenger. When we start the talk, I am angry, and when we finish, I'm devastated. It's brutal. I cry hard in the bathroom at work.
8 p.m. I hang out with two friends in Chinatown: The night consists of giant bottles of wine, a fat joint, and a trip to a Creperie. There really is nothing like good friends.
11:45 p.m. Get home. I feel pretty good and start watching some porn. I am a bit of a prude when it comes to porn, so I fast-forward through all the close-ups on genitals. As I'm watching this realistic-looking couple go at it reverse-cowgirl, I begin to rub my clit, hard. I have a micro orgasm, which is better than nothing. I want more, so I start texting Bobby. I tell him how I want him to fuck me from behind while his hand rubs me out. I say I want him to slowly put his fat dick in my ass. I don't know why I said that. I've never done anal, and don't plan to, but the idea of it makes me come hard. It's like Niagara Falls down there.
DAY SEVEN

7:30 p.m. I meet up with some wonderful ladies for a monthly book club. Every woman in this group is an artist and tired of the constant struggle against the patriarchy. We talk about a wonderful text by bell hooks. This conversation is making me fall in love with these ladies and myself.
9 p.m. Get a message from a girl on Tinder. Her name is Alex. I tell her about my book club, and she seems interested, genuinely interested. It's been a while since I've felt that.
11:30 p.m. We keep talking. Our Tindering turns to texting, but never to sexting — as it usually does with men. This is a relief. She reveals to me that we will not be able to meet up, though, because she is leaving tomorrow to go back to school. Damn. She reminds me of a good friend I have back home. Although I've never met her, I can tell she is someone who has compassion pouring out of every inch of her body. She says we could meet up in May when she returns to New York. Usually I would respond with "Nah, later dude," but this situation is interesting to me. She intrigues me. Maybe I'll see her in May, maybe I won't. But for the first time in a while, I happily go to bed alone and sober with a feeling that things are finally getting better.
Want to submit a sex diary? Email sexdiaries@nymag.com and tell us a little about yourself.