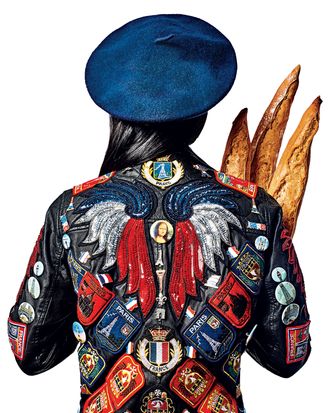 This Paris-themed work by Dries Van Noten is one of 25 embellished motorcycle styles for auction.
Photo: Bobby Doherty/New York Magazine
This month, the Barneys flagship comes back to Chelsea, where it lived from 1923 to 1993. To fête the new location (101 Seventh Ave., nr. 16th St.) — and nod to the iconic 1986 charity event at the store for which the likes of Jean-Michel Basquiat designed jean jackets — Barneys has partnered with Christie's for "The Black Leather Jacket" auction. Among the 25 embellished motorcycle styles is this Paris-themed work by Dries Van Noten, rendered with 83 pins, 71 patches, six Eiffel Tower charms, and one Mona Lisa. Bidding starts in early March at christies.com; all proceeds support the LGBT Community Center and the White Columns arts space.
christies.com/theblackleatherjacket
*This article appears in the February 8, 2016 issue of New York Magazine.