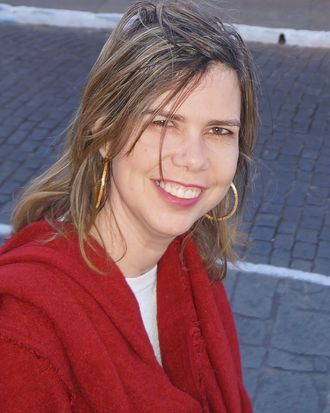 Dr. Adriana Melo.
Photo: Courtesy of Adriana Melo
For the first time in her 22-year career, Brazilian obstetrician Adriana Melo couldn't explain to a patient what was happening to her fetus.
The 20-week-old's head appeared too small on the ultrasound image. Parts of her brain appeared atrophied, while calcium deposits dotted other parts.
Two weeks later, Melo found herself at a loss again. A 24-week-old fetus also had a smaller-than-average head, and his brain was asymmetrical. His thalamus, a part of the brain that controls movement and sensation, had failed to develop properly. Melo knew enough to diagnose the fetuses, whose mothers named them Catarina and Guilherme, with microcephaly, but she didn't know how or why they had it.
"It is difficult to tell a mother that there is a problem with her baby but you don't know why," says Melo, who works in the state of Paraíba, in the poor northeastern part of Brazil. "My first patients, the mothers of Catarina and Guilherme, were my partners in looking for answers."
Over the next three weeks, Melo, who has doctorates in obstetrics and gynecology and infant maternal health, canvassed doctors across the country. She was closely following the news out of Recife, a city in neighboring Pernambuco, where doctors had noticed that many pregnant women had red spots on their bodies, a sign of the Zika virus. Melo had noticed the marks on Catarina and Guilherme's mothers as well, but their blood tests showed no evidence of the virus. Yet the more research she did, the more she began to suspect a connection between the Zika virus and microcephaly.

So in early November she extracted amniotic fluid from the two mothers and sent it to be analyzed at the Fundação Oswaldo Cruz, a national science research institution in Rio de Janeiro. She convinced the Paraíba health authorities to pay for the two pregnant mothers to travel 1,650 miles to São Paulo, where an international meeting on fetal medicine was taking place in mid-November. When Melo received the laboratory results, her suspicions were confirmed: Three different tests detected the presence of the Zika virus in the amniotic fluid of her two patients, indicating a possible relationship between the Zika virus and microcephaly.
Before last year, Zika — which was first discovered in the 1940s in Uganda — was relatively rare in Brazil. But the number of people suffering from the virus began to skyrocket last May. At the same time, doctors in Brazil's northeastern states noticed a spike in the number of babies being born with microcephaly — a neurological condition in which an infant's head does not grow to a sufficient size in the womb.
Around the time Melo diagnosed microcephaly in Catarina and Guilherme, Doctors Vanessa van der Linden Mota and her mother, Ana van der Linden, were seeing a spike in the number of women in Recife bearing children with microcephaly, and they alerted the health ministry. But it was Melo who first called for public-health officials to test amniotic fluid. Since then, the two mothers, whose names have never been revealed, have played an integral role in the research on Zika and microcephaly.
By mid-November, Brazil's ministry of health began to require that doctors report cases of pregnant women with red spots on their skin. And though the relationship between Zika and microcephaly has yet to be proven conclusively, on February 1, the World Health Organization declared Zika a global public emergency because of the mounting evidence that it is causing neurological disorders in babies.
When the suspected connection went public, it set off shock waves around the world. But Melo took her discovery in stride. "This wasn't a surprise to me," she says. "I always believed there was a connection between microcephaly and Zika."
In the past five months, Brazil's ministry of health has counted 4,783 suspected cases of microcephaly. The epicenter of the outbreak is Recife, in Pernambuco state, with 1,447 suspected cases. The second-hardest-hit state is Paraíba, where Melo works, with 750 suspected cases. Both Paraíba and Pernambuco are in Brazil's northeast region, which is developed but much poorer than the southeast, where Rio de Janeiro and São Paulo are located.
"Brazilian people don't even think that people in the northeast do research," Melo says. "They certainly don't think that we produce high-quality research."  
Melo, who is married with two daughters, specializes in fetal medicine and works in the public and private sector in Campina Grande, a city of 400,000 people in the interior of Paraíba. On a typical day, she leaves her house at 8 a.m. and tends to appointments at her private practice. Two days a week, she treats mothers with high-risk pregnancies at a public hospital, for which she earns $950 a month. She also teaches fetal medicine at a medical school in Campina Grande, and spends her nights on her fetal medicine research. Melo says that she specializes in fetal medicine because she does not like to work with death.
"The arrival of Zika just solidified my career as a researcher and proved what I could do," she says.
Months after she first drew a connection, Melo's work on Zika and microcephaly continues. Every Friday she examines the ultrasounds of pregnant women who have a history with the Zika virus. Thus far she has examined more than 150 women. Seventeen of their fetuses were diagnosed with microcephaly, which she treats while continuing the search for the cause.
"The world owes them some answers," Melo says.