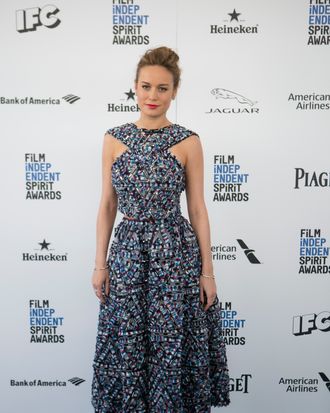 Brie Larson.
Photo: ADRIAN SANCHEZ-GONZALEZ/AFP/Getty Images
It's been a busy awards season for Brie Larson, picking up hardware left and right for her performance in Room, and likely finishing it off with an Oscar tonight. Yesterday she added an Independent Spirit Award to the pile. On Instagram, alongside a pic of her accepting the award, she posted a, uh, less than flattering shot of herself making a face that will be instantly recognizable to anyone who's been a teenager. Scientists call it "Moooooooooom, stop it" face.
Larson explained in her caption, writing, "Thank you mom for this photo that looks like a direct representation of what it's like when your mom takes a photo of you." Stars, their proud parents take awkward photos of their major accomplishments, just like us!