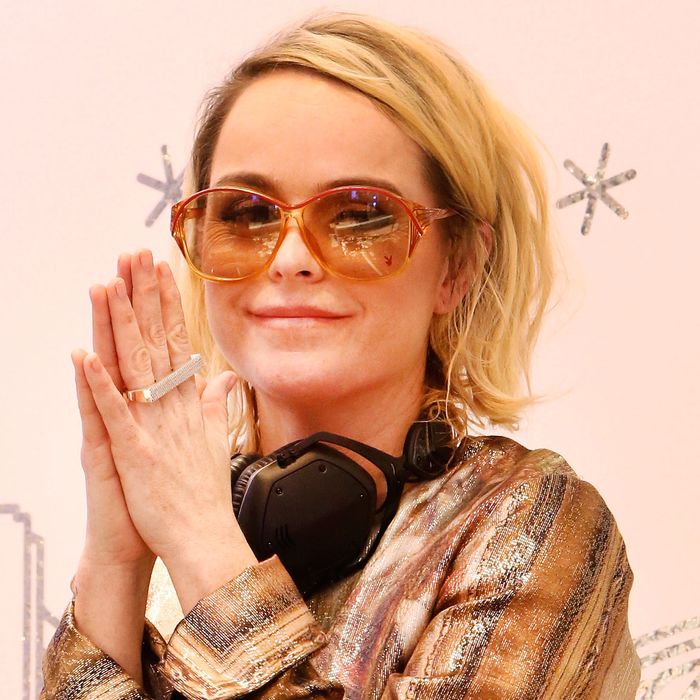 Taryn Manning (center) and her friend Brittany Murphy (invisible).
Photo: S Fernandez / Splash News
Though her corporeal form has been gone for more than five years now, the ghost of Brittany Murphy continues to walk the Earth, happily haunting both her friends and Hollywood mediums with TV shows. Her most recent appearance: an H&M party in Toronto.
According to TMZ, former Murphy bestie Taryn Manning was DJing when she decided to give a shout-out to Murphy during "Lose Yourself" by Eminem. (Murphy and Manning appeared alongside Eminem in the 2002 film 8 Mile.) But just as she brought up her deceased friend's name, the music shut off and the DJ software shut down, leaving Manning to reach the only obvious conclusion: that Brittany Murphy's ghost had appeared to say hi, and maybe also hated the song "Lose Yourself."
Murphy's ghost has been spotted all over Hollywood recently. In January, she delivered a message through Hollywood Medium host Tyler Henry to her former friend Jaime Pressly. The ghost of Brittany Murphy officially has a more active social life than I do.