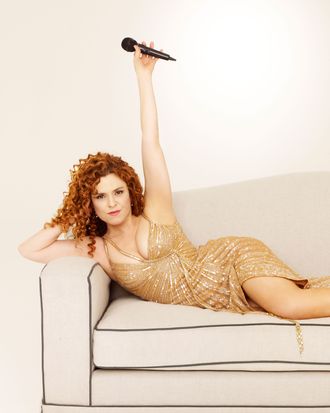 Bernadette Peters
Photo: Andrew Eccles
If you've been watching Bernadette Peters do her thing on the Golden Globe-winning Mozart in the Jungle, you've probably wondered, How does this woman look so damn good? It turns out there's no shortcut, just a lifetime of exercise and extremely healthy eating — with the occasional Italian family dinner thrown in. The Cut caught up with Peters shortly after Mozart was renewed for a third season (good news: Peters says she'll "hopefully" be doing even more singing) and as she was preparing for an upcoming concert in her home borough, Queens. Here's what the two-time Tony winner had to say about meditation, the evils of crackers, and the importance of a furry friend or three.
How I start my day: Lately, I've gone back to coffee. I have one cup of coffee a day and I have three slices of grapefruit — three little smiles of grapefruit. Sometimes I have a little bit of oatmeal. And then I have some hemp powder. I put that in my tea, actually. I don't eat a big breakfast. Because then I'll go down to the gym. I like to run. I do intervals. I work with a trainer three times a week.

How I like to sweat: As a little girl I took dance. And then I really started seriously exercising, during Sunday in the Park With George. So it's been quite a number of years. And it's kept me in good stead. Pilates is great. Gyrotonics is really wonderful, because that really is so healthy for your body, for your joints, because it's circular. But I haven't really been doing that too much [lately]. I've really been doing cardio, running intervals, and weight lifting.

What I like to eat: I eat a lot of sashimi, especially when I'm in a show. My diet is pretty clean. Just protein, vegetables, and salad — basically that's what I try to stick with. My family's Italian, so at Christmastime, there's always manicotti, eggplant Parmesan, and things I would never eat [normally]. I remember one of our Thanksgivings went on and on and on and on and on, and then we were all lying around full. My father goes out to the garage, because he had a refrigerator out there and he brings in a watermelon. How much can you eat, for God's sake? Of course it's nurturing. Sunday meals — a gathering of family and that's a lovely thing. So I understand all that, and I love tomato sauce, but I just try to stay away from it. If I really want that I'll scramble egg whites and put tomato sauce on it and then put some cheese on it.

I don't say, "I'm going to have a cheat day." I think I've gotten past that. But I don't keep things in the house. My poor friend came over and she felt peaked and she said, "Do you have a cracker?" and I said, "Oh, unfortunately, I don't have any crackers in this house." Because if it's around, I'll eat it. I share a KIND bar sometimes with my assistant, and that's great because then you have half of the calories. I just boiled potatoes for my dog, so I just had a piece of a boiled potato, which I don't usually have — but it's a vegetable. 

I have a friend that goes out and buys tiny Dove bars, ice-cream Dove bars. She indulges every night with four or five of those, but I just don't want to get into that habit, so I never do it.
How I eat when I'm alone: I really stick to [my diet] when I'm alone. Sometimes when you go out with people it can be a little harder because they want to order this and they want to order that. At home last night I had sashimi. If I feel like cooking I will cook a piece of a salmon. I eat a lot of salads with some protein in them.
What wellness means to me: It's a feeling of, first of all, peacefulness. Contentment. I think first it begins in your emotions, in the mind. It begins there, and then it goes into the physicality of taking care of your body and exercising. And then mindful eating, not overindulging too much.
My biggest wellness struggle: You really should exercise every day; sometimes I do it and sometimes I don't, but I always feel better after I do it. And I'm trying to get into the habit of meditating every day also. So maybe it's consistency.

How I meditate: I had a tape, years ago. Now I do it on my own; I do have an app, but I haven't used it. I believe anything that quiets you and focuses you is going to help you and help you through the day. I have a friend who does TM and he meditates twice a day and his whole personality has changed. He used to be so impatient: "Let's get out of here, let's go!" and now he's much more patient, open, hears you when you talk. And for myself I do it when I work, always. You're just more available to what you're thinking, and calmer.

On the importance of staying in practice: I'm actually going to take a singing lesson now. I still take singing lessons just to keep everything in shape, just the way I exercise.

How I wind down at the end of the day: I tell myself, "I'm going to have a wonderful sleep and I feel really good." Intention is important.
My best wellness advice: An animal will make you feel really good. [I have] three dogs. One of them is on the sofa next to me right now having a snooze. It's snoozy time! It's interesting to communicate with something that doesn't speak as you speak.

So, wellness is mind first: meditating. Then body: exercising and being aware of what you're eating. And a dog is good to have around.
This interview has been edited and condensed.