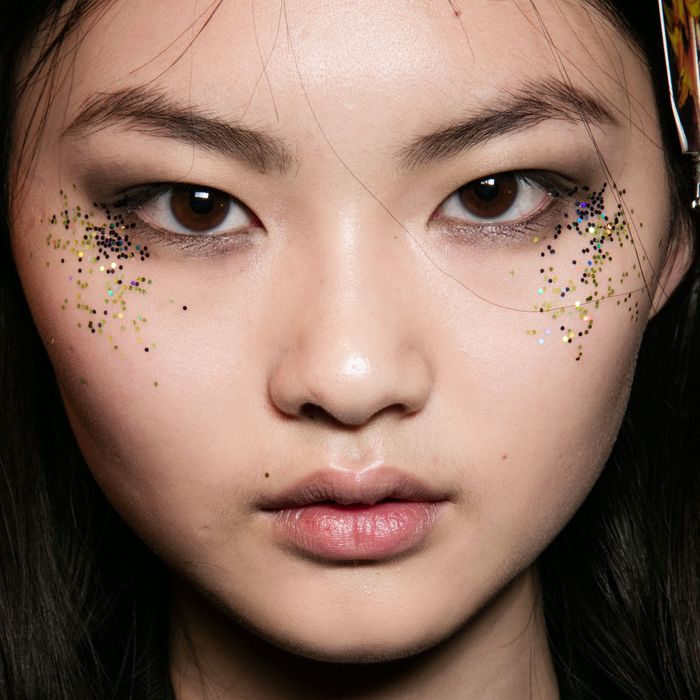 Burberry's limited-edition shimmer drops in August.
Photo: Imaxtree
Who would expect a traditional British brand like Burberry to promote glitter? It's the kind of thing you'd expect from Opening Ceremony and its space-age show, but it's also happening in London. Backstage at the show, Burberry's makeup artistic consultant Wendy Rowe explained that they were feeling an earthy, opulent vibe. That translated into certain models getting a new, limited-edition shimmer, as inspired by the sequins on the runway.
The look started with luminous skin. Then each girl was given a smudge of Eye Color Cream in charcoal. Everything was applied by hand, and some girls were given an extra layer of kohl, just to deepen the color. The pinky-nude lips were equally easy. "It's a succulent lip; you don't need a mirror to apply the color," explained Rowe. The real standouts were the lucky models who got a splash of glitter. Rowe used the Fresh Glow Stick to draw around the cheekbones and then pat the product on. "Glitter can work when it's a little haphazard and the right size," she explained. Rowe applied it and then let bits fall off. To really make the look feel fresh, she finished off with a bit of gold liner inside the eye and a ton of Burberry's mascara on the lashes. So set a reminder for August, when this product drops, because trust us, it will sell out quick. If you'd rather get something from their collection immediately, the runway nails are available now.