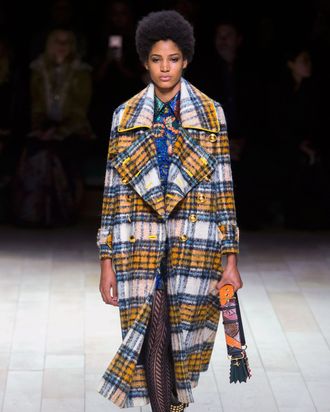 Photo: Alessandro Lucioni/Imaxtree
When Jake Bugg — North England's answer to Bob Dylan — sat down to serenade the audience at Burberry with his acoustic guitar, it was almost possible to forget that the show was a carefully orchestrated spectacle. Almost. With 1,000 attendees in house and many more watching via livestream and Apple TV, the show was a production on a par with the crowd scenes in a DeMille epic.
And it marked a much-talked-about period of change for the house. Burberry, recently consolidated into a single brand, announced a few weeks ago that it will offer in-season collections for sale essentially off the runway. (Indeed, the lineup was already inside Burberry's Regent Street flagship for the previewing and preordering hordes tonight.) Christopher Bailey is far from the only designer to embrace this concept—Tom Ford is another notable convert, among the many who've joined the fray — but Burberry is tackling it the most aggressively so far. So how did Bailey concoct a collection that would entice people to buy straight from the show?
By embracing a particularly British kind of cool. You see girls on the street here who can make a plaid overcoat, layered over a romantic vintage frock and set off with shit-kicker boots, look like the cleverest thing you ever saw. Or the guys who make a tracksuit seem like the only thing you'd ever want to wear. (Bailey reinvented the staple in sequins.) He seemed to be calling out to various eras of English style, too — the o.g. athleisure looks of Blur and the Britpop crowd, Glastonbury Festival gear, the Pre-Raphaelite revival of the '60s and '70s.
There's a certain kind of epoch-indifference here that strongly contributes to the cool factor: Just as the Gherkin can co-exist with an ancient cathedral, so can tweed, ancient lace, and Doc Martens. Did we mention they showed up on a cast including cooler-than-thou Brits like Edie Campbell and Ruth Bell?
And, keeping in mind that this was a collection that would need to jump off the screen more than ever, Bailey incorporated fanciful elements that would give the pieces a need-to-have-them-now appeal, like sequins and colorful python. He also introduced the Patchwork bags, a flashy new collection for the house. Where Burberry goes, other houses tend to follow, so let's see if the grand experiment pays off.