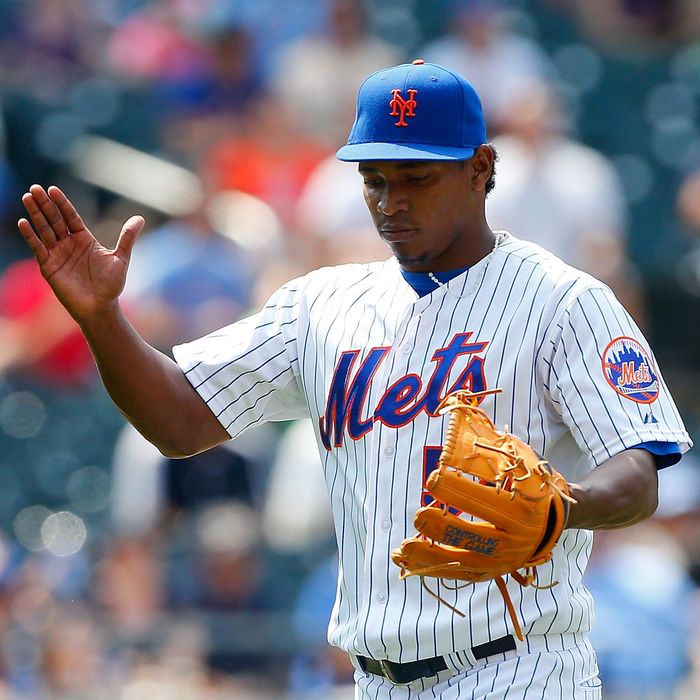 Jenrry Mejía, the Mets pitcher who was banned for life after his third failed test for performance-enhancing drugs.
Photo: Jim McIsaac/Getty Images
Last week, Mets pitcher Jenrry Mejía was banned for life from Major League Baseball after failing a third test for performance-enhancing drugs. Mejía had initially been suspended for 80 games last April, and then, shortly after returning to the team, was busted again last July, receiving a 162-game ban. He was still serving that suspension when he tested positive yet again, becoming the first major leaguer to receive a lifetime ban for PED use. We may never know the details of what caused Mejía to use steroids again knowing it would end his career if he got caught: He's either declined to comment or maintained his innocence after each of his failed tests. (This time around, he reportedly did the latter, and said he'd appeal the decision.) Perhaps not surprisingly, questions immediately began to bubble up on Twitter, bulletin boards, and comments sections about whether Mejía might actually be addicted to steroids. Admittedly, the chatter was nothing more than uninformed speculation — but it made us wonder: Is such a thing even plausible?
What exactly caused Mejía to fail the test?
When Mejía failed his first test last spring, he was found with stanozolol, an anabolic androgenic steroid, in his system. When he failed his second test, he was found with both stanozolol and Boldenone, also an anabolic androgenic steroid. In the third, he was found with just Boldenone.
What are stanozolol and Boldenone, anyway?
Stanozolol is a synthetic steroid derived from testosterone that's been on the market since the early 1960s. It has both anabolic and androgenic properties, meaning it affects both muscle growth and the body's masculine characteristics. It has some therapeutic uses, but its connection to sports became widely known in 1988, when Canadian sprinter Ben Johnson tested positive for it and was stripped of his 100-meter Olympic gold medal. Boldenone, meanwhile, was developed for veterinary use, mostly for treatment of horses. In humans, though, it can increase lean muscle mass and allow a user to train longer and harder. Neither is hard to detect. ESPN's T.J. Quinn described them last week as "old school, unsophisticated, easily detectable" drugs, as opposed to modern designer substances intended to allow a user to pass current tests.
So … can steroids like these be addictive?
In short, they can be. According to the National Institute on Drug Abuse, some steroid abusers may become addicted to the drugs, "as evidenced by their continued abuse despite physical problems and negative effects on social relations." In a section on anabolic steroid abuse on its website, the NIDA continues:
Individuals who abuse steroids can experience withdrawal symptoms when they stop taking steroids, such as mood swings, fatigue, restlessness, loss of appetite, insomnia, reduced sex drive, and steroid cravings. The most dangerous of the withdrawal symptoms is depression, because it sometimes leads to suicide attempts. If left untreated, some depressive symptoms associated with anabolic steroid withdrawal have been known to persist for a year or more after the abuser stops taking the drugs.
Indeed, a 1989 Yale study that suggested users of anabolic steroids could become addicted made the case that they should be treated much like other drug abuse, emphasizing treatment over punishment. A 2009 study in the journal Addiction found that about 30 percent of anabolic androgenic steroids "appear to develop a dependence syndrome."
Boldenone, the drug found in Mejia's system during the last two tests, specifically seems to fit the bill. According to The Encyclopedia of Addictive Drugs, "A case report notes that someone taking boldenone and other anabolic steroids for bodybuilding suffered serious temporary depression after the supply was cut off. Until then the person had been psychologically normal."
So what's next for Mejía?
He reportedly plans to appeal his lifetime ban, which he's eligible to do after one year. But even if it's successful, he'd have to sit out a minimum of two years. In the meantime, via ESPN, professional leagues in countries like Japan and South Korea could honor the MLB suspension and prevent him from playing there. Independent leagues in the United States could choose to do so as well. As for his appeal, there's no precedent for Mejía's specific situation. Perhaps the closest case is that of Steve Howe, who was banned for life in 1992 after a string of drug- and alcohol-related suspensions. His ban was cut to time served, or 119 days, when an arbitrator said that doctors concluded the pitcher suffered from attention deficit hyperactive disorder. But with a joint drug agreement now in place that spells out punishments for failed PED tests, it's possible Mejia really will never play professional ball again.