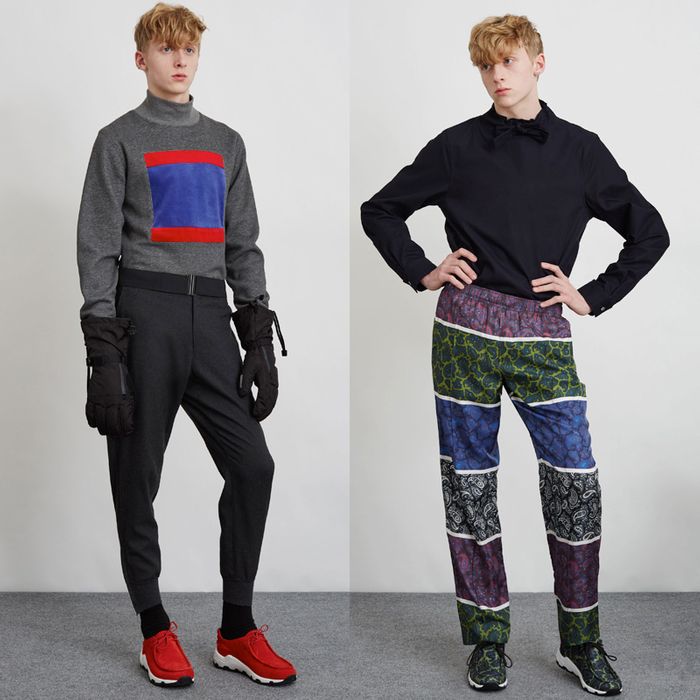 Photo: Courtesy of Opening Ceremony
"The rules have changed," says Carol Lim, co-founder of Opening Ceremony, at the brand's showroom on Centre Street where she's presenting the spring '16 men's collection. The line consists of everything needed for "a week in the life of a modern man," according to the press release, but there isn't a suit on the racks. "It's all about individual style," Lim says.
It's true. It started with casual Fridays. Once guys got a taste of that sweet sartorial freedom, it was inevitable. Then came the tech boom. "Think of Steve Jobs and his dress code," Lim says, citing the turtleneck, jeans, and sneakers the Apple founder made iconic. Hard to imagine, but there was a time when wearing sneakers and jeans to a corporate event would have seemed ludicrous. "It's become acceptable," Lim adds.
That kind of endorsement of anything-goes style may sound rich coming from someone who, with her partner, Humberto Leon, has helped to define the current landscape of men's fashion, but that doesn't mean it isn't true. Over the past 15 years, Opening Ceremony has carried the most avant-garde and the most accessible brands in the business, so she should know.
The OC presentation included reversible bombers (silky satin on one side, soft, familiar jersey on the other), velour suits, and tailored shirts with rugby stripes. It was the first stop for many on the schedule of the second-ever New York Fashion Week: Men's, which runs through February 4. Over the course of these four days, we're sure to see many more versions of the experimental weekend/workout wardrobe that's come to define style for this city's guys. There will be sneakers and track pants worn with tailored overcoats, graphic prints in places you wouldn't expect to find them, and all manner of hooded sweatshirts, with unfathomable drawstrings, zippers, and hemlines.
It may be easy to dismiss what will appear on the runway this week as spectacle for the purpose of exciting a very small group of industry so-and-sos, but the men's market really is having a moment — which is why it now has its own week in New York on the fashion calendar (prior to last summer, men's fashion shows happened concurrently with the women's) — and much of it will easily reflect what's already being worn on the street. Who knew that casual Fridays and the birth of an industry founded by guys who work out of their moms' basements would lead us here? "I think there's a sense of adventure," says Lim. "I think men are a lot more open to wearing different things, not just a blue dress shirt and slacks. Those things don't matter anymore."