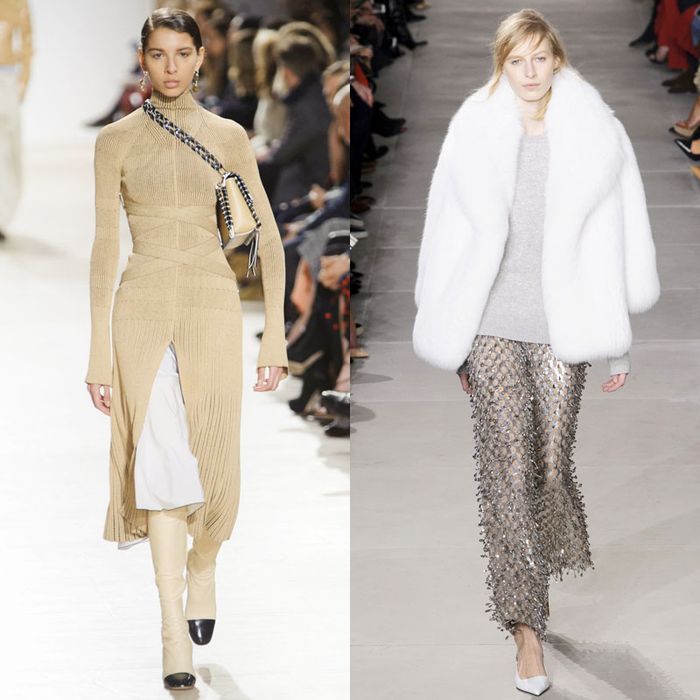 Looks from Proenza Schouler (left and right) and Michael Kors (center).
Photo: Imaxtree
Striking the art-and-commerce balance isn't easy in fashion. The obvious successful exceptions are Miuccia Prada, who has the twin engine of her family's art foundation and apparel factories; Marc Jacobs, who memorably collaborated at Louis Vuitton with the artists Takashi Murakami and Richard Prince; and Riccardo Tisci, who last season worked with Marina Abramovic on his Hudson River show for Givenchy. But, of course, what links those designers is big-brand bucks to help realize products that people will buy.
In more recent years, Jack McCollough and Lazaro Hernandez of Proenza Schouler have strengthened their ties to the art world, both in visual associations and friendships. Their Madison Avenue store was designed by the architect David Adjaye; they've done prints and embroideries directly inspired by the artist Gerhard Richter's paint-"dragging" technique; and at various moments the influence of Pollock, Klein, and Christopher Wool can be sensed in their work. But they've had a harder time getting the commerce portion right, in part because of the relatively small size of their business and because of some rather muddled design direction.
There are signs, however, that this is changing. Last night, they took over the fifth floor of the Whitney Museum. And, yes, the boyish designers made references to various artists, notably Richard Serra and Robert Ryman. But the important thing was that they have extended their ideas for shape, cutting, and knitwear through three consecutive collections. A year ago, in the old Whitney building on Madison, they took a leap by boldly cutting away at the structure of clothes. (Indeed, this has been a trend of the current NYFW, with sliced skirts at Michael Kors, among others.) Then, for their spring 2016 show, the Proenza designers did things with lacing — again, with an artful feeling of deconstruction.
Well, those techniques have been carried forward for fall, but now the results feel much more resolved. And that's essential from a commercial standpoint. Process is something that interests certain artists, but it's fun to watch it in the designs of McCollough and Hernandez — the closely buttoned black jacket that opened the show, worn over a longer white satin shirt and wide crêpe trousers; the knit tunic tops that break open at the middle with lacing; the ribbed tube dresses that vaguely hint of cracked paint; and the strange flatness of black floral prints on shirts and dresses. The printing was done after the garments were assembled, so that the flowers don't align so nicely at the seams. But it's precisely that sense of imperfection that the designers said they wanted.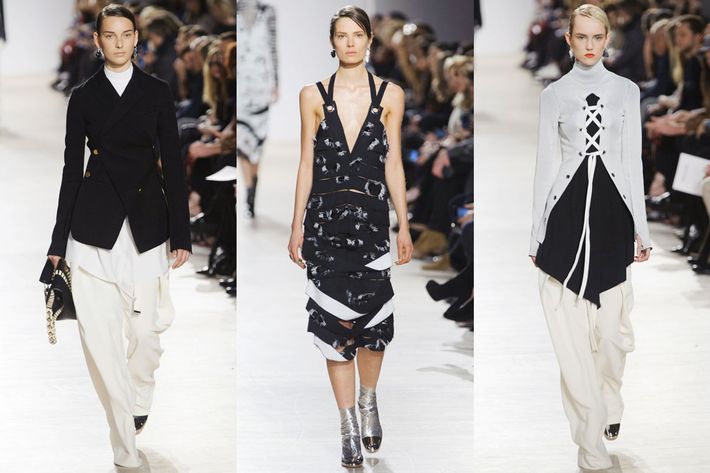 For me, the charge in this collection was in its silhouette — that body-hugging element on top that gradually releases to volume on the bottom. It's an elegant look, and also an urban-friendly look; and it worked best with the opening blazer and an ecru jacket composed of rib-knitted squares and buttoned tightly and somewhat irregularly across the torso. You can imagine wearing it with anything.
Another appealing look was below-the-knee, loose-fitting ribbed dresses worn over plain mock turtlenecks. They weren't just any old layering garment, with no design values — God knows, we've seen enough of that this week. (From DKNY, to mention one brand.) The dresses have a precise shape, and the wide, almost halter-style straps keep them interesting.
Hernandez and McCollough have become adept at implying contemporary-art references, and playing with them, but to survive in the fashion business they'll need to fully accept its cardinal rule: You have to repeat yourself a bit in order for the consumer to understand you. On that score, the Proenza fellows still have room for improvement, but at least there's now a clear pattern.
Some years ago I ran into Silas Chou, the genius backer of Michael Kors (and before Kors, Tommy Hilfiger), who had just come from an event for young designers competing for a prize. I asked Chou for an assessment of their work, and, wincing, he replied: "Too much froufrou."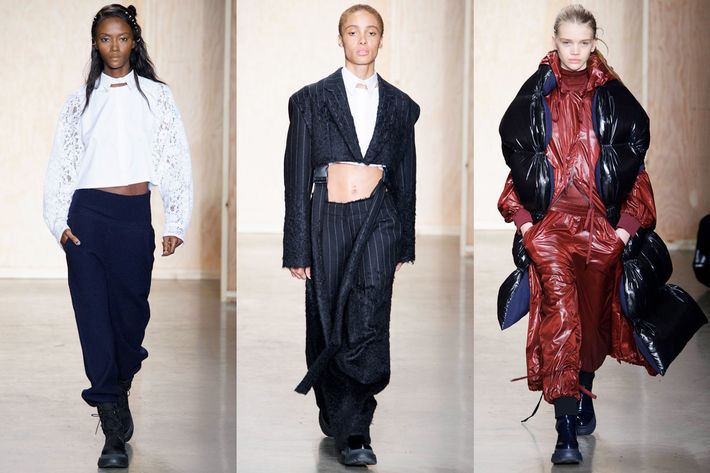 He meant unnecessary complexity, rather than feminine trims. The DKNY show — the second by the Public School founders Dao-Yi Chow and Maxwell Osborne — suffered from a severe case of froufrou. What connects blazers cropped to the sternum with big MC Hammer–style pants? Or pretty white cotton lace shirts with fat puffer jackets and murky plaid pieces? Hard to say. The collection certainly offered more variety than their debut, but what's missing is a clear and distinct vision for the label.
Contra Chou, the Kors show, also yesterday, proved that froufrou can work. According to the designer's press notes, the show was about "the flirty freedom of things that move … feathers, streamers, slashes, chains and slits."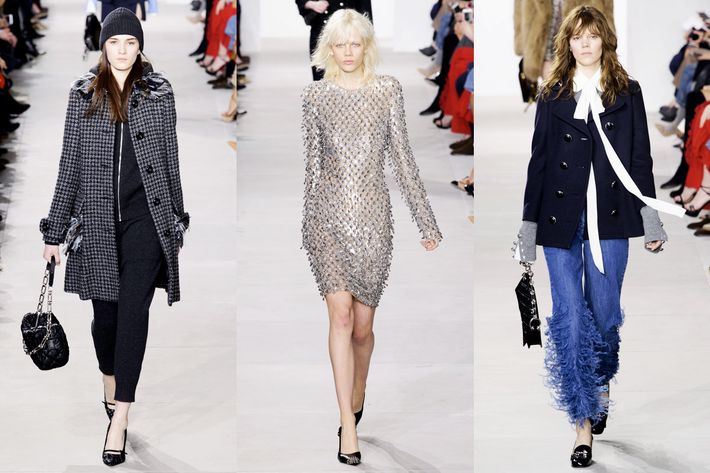 Kors wasn't kidding, either. It was all there: jeans embroidered below the knees with wisps of indigo-dyed feathers, tweed skirts with flapping car-wash pleats, and floral-print blouses with streaming stock ties. And yet at no time did any of these effects feel superfluous or out of step with the whole message.
In the first place, the clothes struck a nice dressy-casual chord, thanks to things like tweed coats, charcoal cashmere sweatpants, and the graphic punch of the dainty floral prints (a trend this season). And, second, Kors made everything look light in weight and breezy in attitude. He's ridiculously good at that.
And he knows that the world today loves shine. But, again, he dials it back just a bit — with a silver-beaded dress that basically is a T-shirt and a similar pair of glam pants, finished off with a snowball of white fox, that almost reached back to 1930s golden girls, or Carole Lombard in her satiny ease. It's still a wonderful dream.