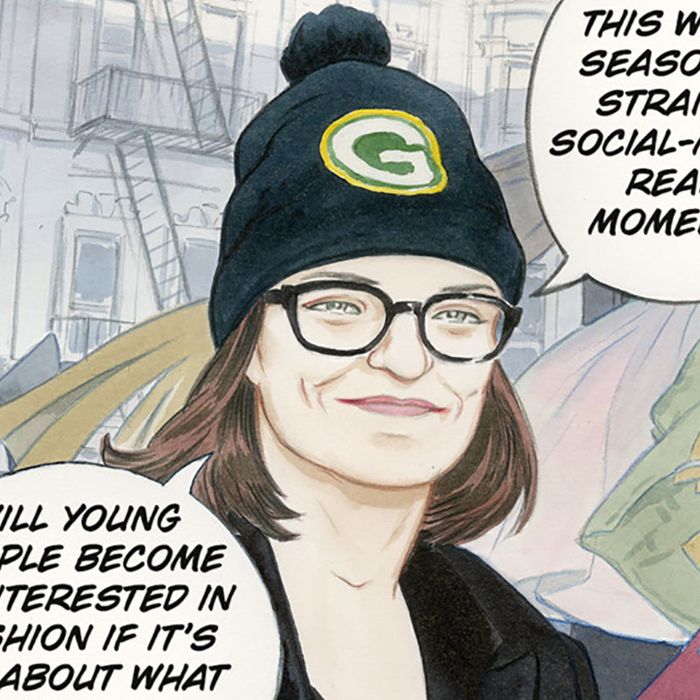 Fashion critic Cathy Horyn on this year's fall collections.
This season scored extremely high in absurdity, with rare moments of sanity. It's been a whirlwind of social-media moments, from Diane von Furstenberg dancing among her models to Alexander Wang's nudie-club tops to Kanye's circus. More than usual, I found myself questioning the sincerity of everything.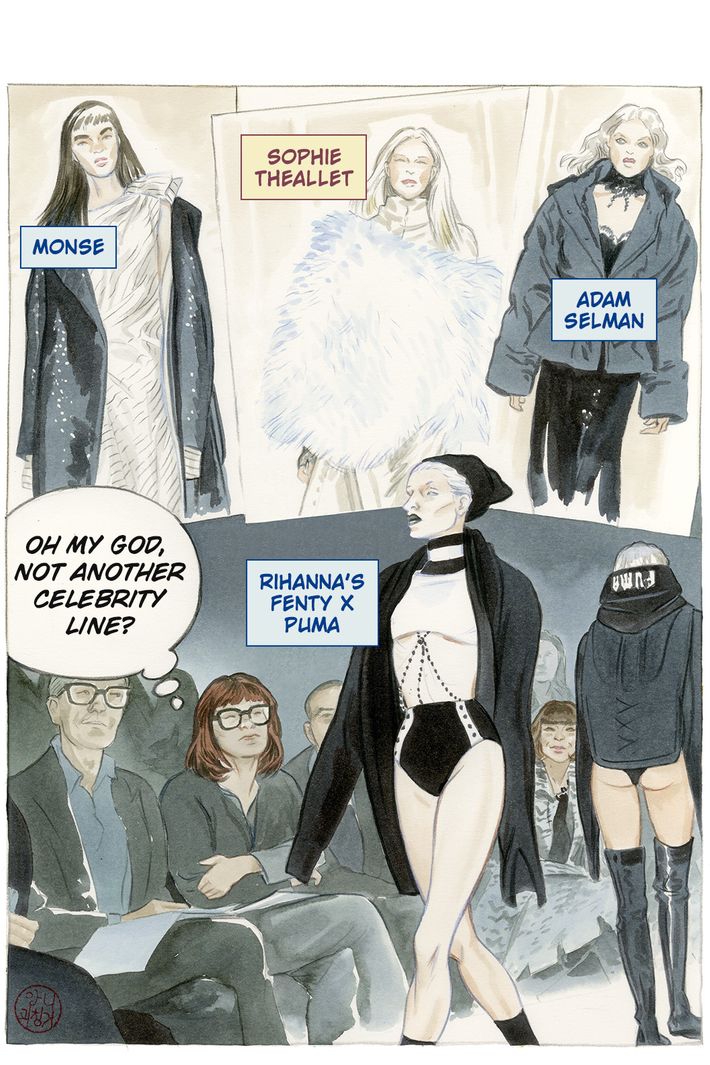 Monse
It's great to see young American designers wanting to snip away at convention. In their second season, Laura Kim and Fernando Garcia of Monse added much more refinement to their freestyle cutting and draping methods, based initially on a classic dress shirt transformed into other shapes. Low-slung pants in rose-pink velvet looked cool with a slightly oversize striped silk shirt, as did their slim, deconstructed trousers — imagine the flap of sailor pants half-unfurled.
Sophie Theallet
Sophie Theallet's sophisticated cutting and draping — offhand in attitude — expressed a very worldly view of dressing. One of my favorite looks was a floor-length dress in cream charmeuse, flung with a feathery white stole, and a column in white cloque with peaked sleeves, the model's face framed in black lace. Theallet's clothes beg to be worn by a flesh-and-blood screen siren at the Oscars. Cate Blanchett comes first to mind.
Adam Selman
Adam Selman had a terrific show, beginning with a dark-blue denim dress with overall-style straps and a tapered waist, worn over matching trousers. His show felt very clear and compact, as though he were saying to his audience, "Here's my version of a parka, defined at the waist. Here's an off-the-shoulder minidress in kittenish black chiffon." Selman has found his groove.
Rihanna's Fenty x Puma
Another celebrity with fashion aspirations, pop queen Rihanna, has the global power of Puma behind her new Fenty line. Her own style is always riveting, but this collection pursued a mass style — very slick, but derivative and lacking in magic — that's easy to read on a cell phone. Kanye's clothes might be murky and muddy, but you do feel that they come from his own personality. Rihanna's clothes felt like they came off an assembly line of designers.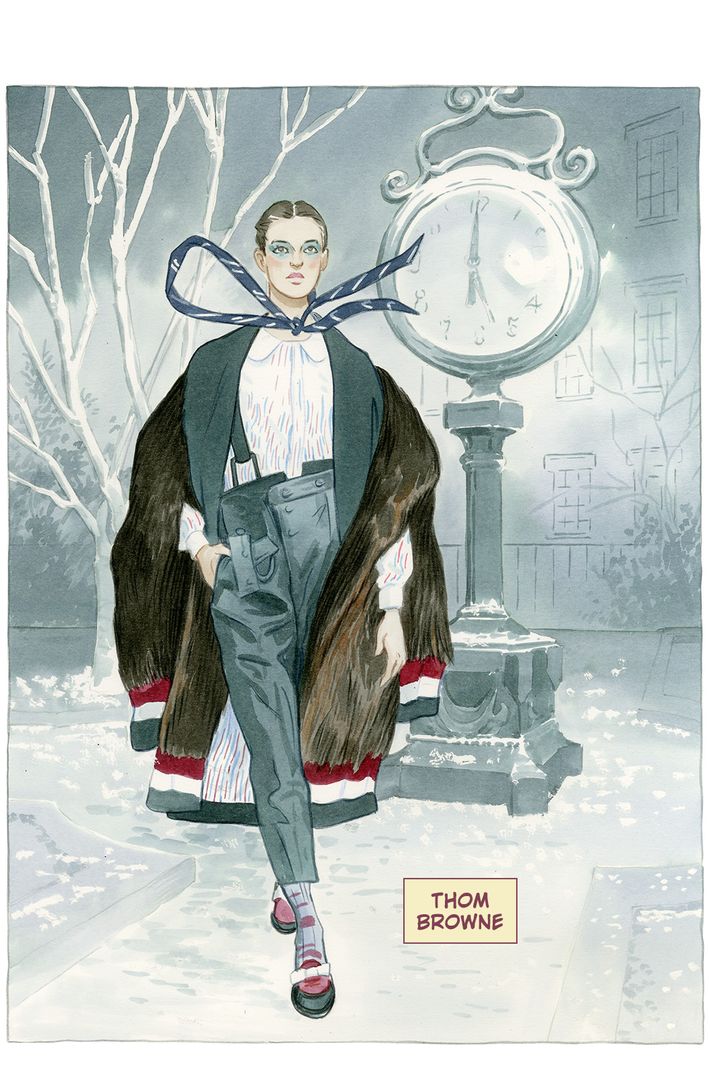 Thom Browne
For his latest women's collection, Thom Browne took his audience for a stroll around Washington Square in the early part of the 20th century. There were wintry trees, mist, a dirt footpath, and an imaginary character who repurposes men's clothes into feminine pieces — trousers into a stole, coats into dresses, ties as hats. The household dog into a purse? Well, that truly would be macabre, but Browne does have a dachshund named Hector, and Hector inspired not only the doggy bags (in smooth black calf or wirehaired) but also embroidery motifs.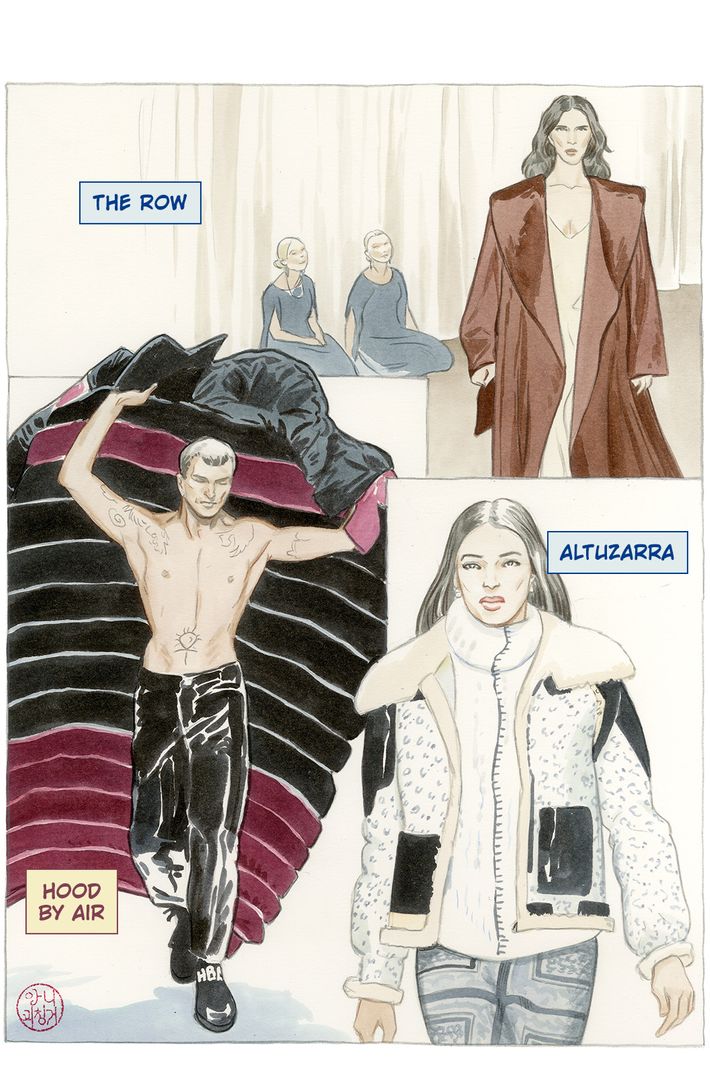 The Row
Timing has a lot to do with why a particular fashion looks good, and that's true for the Row this season. Mary-Kate and Ashley Olsen held an informal presentation in their downtown office, with the sisters sitting on the floor as their models came out. Over the years, they have sampled a lot of far-flung ideas, but the Olsens are at their best when they do chic tailoring and minimalist dresses. Everything was in neutral tones, with embellishment confined to a gorgeously plain black sack dress with tiny frills near the neck and an embroidered black coat. The refinement stood out amid the clutter and noise of the week.
Hood By Air
Although I appreciated Shayne Oliver's experiments with volume and scale at Hood by Air, using what looked like leather and vinyl and cotton, some of the ideas seemed engulfed by the material. Oliver alluded to travel, with backpacks and the torsos of some of the models wrapped with the plastic used in airports to seal bags and cargo. It made me think of the Syrian-refugee crisis — the images of people covered with thermal blankets and holding their belongings. But then, at almost the same time, a man was scampering up and down the runway in the kind of over-the-knee patent-leather boots made famous by Julia Roberts in 'Pretty Woman.' So my circuits kind of blew at that point.
Altuzarra
You have to wonder how big the market is for slacker slacks and pot motifs like I saw at Alexander Wang and Baja East. To his credit, and my relief, Joseph Altuzarra is not tempted to follow that track. "That's never been my thing," he told me backstage. The mostly dark florals, which vaguely hinted of patterns that were popular in the mid–19th century, stand apart from all the urbanwear this season, and yet they're hardly uptight. He continued the graphic mix of patterns in evening dresses—swirling, handkerchief-hemmed skirts sequin-embroidered in paisley and foulard designs, worn with low-heeled boots.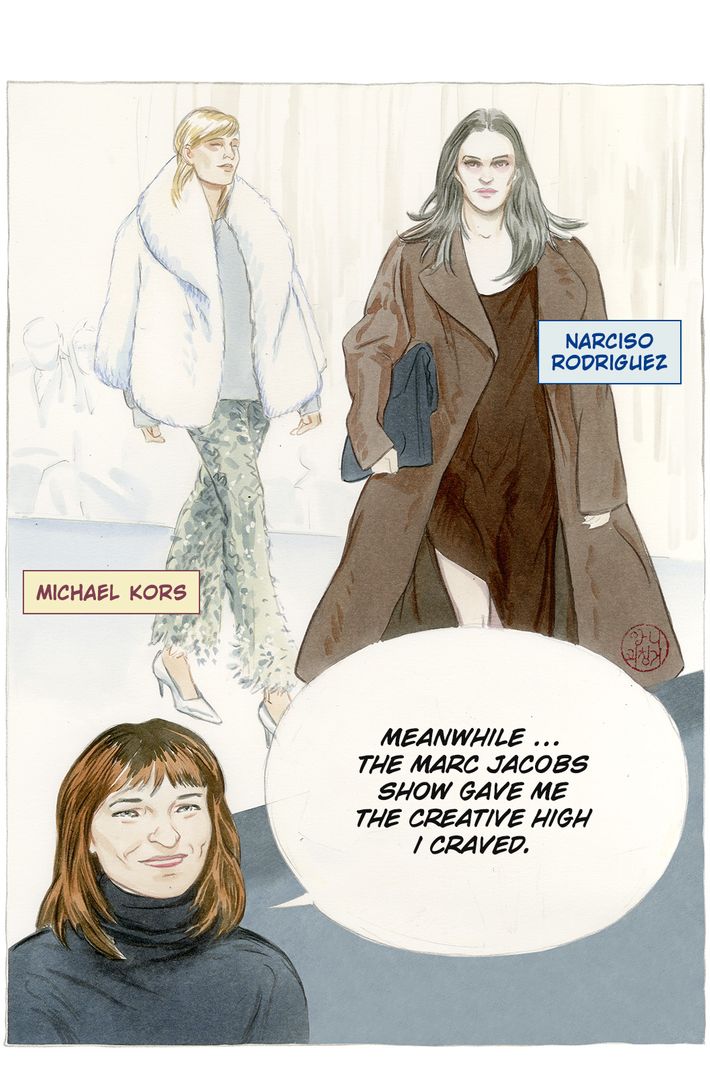 Michael Kors
According to Michael Kors's press notes, his show was about "the flirty freedom of things that move …feathers, streamers, slashes, chains and slits." The clothes struck a nice dressy-casual chord, thanks to things like tweed coats, charcoal cashmere sweatpants, and dainty floral prints — a trend this season. Kors knows that the world loves shine. But he dials it back just a bit — with a silver-beaded dress that is basically a T-shirt and a similar pair of glam pants, finished off with a snowball of white fox. It was reminiscent of 1930s golden girls, Carole Lombard in her satiny ease. It's still a wonderful dream.
Narciso Rodriguez
Narciso Rodriguez can speak volumes with a slip dress or the simplest jacket, because he understands cut and how things move on the body. Periodically, though, he shifts his collection more toward sportswear, away from the dresses he is known for. The clothes were generally loose on the body, with interesting asymmetrical skirts that looked great with the big sweaters. A tank dress in sulfur-brown suede would look terrific on its own or enveloped in one of those big, silent coats. I love how Rodriguez keeps reevaluating his ideas, continually surprising us.
Marc Jacobs
The faster the world moves, the more some designers want to slow its orbit. The set for Marc Jacobs's show at the Park Avenue Armory was an open circle — large, unobstructed, bright, white. Because it was round, it represented, to me, a fundamental life pattern: What goes around … But maybe because of the huge shadows cast by the models on the back wall as they entered the open space, I saw them as ghosts and Jacobs's collection as an expression of the way history remains as a trace.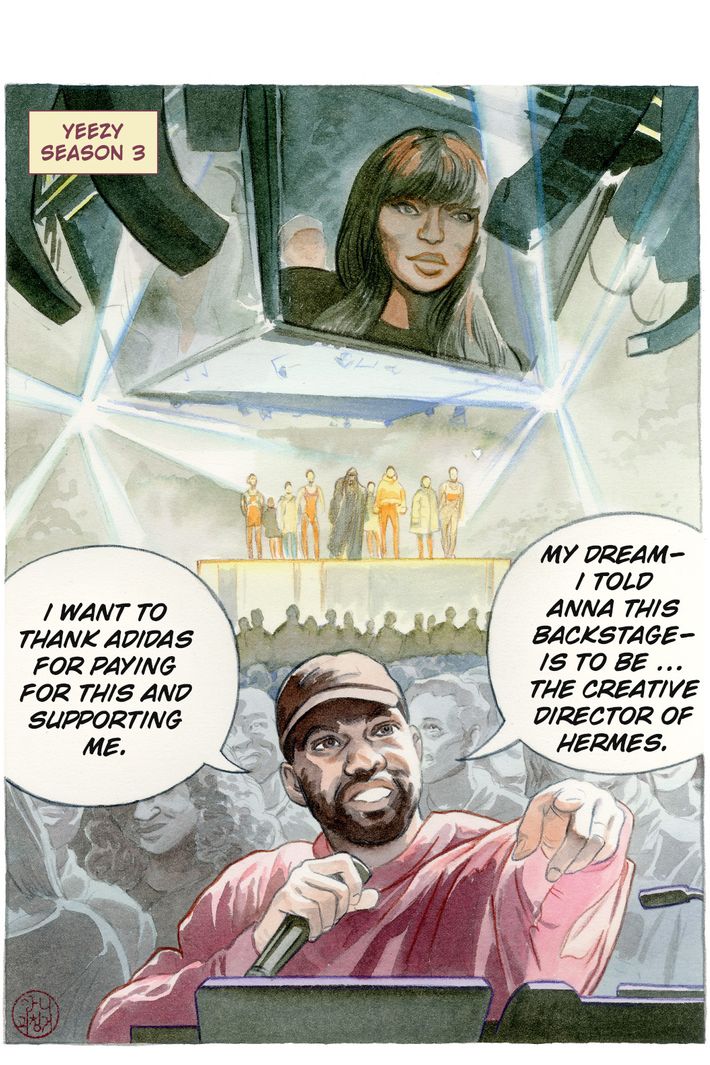 Yeezy Season 3
Kanye West chose Madison Square Garden as the launchpad for both his new album, 'The Life of Pablo,' and the presentation of his latest fashion collection, Yeezy Season 3. For West, working in an arena is normal, but for the rest of us — editors, buyers, and the roughly 18,000 fans who bought tickets — being in the Garden for a fashion show/listening party felt like an event.
Indeed, it synced up with the presidential race — the big rallies and the feeling, perhaps above all, that the script is being written as we go, and not by the Establishment players. This is where West succeeded with his Garden spectacular — the idea of it more than the actual content of the two-hour show.
He drew a young, racially mixed crowd. He spoke directly to them — and rather awkwardly bared his insecurities — after he'd played his new album. And despite the ridiculous scale and design of the presentation, which included several hundred models dressed to resemble refugees, some grouped on a rag-draped platform under the Jumbotron, West managed to make things seem intimate.
Now I'm off to Paris!
*This article appears in the February 22, 2016 issue of New York Magazine.