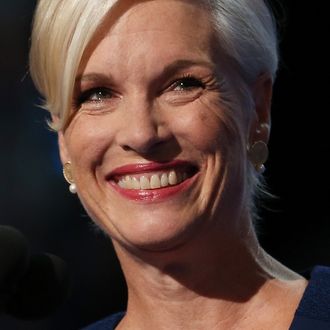 Cecile Richards
Photo: Chip Somodevilla/Getty Images
For its latest issue, Paper magazine got 14-year-old Disney Channel star Rowan Blanchard and 58-year-old president of the Planned Parenthood Federation of America Cecile Richards together to talk about women's health education and feminism's future. Despite the differences in their ages and experiences, Blanchard and Richards had plenty of common ground, particularly around the bright future for women.
Both Blanchard and Richards acknowledged the reality of being a woman with opinions in the world, the main lesson from which is to pick your battles. This past fall, Richards had those battles thrust upon her when Congress convened a congressional hearing to grill her on everything from Planned Parenthood's use of funds to Richards's own salary. "It was kind of a classic situation where I felt like there were a lot of angry men. The only way they knew how to engage was to be mean and angry and dismissive, and cut you off," Richards told Blanchard of the panel. "There's a part of me that wants to engage, because it's not like I want to get shut down. But on the other hand, I feel like they're looking for a fight more than they're looking for actually getting to a place of 'OK, we can move forward.'" Possibly more depressing than the fact that the government isn't necessarily interested in making progress on women's health is the fact that a teenage Blanchard has been in a situation where, as she says, "I'll be talking to a room of grown men and somebody will say something that I don't agree with, but I almost shut down my opinion really quickly because I think 'Oh, he's a man, I just have to be really careful with that.'"
But there is still hope! And it comes in the form of social media. "I think the new wave of women on social media who are allowing themselves to just be themselves is opening doors for a lot of young girls who wouldn't otherwise have that kind of affirmation," Blanchard noted. "Social media is an awesome thing, particularly because women's stories are told," Richards concurred. "I think that if you guys can figure it out and if your generation isn't willing to put up with the judging and, frankly, old-fashioned sexism, that's going to be the biggest single culture change in this country." She also noted that Planned Parenthood is looking to get into the app game, testing a product designed for teens that would track periods and provide women's health information, like the ins and outs of birth control. Teen girls: Get out there, develop apps, and tweet your selfies. The future of feminism is counting on you.