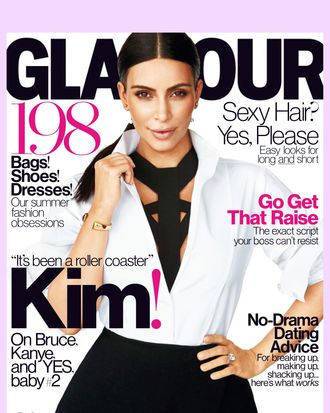 Oh, prestige.
Photo: Glamour Magazine
For all the genuine concern about print being in decline, celebrities are as eager as ever to land magazine covers, according to magazine editors. During an American Magazine Media Conference panel on selling celebrity content, top editors weighed in on the give-and-take between publications and the celebrities they feature. While Jess Cagle from People and Entertainment Weekly concedes that perhaps magazines need celebrities more than celebrities need magazines, Vanessa K. De Luca of Essence says, "There's not one day that [goes] by that I don't have someone asking for a cover."
Celebrity coverage isn't exactly hard to find online or in print. Celebrities now have more power than ever to control their own stories, by interacting with fans directly through social media, but "[n]obody dreams of being on a website homepage," claims Janice Min of THR-Billboard Media Group. Anyone can vlog or create a Tumblr, which makes the commodity of print something tantalizing and possibly out of reach.
But the celebrity's work doesn't end when the cover is landed. Today, we expect stars to be honest, open, and relatable — in other words, real. Gone are the days when magazines wrote "vanilla profiles" that sold merely because the public adored its cover star. "There was a time when, if you wanted to move copies of People, you just put Jennifer Aniston on the cover," says Cagle, but "the public just does not worship celebrities anymore." Instead, celebrities are best served by divulging personal stories: struggles, beliefs, ambitions.
Celebrities trade their time, and whatever stories they share with the magazine, for the prestige of a magazine cover, which, given the nature of publication, is rare. In return, magazines rack up website visitors, social-media shares, and ad sales. Just ask Billboard: The magazine has a circulation of only 17,000, but after they put Bieber on their November 2015 cover, #BieberOnBillboard became a worldwide trending topic.
Then again, #JustinBieberIsComing was also a worldwide trending topic promoting Bieber's upcoming tour, and that required no magazine cover at all.