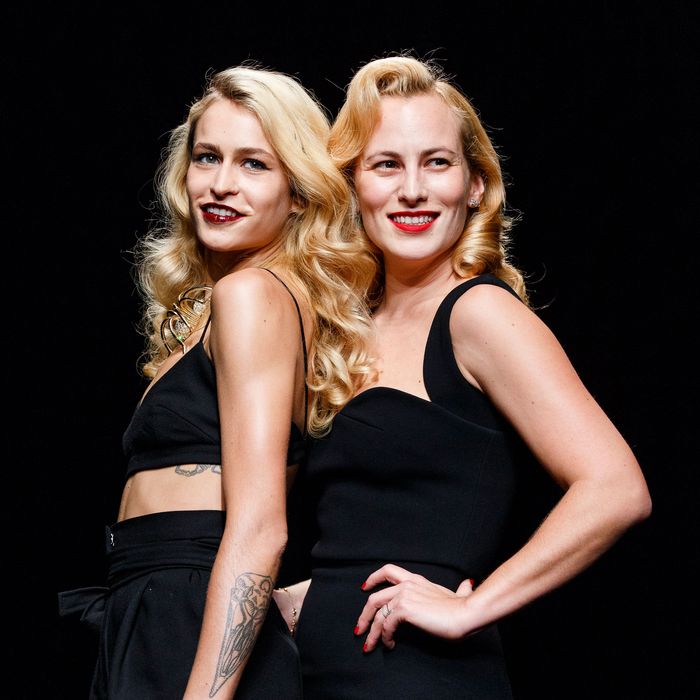 Sisters Alice Dellal and Charlotte Dellal walk the Charlotte Olympia runway.
Photo: Tristan Fewings/Getty Images
Charlotte Dellal is not new to the world of fashion: Her Charlotte Olympia brand is eight years old, and her Kitty flats and Dolly pumps are now as recognizable to style observers as Roland Mouret's Galaxy dress and McQueen's skull motif. But she is new to the world of the runway show. Friday at London Fashion Week, she sent her vintage-inspired shoe line down a catwalk for the first time ever.
"When I show a presentation in a show room, they're sitting beautifully on a shelf, which is great — but at the end of the day, shoes need to walk," said Dellal backstage, wearing her usual red lipstick and a tiny spider stud in each ear. "They're not supposed to be seen on a shelf or in your hand. They're supposed to be seen below, literally on the ground, walking, in action. The same with a bag — it comes to life."
Her debut show, entitled "The Girl Who Fell to Earth," took the brand's familiar obsession with playful, retro glamour and sent it into outer space. Like the future as imagined in the 1940s, the vision included shimmering alien faces posing as clutch bags, and star-scattered silver brogues. It was set in the black-draped, cavernous dome of the Roundhouse Theatre, which felt as close to a distant galaxy as you could find on a busy Friday night in London.
The collection was large and varied. Shoes included everything from purple-glitter ankle boots to cartoonish, curvy wedges, to infinitely wearable sparkling ballet pumps — there was something for every heel-tolerance level. Dellal's design signatures were scattered throughout, in leopard-print platforms and black ankle-strap flats embroidered with red lips.
In bags, the standout piece was a movie-poster-inspired clutch, showing a glamorous alien smiling down from a distant planet — but a flying-saucer rucksack also emphasized the collection's sense of fun. And then there was the jewelry: a new addition for Dellal. "I think the main thing with the jewelry was the spiders, which come from my logo, Charlotte's web," she explained backstage. The creepy-crawlers were found on chokers, bangles, and even perched on a floppy hat, designed in collaboration with milliner Piers Atkinson.
But perhaps the star of the show was a pair of needle-sharp stilettos, on the heels of which were two tiny planet Saturns. Dellal explained that the uppers of her shoes are often fairly classic, while her real joy comes from playing with the design of the heels. "That's when you can be a bit more playful, because it's the kind of wink that's at the end," she said. "It's underneath your foot, so it's easier."