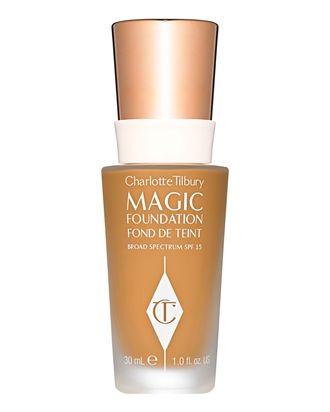 Charlotte Tilbury won 2016 with this 'magic' foundation.
Photo: Courtesy of Charlotte Tilbury
It's risky to designate anything as the year's best when it's only February, but Charlotte Tilbury's Magic Foundation seems poised to beat out a full year's worth of new products. More serious in coverage than its predecessor, Light Wonder, the foundation is a creamy, silky emulsion that conceals imperfections as thoroughly as stage makeup, but feels as light as a BB cream. It lasts all day, and like a moisturizer or serum, it blends into skin, rather than sitting on top, so it doesn't settle into fine lines. With a finish that's not matte but slightly more satin than dewy, it reminds me of Armani's cult classic Luminous Silk. It is so, so good.
Magic Foundation is a formula that always elicits a reaction from friends, colleagues, and curious strangers. "What are you wearing?" they'll ask. "You look like you don't have any pores," they'll say. Sometimes a new foundation causes me to break out, but this one did not. My skin is oily and usually by day's end my face is a greasy mess, but Magic Foundation stays in place. The foundation even has sunscreen (SPF 15) but doesn't look pasty. And it doesn't have any sort of artificial "makeup" smell, either.
There are 15 shades of Magic Foundation, and Tilbury includes a photo of a model for each to help buyers shade-match. I wouldn't entirely trust the photos, though: I matched with shade eight, which features a beautiful woman who reminds me of Sofia Vergara, even though I'm more of a Kerry Washington. But otherwise, I have no complaints. This is the best foundation of 2016 — though I'll happily eat my words if I am wrong.
Magic Foundation, $44 at Charlotte Tilbury.