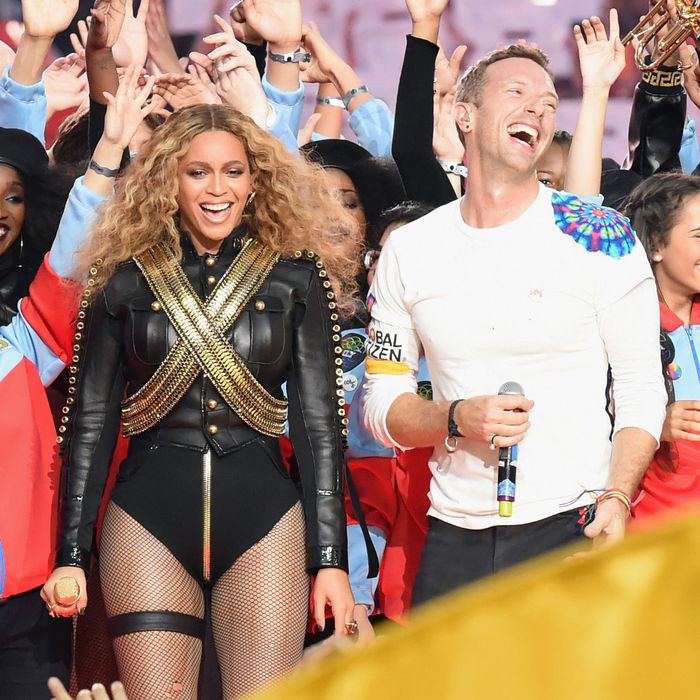 Beyoncé at an event for the Adopt a Chris Martin Foundation.
Photo: Jeff Kravitz/Getty Images
We all know that Chris Martin and Beyoncé are good friends — good enough friends that she shared the Super Bowl stage Sunday night in an attempt to help make the show a little less "white bread slathered in mayonnaise" and a little more "hot sauce."
As a gesture of friendship, Chris Martin once wrote a song for Beyoncé, he tells Rolling Stone. He presented it to her and her producer, Stargate, in hopes that Beyoncé would like the song and record the song and then perform the song and then he could be like I'm Beyonce's friend and I wrote her a song and feel pretty good about things. It was called "Hook Up," and judging by Coldplay's long history of tepid ballads, it probably would have been the antidote to a sex drive, rather than a song that might inspire getting it on or getting down on the dance floor.

Now, this could have played out in one of two ways. Beyoncé, in her infinite mercy, could have been like Okay, Chris is my friend. For him, I will perform this dull song. But instead, Beyoncé decided to be a real friend and did this:
She turned it down, he says, "in the sweetest possible way: She told me, "I really like you – but this is awful."
Beyoncé: the best friend Chris Martin will ever have, though I guess she must have been too busy last night to save him from his Technicolor Dream Pants.