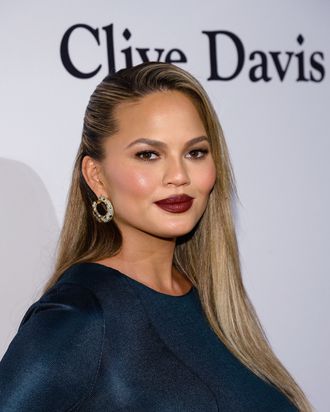 Chrissy Teigen.
Photo: Kevork Djansezian/Getty Images
For many, the life of the lovable Chrissy Teigen is, as they say on Instagram, #GOALS. She's funny, pretty, and smart, and has a relationship with singer John Legend so envied it inspired a sitcom. She also has a new cookbook coming out in the spring, has been jetting all around the country to promote her seventh appearance in the Sports Illustrated swimsuit edition, and is the new face of TRESemmé, appearing in ads revealing her dark past as Crispy Chrissy. Still, she took time this week to talk to the Cut about the fate of her much-envied cheese wheel, what she considers to be a good hair day, and the sexism of the cool-girl backlash.
I want to talk about your baby — not the one you're pregnant with, but your cheese wheel.
I got so many questions about the cheese wheel! I've even heard that for Valentine's Day, a lot of men are getting their girlfriends cheese wheels. But it's a big endeavor because you can't just have this cheese wheel; you need a refrigerator to accommodate it.
I didn't know this until I posted on Instagram and then one of my favorite chefs, Frank Pisano, who does Frank on Second Avenue and Little Frankie's, was like, "You got a fridge for that thing?"
I was like, "Wait, it has to go in the fridge?! I didn't think about that." We actually went on vacation and I had to throw away the cheese wheel when we got back.
Oh no! The cheese wheel isn't with you guys anymore.
We're renovating, so we don't have a fridge, period, much less a huge fridge that would accommodate this huge thing. It was about 300 pounds, I swear. It was over 100 for sure. I couldn't lift it! John could barely lift it.
Our house is completely under renovation so we're living in one corner of our home. I have a pressure oven, a toaster, and a coffee maker and that's about it. I've been cooking some wild things. And I have this random pizza oven, it's a Breville stone pizza cooker. We end up Postmates-ing like six times a day though.
How did John know that you wanted the cheese wheel?
Oh, I'm very vocal about my needs. [Laughs.] We went to St. Barts and there's a restaurant [Le Gaiac at Hotel Le Toiny] where they wheel a cheese wheel over, and they throw in pasta and stir it up. It's a tableside presentation. I was like, I must have this. It's probably for using once a year, maybe. But it'll be so cool once a year that it'll be worth it.
What were you going to make in it?
You just throw in hot spaghetti or risotto — risotto is fantastic in it — and every side of the wheel melts. Honestly, it's probably all frills. It just looks cool. It's like making a bananas foster tableside or like a cherries jubilee or something. It's all like, "Woo, presentation!" But listen, it could have been anything done in it. In my mind, I was going to have dinner parties and everybody was going to see this cheese wheel and be amazed.
Have you found that your tastes have changed at all, being pregnant?
No! I mean early in the beginning I didn't want highly acidic things but now I just want more of everything. I just can't get full. I find myself ordering dinner around 8 p.m. and then around 9:30 I order a hamburger, and then I leave it next to my bed, and at 3 a.m. I wake up and I just reach over and I eat the hamburger.
I actually cut myself really badly the other day running to my hamburger at 3 a.m. in the dark. I hit my hip on the doorknob. I think it is God telling me I shouldn't be eating a 3 a.m. hamburger every day.
What would you consider to be a perfect hair day?
I like really easy, effortless hair. I like to do the minimal amount of work in the shower so I use TRESemmé's Beauty-Full Volume line, with the reverse wash system to get volume and texture. Other volumizing products usually leave my hair really heavy and too full of weight so my hair gets really limp.
Sometimes I'm getting my hair done two, three, four times a day. By the end of the day it's just kind of a nightmare. This makes me feel fresh and I don't have to compromise volume with crunchy, stiff hair.
Have you been taking care of your hair differently since being pregnant?
No, not really. I heard you get a lot of hair but shouldn't get too excited about it because you're going to lose it right after, which kind of sucks. For me I've always wanted to put a lot of care into hair, skin care, and nails. Everything else is more trendy. But those are things you always want to invest in, really keep nice, and want to take care of.
There's nothing like a really great blowout because I can slap on a pair of aviators and be makeup-free and I feel like I can just go about my day as long as my hair is done. The opposite is not true — I couldn't just throw on a topknot and have no makeup. It'd be a mess. I just look undone if my hair's not done.
People on Twitter and Instagram often call you a "cool girl." How do you feel about that?
Aw, that's so cool. It's good, it's scary though because you try to find a balance. What ends up happening to the cool girl is that there's this backlash, like they're trying too hard. That's always a weird thing for me. When I first started trying to prove to people that I loved food and had a passion for the food world, I didn't want to be one of those girls who was like, [annoying voice] "I love to eat pizza and I love to eat hamburgers." I didn't want that to seem, you know, inauthentic.
There's so many cool girls out there and you find with them that things always spin to the negative. There ends up being this crazy backlash against them because they're "too cool." It seems to be a thing that only happens with women and it's so weird to me. It's nice to be cool girl. But it's scary, because you're waiting for that moment when people turn. It's so weird.
Right, like with Jennifer Lawrence.
Jennifer Lawrence, Anne Hathaway got it, Amy Schumer. Some people just don't want to believe that they are as great as they seem! And that they are as sweet, kind, generous, funny, and talented all at once. People don't want to buy into that. It's a shitty thing to have to witness that, you know, to see people digging and digging for something negative about them. Because sometimes, sorry, they really are that great.
It doesn't seem to happen with men. No one is going around saying Channing Tatum isn't actually that cool.
I know! It's not nearly the same. These guys, they're still the workout guys, they're cocky, and you'd think the backlash would appear with some of them. But no, it's a thing women do. And sometimes we don't even know why. I get that all the time: People are like, "I don't know why but I don't like you." And I'm like, well, pick something at least!
This interview has been edited and condensed.