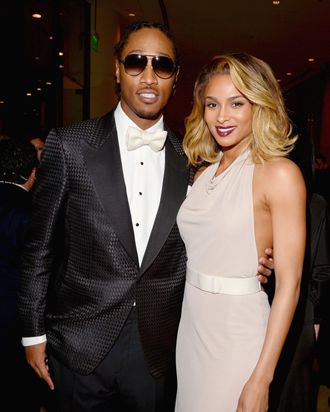 Ciara and Future
Photo: Lester Cohen/Getty Images
Ciara is suing Future for $15 million in an alleged slander and libel suit, reports TMZ. The comments in question were made in a radio interview and a series of tweets that seem to question Ciara's skills as a mother and also suggest she has made it hard for him to see their son, whose name is also Future.
In the radio interview in question, Future claimed that their son was used as a "publicity stunt" in a widely publicized photo of Ciara and boyfriend Russell Wilson pushing the baby's stroller. TMZ also reports that Ciara's suit cites a series of Tweets Future posted in January, one of which alleges, "I gotta go through lawyers to see babyfuture…the fuckery for 15k a month."
In the lawsuit, Ciara says she goes out of her way to facilitate visits between father and son, and asks for the tweets to be deleted, and for Future to refrain from discussing private family matters publicly in the … future.