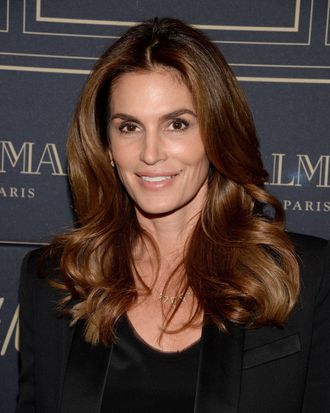 Cindy Crawford
Photo: Michael Kovac/2015 Getty Images
There's nothing more attractive to Super Bowl ad creators than riffing on, referencing, or straight-up recreating iconic ads of yesteryear. Turns out Cindy Crawford isn't immune to that urge for humorous nostalgia either. Yesterday Crawford Instagrammed a picture of her and Late Late Show host James Corden dressed in matching cutoffs and white tank tops from her famous 1992 ad for Pepsi, where a pair of young boys admire Crawford's soda can.
The recreation will run as part of the Late Late Show's post–Super Bowl special, along with car karaoke from Elton John and a host of other special guests. (Pepsi's actual Super Bowl 50 ad will feature Janelle Monae.) You can see the original spot below.
This isn't the first time Crawford has reprised her role as Hot Woman Drinking Soda. In 2002, she did a shot-for-shot remake of the ad, this time for Diet Pepsi, replacing the white tank top with one of those early-'00s peasant blouses, and a cameo from her own children. Crawford may (or may not!) be retiring from modeling at 50, but we'll surely see her chugging Pepsi again for the ad's next anniversary.