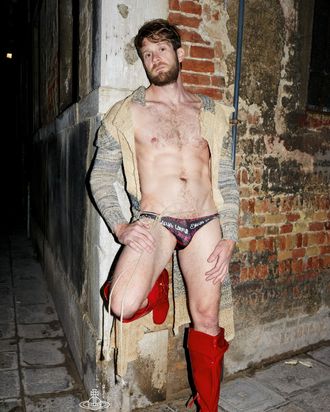 Photo: Courtesy of Vivenne Westwood
Vivienne Westwood was out cold on the floor, curled into a ball, when porn star and model Colby Keller strolled into her suite. Keller had forever admired Westwood from afar, but that's not how he expected to meet the designer when he landed in Venice to drop trou for her new 2016 campaign. Fashion heroine, trailblazing tycoon, maker of Carrie Bradshaw's strapless wedding dress in the Sex and the City movie — surely she deserved a bed?
Equally as surprising, perhaps, is the collaboration itself. Westwood is a renowned glam-rock legend; Keller is a rugged gay porn star who recently road-tripped through the States for a sex-meets-art web series called Colby Does America. His career involves no clothing. Hers depends on it. So how did he come to pose in her ad campaign wearing red knee-high boots? The Cut chatted with Keller about porn, gender fluidity, and why, when it comes to shoes, size matters.
Did you know that Vivienne Westwood had planned on dressing you in women's clothes?
No! I didn't know anything until I got there and they pulled the clothes off the rack.
Did you have any prior experience in heels?
I've never actually worn high heels before in my life. And they didn't have my size in Venice so they were squeezing me in shoes that were probably four or five sizes too small. There's one photo — the one where you can see my penis — and I'm wearing big, knee-high, perforated black leather boots and an assistant was struggling to put these shoes on me. It just wasn't working. Finally one of them said, "Why don't we go dip them in the canal and stretch them out?" And they did!
Your cross-dressing photos are part of a bigger conversation happening regarding gender fluidity. We've seen it with Jaden Smith in Louis Vuitton, too. What role do these photos play in the gender-subversion dialogue?
Thinking about it in terms of gender fluidity is a good way to look at it. Anybody can wear clothes like this, but we gender things and that should change. It's a political gesture in a way, and it's something we really do need to think about and talk about. I couldn't be happier and more honored to be a part of that kind of discussion. And there was something very liberating and fun about being in those clothes and walking down the street in Venice. Women get all the fun clothes!
You're seen as this butch, gay lumberjack type. And here you are in women's couture. I cannot be the only one who recognizes this contrast.
[Laughs.] Oh yeah. I can see that — and I could feel that in the moment! It was difficult to know how to give those garments the life that they deserve. But I was like, "There's a reason they brought me out there. This is who I am: six-foot-two lumberjack.'" It's that contrast that's interesting in the photos.
Which article of clothing do you wish you could've kept?
That silver mesh bodysuit — that was a lot of fun. I liked it because of the big, slinky cap thing you could throw around. I have nervous tendencies so it gave me something to play with. I like an outfit that has something you can play with.
And your favorite look overall?
The photo with the red boots is probably my favorite. It says the most: Vivienne Westwood, gender fluidity, and also the history of hookers.
How has doing porn benefited you as a fashion model?
Giving the camera that "look" — I don't know what the hell that look is. Porn has definitely made me a little bit more comfortable in front of a camera. I used to hate cameras. Used to never let anyone take my photo. I actually went through my mom's old photo album and threw away all the photos that had me in them. What I've begun to realize is it's really about trust. You have to trust in the eye of the photographer. They have all the power regarding how people will perceive you.
You look pretty damn secure in those Vivienne photos. You must trust Jüergen Teller's lens.
Jüergen was amazing. He can make me look however he wants!
Regarding Vivienne Westwood: What about her are you most drawn to?
It's the way she references the history of fashion in her collections and the way she does that through a kind of punk aesthetic. She approaches each look almost like a sculptor or a painter might. She constantly is reinterpreting how a look is supposed to work in that moment. She's incredibly smart. And we had dinner and she talked with me — and I never got over the fact that I was talking to Vivienne Westwood! — but she's very approachable and nice and very passionate about climate change, which is something I really respect. We talked mostly about climate-change issues, but encountering her underneath the desk taking a nap — yeah, that was probably the most incredible moment.
This interview has been edited and condensed.