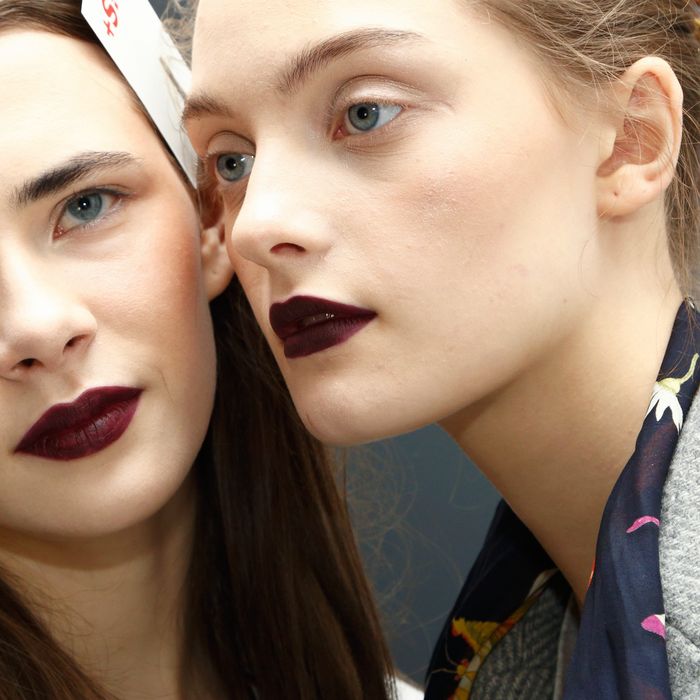 "I mean it," says the lipstick on these Rodarte models.
Photo: Helga Traxler
Rough day? If you don't feel like talking but want to wordlessly convey via your lipstick color that you're not to be messed with, consider yesterday's Rodarte look.
For a lipstick that says "eff off" but in the sweetest, prettiest way possible, buy one of the two shades used in the show: NARS Cosmetics' Train Bleu Velvet Matte Lip Pencil (on models with lighter skin) or NARS Audacious Liv Lipstick (for models with darker skin tones). Roughly 25 beauty editors marched straight from backstage at the show to Sephora (or to their desks to call in the colors, if we are being honest) because the show's look was so beautiful. After a long weekend, it felt like visual Prozac.
James Kaliardos for NARS created an "ethereal yet tough" fairy-tale princess look with delicate skin, a light highlight (NARS Dual Intensity Eye Shadow in Antares — out fall 2016), and a dark, almost gothic lip. Kaliardos explained, "It's like a 'Don't mess with me' look. Like, I'll kick your ass. You can do that with makeup, which is empowering — that with your face, you can be like, Keep your distance. I have my own area, I'm taking up space, I have an attitude and a look. People can be intimidated by makeup, and this is the perfect lip, it's cool.' "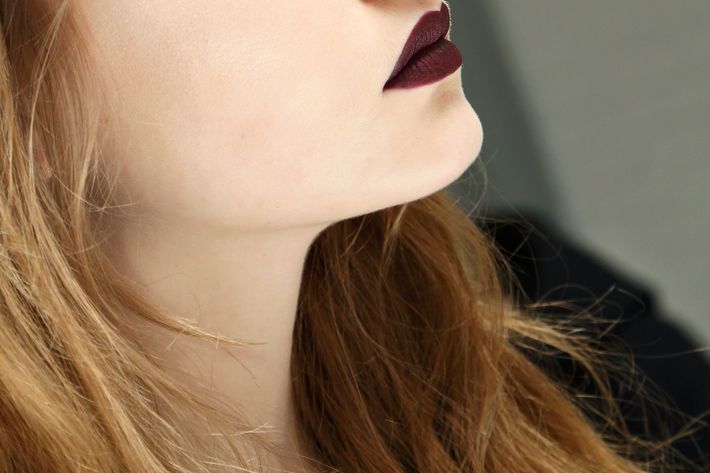 To really get an intimidating lip, the color needs to be super-saturated and deep, like the intensity of your feelings. Kaliardos's advice is to keep applying, keep applying, keep applying. "I had people who told me, 'It's not getting dark enough,'" he said, and his advice was to keep sharpening the pencil and mashing it hard into the lips. He and his team didn't use a lip liner because the chubby lip stick is already a liner. If you have mistakes, take a brush with foundation and buff the mistakes away, so that the color can go on pure. If your lips get dry as you're applying, use a micellar water (he likes Bioderma Crealine) and then a Q-tip to buff it out. Now go on and bask in the bliss of being left alone.
Click through the slideshow for more beauty looks from Rodarte and other shows from the week.