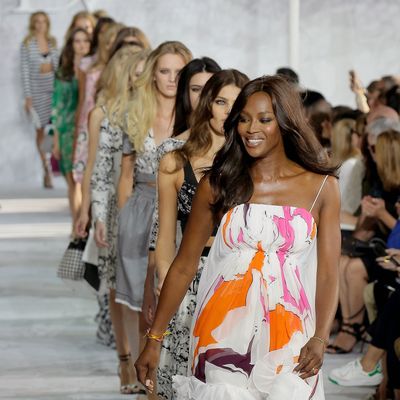 Naomi Campbell walking in a DVF show.
Photo: Randy Brooke/Getty Images
During the past few Fashion Weeks, '70s-era supermodel Bethann Hardison has hosted a diversity panel with the CFDA. I like listening to Hardison's wisdom, I agree with her argument that we need more models of color on the runway, and I appreciate the networking opportunity. But last September, as I sat in my chair, looking around at all these people of color nodding their heads in agreement, I started to get antsy. Where were all the white faces? Where were all the people in power?
Fashion-industry leaders tend to treat diversity initiatives like Hardison's panel as electives — ways to congratulate themselves for being enlightened, rather than a mechanism for change. Which is why, ever since last Fashion Week, I've been replaying a little thought experiment in my head. What would fashion look like with affirmative action? What if there were a governing body that regulated diversity in a real way, to make sure that nonwhite models, editors, designers, celebrities, and makeup and hair artists got a fair shot?
This might sound highly theoretical, but it's hard to imagine how else things might change. When I asked Richard Lempert, professor of law and sociology at University of Michigan, for his take, he said that I could argue that fashion actually needs regulation more than many other fields, because having good taste in fashion is largely subjective. Fashion isn't a meritocracy; you can't succeed just by working harder and better than everybody else. You have to impress a small group of gatekeepers who are biased in ways they might not recognize.
Paradoxically, fashion is always looking for what's new, but the industry's principles are deeply outdated. Tanisha Ford, assistant professor of women, gender, and sexuality studies at the University of Massachusetts Amherst, puts it this way: "There is definitely a huge diversity issue in fashion. The term fashion implies on-trend and current, but it's become an industry that's built on scouring communities to see what's hot in the street culture, and monetizing that while largely stripping those bodies from the creative process."
Look at the discussion around runway diversity, for example. Last October, Business of Fashion reported that, of the 3,875 models used over the course of last September's Fashion Month, only 797 were models of color. That means about 79.4 percent of models used were white. This is hardly the first time a reputable industry source has published such a report, and every time it happens, all of the guilty parties point to each other in a circle of blame. Designers say that casting directors only pick thin white models, casting directors say the agencies only send them thin white models, and the agencies say that designers only want thin white models. Everyone assumes the prejudice lies somewhere else.
It reminds me of Devah Pager, Bruce Western, and Bart Bonikowski's study on discrimination in the labor market. They sent a mix of black and white job applicants, some with prison records and some without, to answer help-wanted ads in Milwaukee, Wisconsin. What they found is that white job-seekers who had just been released from prison did no worse than black applicants with blemish-free records. I doubt the employers were consciously looking to hire felons — they were just acting on ingrained bias, bias they might not have realized was there.
Like those Milwaukee employers, casting agents, modeling agencies, and major design houses adamantly believe they are being fair and unbiased even when they're discriminating. They also tend to return, time and time again, to the same nonwhite faces. There have been so few in the history of modern fashion that it's easy to name them: Pat Cleveland, Beverly Johnson, Tyra Banks, and Naomi Campbell in the past; and Jourdan Dunn, Joan Smalls, Malaika Firth, Lineisy Montero, Grace Mahary, Imaan Hammam, and Cindy Bruna now. Lineisy Montero was actually the top model of the spring-summer 2016 season, walking in 68 shows (according to the Fashion Spot).
So, yes, certain models are able to break through. But to me, it almost feels like an insult when I see the standard two models of color in succession at shows — as if the designer is checking off a box marked "inclusiveness." What about the other 30-some models in the show? Professor Lempert says, "In my research, I've learned that people think in clichés, and they find a few people safe; they go back to these people because they're continually safe, but that also lowers the opportunity for others." Jourdan Dunn and Lineisy Montero might be safe for designers, but safety is bad for fashion and for diversity.
Without a push, though, we're never going to see change on the runway. Professor Susan Scafidi of Fordham Law School, founder of the Fashion Law Institute, explains that runway discrimination is actually illegal. "It might be a bona fide occupational qualification to want a woman to model women's clothes, but race is technically never a bona fide occupational qualification," she explains. In other words, you can legally argue that your models need to be female to sell dresses (although that's another can of worms), but you can't claim that they need to be white to represent your brand. "On the runway, there is no justification that I can articulate for not including diversity, and yet we see it over and over again," Professor Scafidi says. Of course, while a model who accuses a major designer of casting discrimination might win her case, it would probably destroy her career.
Just look at what happened to Pat Evans, known as the "bald model." She was the second-highest-paid model at Stewart Models in the 1970s, the same agency that represented Twiggy. But despite her success, she was fed up with being the only woman of color at her agency and wrote a scathing takedown of fashion's lack of diversity in a 1974 issue of Essence magazine. Pat was angry that women of color were continuously neglected and relegated to novelty slots. Professor Ford noted, "Pat grew up in Harlem and saw for decades how editors would come into Harlem for a couple of hours and see what's hot, steal it, and appropriate it for high-fashion runways. None of this stuff is new — there is a historical precedent for this kind of conversation." The outcome of her essay: The industry gave her the cold shoulder.
So if we can't expect people to recognize and regulate their own inherent biases, and if any models who speak out risk ruining their careers, what could bring about actual change? Professor Scafidi told me about one way she was able to enforce diversity in the Fashion Law Institute's fashion show: When a participating designer pushed back against casting nonwhite models, insisting her vision was blonde and Nordic, Scafidi showed her Eric Wilson's "Fashion's Blind Spot" article in the New York Times, implying that she could get called out for racism in a major publication. That seemed to change the designer's mind, but it's not exactly an industrywide solution.
But if there were an institution supervising the percentage of models of color at agencies, requiring casting agencies and designers to consider all comers, pressuring publishers like Condé Nast to hire a larger number of nonwhite editors and insisting that designers think about diversity when they staff their teams, maybe, just maybe, things would look different.
The CFDA would be the logical enforcer, although technically, it isn't a governing body and can't become one for legal reasons, since it's part trade organization and charitable foundation. Sure, of its 470-plus members, only 12 are African-American, and less than a handful of people of color have been nominated for the CFDA/Vogue Fashion Fund in the past 11 years — so it has a long way to go. But it does bring together fashion-industry players in a way that no one else does, and if its most powerful members declared that diversity was a priority, we might see real change.
In the end, though, the most powerful enforcer might be the bottom line. "It really will only work when the whole industry works together," says Professor Scafidi. "The industry is driven creatively, but it's also driven by profit, and once designers realize that they're missing out on a market and not serving that clientele, and other companies have an advantage because they're addressing that market, then we will start to see correction."