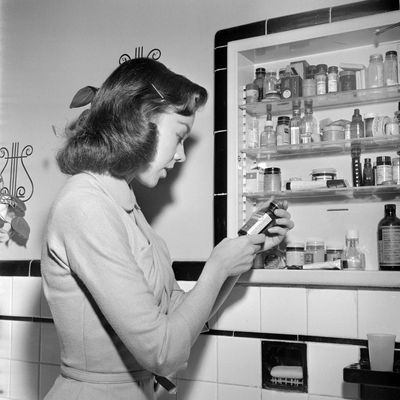 "Goodness, so many side effects!"
Photo: Al Barry/Getty Images
Remember the one about the female libido drug that was first developed as an antidepressant and rejected twice by the FDA before finally being approved in August following a lobbying campaign that blamed sexism for the rejections? You know, the little pink pill that only helped about 10 percent of women more than a placebo would and requires a black-box warning because of possible interactions with alcohol? Guess what, it somehow gets worse!
A new review of studies on the daily medication known as Addyi (generic name flibanserin) found that women taking it had, on average, just half of one more sexually satisfying encounter per month compared to placebo groups. (Let's take a moment to laugh at the way math can lead to fractionals, like having 1.7 children.) The benefits were even more meager than the "marginal" improvements observed in the three clinical trials submitted to the FDA, which found that women had about one more satisfying sex event per month.
For the review, published in JAMA Internal Medicine, researchers looked at data on 5,900 women from eight studies: five published and three unpublished. Unsurprisingly, the published studies were more favorable than the ones kicked to the curb, and overall, they said that "the quality of the evidence was graded as very low for efficacy and safety outcomes."
The new paper did underscore lovely side effects including nausea, dizziness, sleepiness, and fatigue and pointed out that Addyi might cause dangerous blood-pressure dips in women being treated with fluconazole (a.k.a. Diflucan, an antifungal treatment for yeast infections). And drinking alcohol while taking the drug was found to cause low blood pressure and fainting in men, which is why women aren't supposed to drink at all while taking it. Even just to prescribe it, doctors must complete special training.
More studies are in the works, but in the meantime, what a great deal: Just quit drinking and accept the dizziness, and you, too, could have one half of one more satisfying sexual encounter each month!