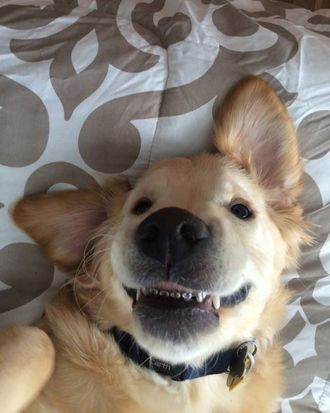 It's you.
Photo: Harborfront Hospital for Animals/Facebook
Did you ever think you'd see a dog named Wesley wearing braces? I bet you didn't, not in all your years. But damn, you were wrong. Probably not the first time, either.
The Harborfront Hospital for Animals in Spring Lake, Michigan, posted photos on Facebook of six-month-old golden-retriever puppy Wesley after this buddy was outfitted with doggie braces. Molly Moore, Wesley's owner, told ABC News, "He wasn't able to fully close his mouth and chew well and he stopped playing with his toys because of the pain and started losing weight because he couldn't eat." That's when Wesley was taken in to get his teeth fixed.
But unlike our months-long ordeals with embarrassing adolescent orthodontia, Wesley's tooth alignment will be a speedy process. He's likely to get his braces off after a few weeks — just in time for the freshman dance.