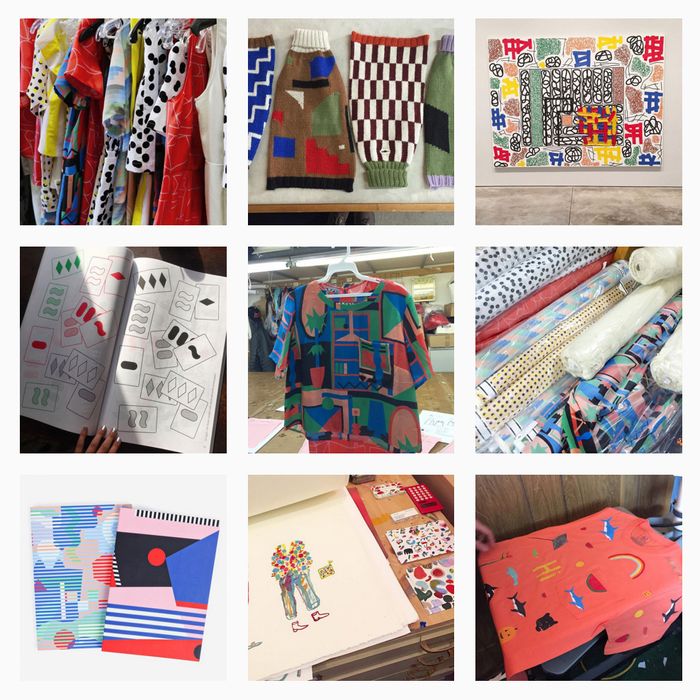 Look at these patterns, man.
Photo: Instagram
Lifestyle content is all about aspiration, which is code for making people envy you and shop accordingly. In our series I Like This Bitch's Life, the Cut bitterly admits that it's working.
There are many wonderful things about living in New York: subways that run all night, produce markets named after fruits (Mr. Kiwi, Mr. Melon, and so on), the peace that comes from knowing that, at any moment, the entire city could be taken under by an apocalyptic tsunami. But undoubtedly the highlight is the fact that it is not only accepted but frankly encouraged to wear black clothing all day and every day. Black clothing looks good on everyone, but especially New Yorkers. It embodies our rotting cores.
Because of this commitment to monochrome, whimsy can be exceedingly hard to come by here. Hard, that is, if you aren't Ellen Van Dusen, designer and founder of clothing and home brand Dusen Dusen. If you're Ellen Van Dusen, the whole world is a freaking party and the lights are on and the sun is out and we're going to eat some sort of purple potato salad with our shoes off, toes in the grass, dogs running without leashes. But it's still all very casual, very blasé, decidedly metropolitan. For New Yorkers, this bright-eyed but nonchalant enthusiasm can, on a surface level, be daunting. Which is why, though it pains me, I must admit it: I like this bitch's life.
Van Dusen's social-media presence is remarkably effective if you're in need of a generous pick-me-up. I've never been to Denmark but something about shapes and primary colors and thin outlines makes me think, Hm, I bet everyone in Copenhagen is happy. Van Dusen does the kind of Instagram curating that functions as ideal visual candy: neither too sweet like Fun Dip nor too filling like Haribo gummy frogs. Nay, the trip through @dusendusen's patterns and fabrics and clothes and various other multicolored ephemera makes for a perfect sweet nibble, just like an Æbleskiver, a Danish dessert that I just Googled but have never tasted. I am told it is a food one can get in Copenhagen. It looks good. I'd like to eat it someday while I wear a perfect blouse plastered with big red and chartreuse block shapes, buttoned all the way to the top button.
As I sip coffee (moodily), eat salad (begrudgingly), and scroll Instagram (listlessly), a snap from Van Dusen can make the sides of my mouth do something unfamiliar. What is this persimmon-colored rug flecked with turquoise macaroni pieces doing to my lips? Is it … making me smile? I look down and all I see is scratched, worn hardwood. No. Darkness returns. That romper with mint-green lines in front of a colorful backdrop! Is it … making me happy? Drat — they raised the price of MetroCards again. I'm depressed. Look, it's a dog in a sweater that even I would wear. Is this what joy feels like? Do I need to buy a freaking loom? Do I even know what a loom is?
The Dusen Dusen brand is carefree but not annoying, colorful but not Lisa Frank. The bed that Ellen Van Dusen sleeps in looks like the kind of bed that people who go to "design school" sleep in. Her sheets — white, scattered with the alphabet, pillowcases covered in tiny confetti dots — look like they like to read about architecture. Her wall art, I mean, it's as if David Hockney were just a little bit cooler. God, I bet it'd be fun to live this colorfully. I can just picture it: reclining in loungewear in a bed made of geometric shapes and maybe my hanging spider plant grazes my pillows. I'm thinking about my grad application to RISD. I'm listening to Hot Chip. I am having fun, but I'm also laid-back and never brag. Do you also read Fast Company? I do, and I only smoke cigarettes after a strong cocktail.
Oh. Yeah. This. This is what I mean.