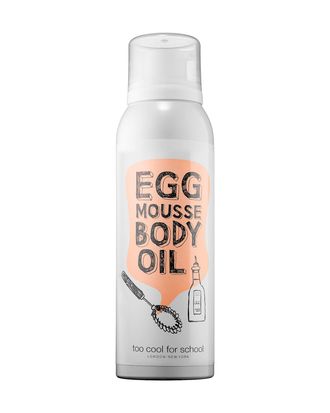 Tool Cool For School's Mousse-Meets-Oil
I have a friend who doesn't like to wear lotion. I thought she was the only one until recently, when I met another person who only lotions up on "shorts or skirts days." She tells me it's an extra step that she only thinks about when an elbow or knee risks exposure, so she goes about the world in an unseemly state of ashiness. Neither have tried Korean cult-skin-care brand's Too Cool for School's Egg Mousse, clearly, because it's a body oil that's just too fun to skip.
The egg mousse is transformative in that it's dispensed as a foam, but when rubbed between hands, it melts into a super-lightweight oil. Try as you might, it's hard not to be entertained by this flashy science experiment. As the heaping handful of foam fades into a pool of oil, a poof of fragrance blooms into the air. It smells fruity and floral. It's not sophisticated in the least, but neither are most fun things.
What's most impressive about the mousse is its light-as-air feeling on skin. Some oils feel like a slithery exoskeleton and seemingly take like hours to dry. Though almond, avocado, olive, jojoaba, and, yes, mineral oil are listed in the ingredients, Too Cool for School's body oil dries almost instantly. It's slightly shiny but not sticky or greasy. The oil gets its eggy name from an albumin source, a protein in egg whites said to tighten and smooth skin, but it would be a stretch to say you'll notice this effect on skin. Just have a good time with this mousse, and be glad locking in moisture is no longer a chore. 
Too Cool for School Egg Mousse Body Oil, $25 at Sephora.