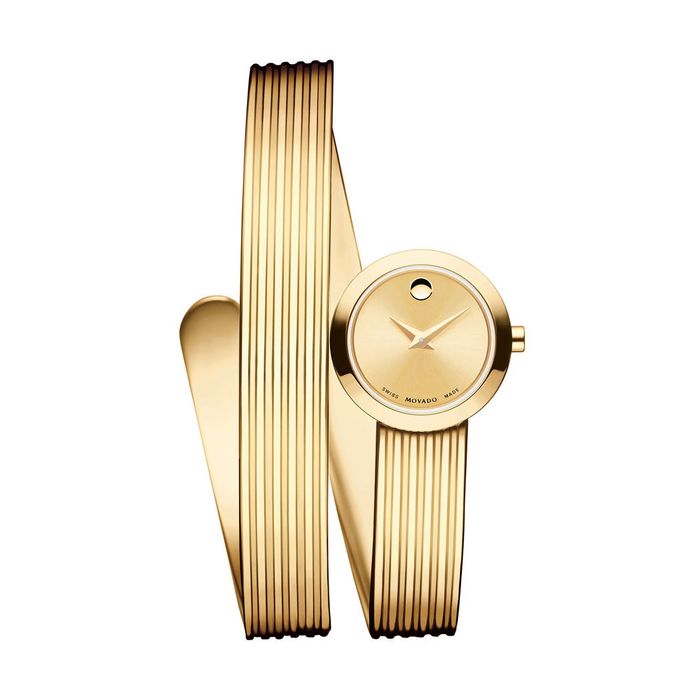 Every Friday at the Cut, we're highlighting one great purchase for which it's absolutely worth eating ramen noodles for the rest of eternity. If you're looking for cheap thrills instead, check back every Monday for a fun pick-me-up that will still leave you enough cash for dinner.
When Elizabeth Taylor wasn't acting, getting married and subsequently divorced, or boldly throwing out massive ice on a betting table (can we all be that rich?), she collected jewelry. As an avid collector, the film icon amassed a small fortune that was later auctioned off by Christie's following her death in 2011. Among the $137 million generated by the auction: a unique Movado timepiece originally designed for the actress in 1967.
As a part of their heritage line, the Swiss watchmakers dipped back into the archives to breathe a second life into the vintage keepsake. The result is a 20-millimeter yellow gold PVD-finished stainless-steel case timepiece that, like Taylor's custom model, features a flexible multi-wrapped bangle construction. Updated with a sleek soleil Museum dial, the basic design feels refreshingly timeless and delicate enough to wear amid your favorite bracelet stack.