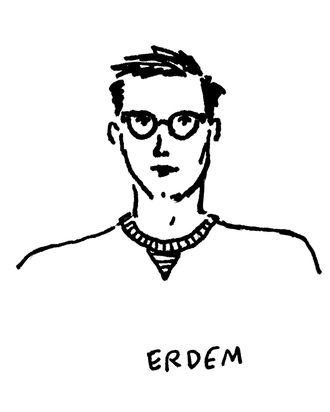 Illustration: Joana Avillez
In Fashion Feelings, we'll be talking to notable people about how fashion changed their lives. Here, designer Erdem Moralioglu tells us about his early passion for fashion and color.
I've been obsessed with fashion for as long as I remember. I obsessively watched  Tim Blanks on Fashion File and Jeanne Beker on Fashion Television and Elsa Klensch on CNN, and growing up in Montreal we had the French channel, which would always report on the couture shows. I was always very acutely aware of the alien, odd fashion world that was out there, far away and beautiful. Something I always dreamed of somehow getting to.
My first fashion memory is of my first-grade teacher. She would sit up on the edge of her desk and read to us as we were sitting cross-legged. She'd always wear these wool skirts and when she sat on the desk you'd lightly see her slip hanging out on the bottom. She'd wear very long skirts, it was very decent. But each day her slip would change and you'd have a little bit of lace and satin hanging out of this tweed skirt. I was fascinated by her and the idea of what was underneath.
As a kid, I would go through color phases. I was obsessed with yellow and I'd wear it from head to toe. Everything I'd get my mom to buy had to be one color and it had to be coordinated. 
By third grade I had a very strict bowl cut and was wearing a head-to-toe Roots sweatshirt number: a flocked velvety beaver on a jersey sweatshirt. I was dressing for comfort those days. When I got to eighth grade, I liked a pair of solid brown jeans with some kind of Benetton sweatshirt and maybe some Reebok pump running shoes. And really, really awkward glasses, again, probably by Benetton. In high school, I was pretty angst-ridden, so turtlenecks all the way through, and I would frequently change the colors of elastics on my braces.