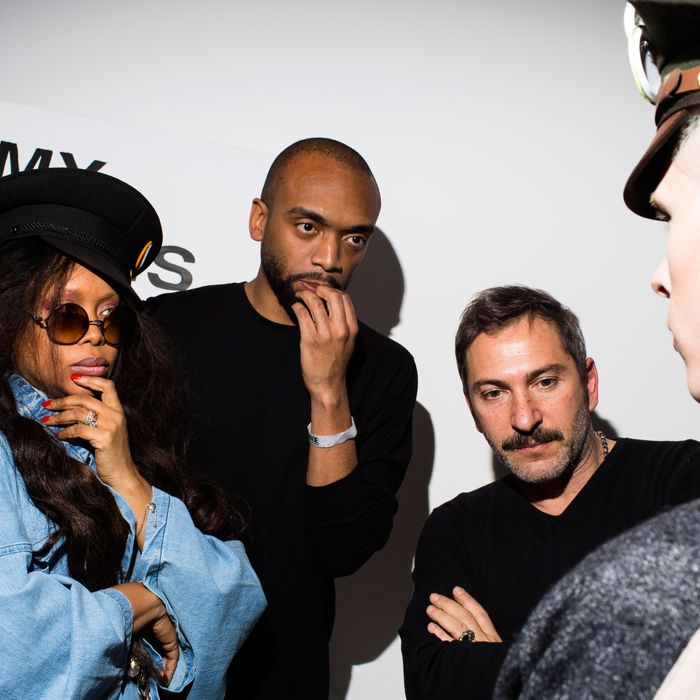 Erykah Badu at the Pyer Moss show.
Photo: Landon Nordeman/© Landon Nordeman, ALL RIGHTS RESERVED, 2016.
Erykah Badu is on the ground, winding a strip of masking tape around a model's ankle, fusing his black Palladium boots to his baggy pants. Anyone who doubted the hands-on quality of the musician's first-ever runway styling gig should be silenced by that sight — or that of her teasing out a model's forelock under his conductor's hat. She futzes until she's satisfied, then she says, in that warm, recognizable voice, "I love that. I love it."

Badu has styled editorial spreads before, but the Pyer Moss show is her first Fashion Week gig. How did she link up with the label's designer Kerby Jean-Raymond? "Well, Kerby tells the story better than I do," she says quietly, tucked onto a couch at Milk Studios, wearing an oversize denim coat, round sunglasses, and a naval-looking hat with an orange pin that reads "LSD" and a yellow pin that reads "ACID."
"We've been trying to reach out to Erykah for a minute," says the self-effacing Jean-Raymond. "Just because of her vibe and energy — we always wanted to bring it to the collection somehow, but I could never connect the dots." He eventually connected them through Jason Rembert, a stylist who works with Ciara and Rita Ora, and is a college friend of Jean-Raymond's. "He was styling her for an event and he pulled clothing from me, and she ended up loving it and keeping it. I used that as a tool for 'Let's talk about styling the show.'"

"I thought he was calling me like, 'I need my shit back now,'" Badu breaks in, laughing.

The two quickly fell into a rhythm, sometimes working over Skype, with Jean-Raymond emailing Badu — who lives part-time in Dallas — his sketches for the collection, which he called "Double Bind," and which he said was themed around depression.
"The artworks, the graphics, and everything around it deal with the topic," he says. "You'll see it in the mannerisms, in the colors that we use, it's not as bright as it usually is. You'll see it in the music choice," an orchestra and choir that performed operatic versions of Fetty Wap and Nicki Minaj tracks while clad in hospital gowns emblazoned with the Pyer Moss brand name. (A couple of the musicians tried to remove their Milk backstage wristbands pre-show, then decided to keep them, figuring they looked enough like hospital bracelets.)
It could also be seen in pins like the one Badu wore, prescribing potions for a variety of ills, including MOLLY, OXY, XANAX, and LEAN. Badu, for her part, contributed seven trunks' worth of vintage items from her considerable trove.

Pyer Moss has become known for making political statements, like the "They Have Names" T-shirt Jean-Raymond designed two years ago — which listed the names of unarmed black men killed by police officers — and last season's meditation on police brutality. But he says that fall 2016 is "not political, it's just personal. It's just human."
That said, there was at least one starkly political message: The closing model carried a sign reading, "My demons won today. I'm sorry," which were the dying words of Black Lives Matter activist MarShawn McCarrel, who killed himself this week.

As the collection's 3:30 call time drew closer, Badu and Jean-Raymond were hands-on until the moment the models walked out on the runway. "She was up until two o'clock in the morning, working in the studio on buttons and pins and things like that," Jean-Raymond said. "And she takes everything that she does very seriously. It's not like a celebrity putting their name on something." Badu's willingness to get her hands dirty bore that out. "She is down there," he pointed out, "tying shoelaces."